University announces 2018-2019 Board of Governors membership
Expertise of new governors will help guide the direction of the university
November 21, 2018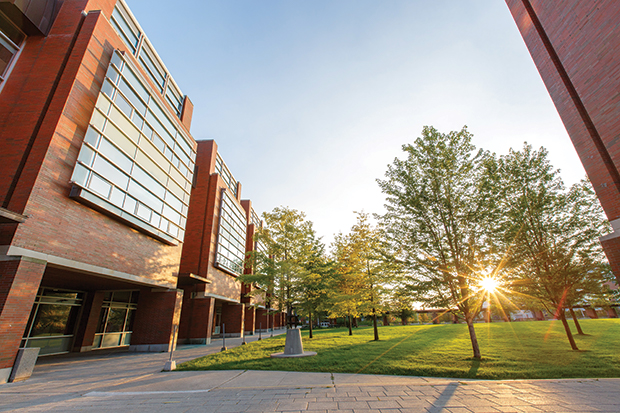 The University of Ontario Institute of Technology has strengthened its leadership and governance with the appointment of seven new members to its Board of Governors. This diverse group of governors will offer their unique perspectives, skills and experience to help the university meet its vision, mission and strategic goals.
There was a tremendous amount of interest in serving on the university's board, with 140 applications received from candidates across Canada who are leaders in their fields and passionate about creating tomorrow's citizen leaders. The university would like to sincerely thank all those who took the time to put their name forward. The search process focused on ensuring diversity of thought around the university board table. Candidates were selected for their outstanding business and community leadership and entrepreneurial track records in their respective fields, and their ability to contribute to the powerful social and technological changes the university is driving.
The university is pleased to announce that the following new members will help guide its future:
Kevin Chan
A Global Director and Head of Public Policy, Canada at Facebook Inc., Kevin Chan is an expert in digital public policy and international business.
Laura Elliott
Laura Elliott is the Director of Education and Secretary of the Board for the Thames Valley District School Board. With a career in education spanning more than 30 years, she is firmly committed to the Kindergarten-to-Grade 12 years as the foundation for university success.
Kori Kingsbury
As Principal Consultant with Kingsbury & Associates, Kori Kingsbury has more than 30 years of public sector experience, leading and advising health-care strategy, policy, performance and governance as a chief executive, provincial executive director, patient services manager and consultant.
Dale MacMillan
Highly engaged in the business of science, technology and innovation, Dale MacMillan is Vice-President of Corporate Services and Chief Financial Officer at the National Research Council Canada, the Government of Canada's premier organization for research and development.
Maria Saros
A senior corporate communications executive with expertise in financial services and higher education, Maria Saros is Vice-President of Communications, Canadian Retail and Wholesale, at TD Bank Group. 
Trevin Stratton
As Chief Economist for the Canadian Chamber of Commerce, Trevin Stratton explores new ways to help business and industry sectors thrive in the digital economy. 
Lynne Zucker
Lynne Zucker is the Executive Vice-President, ACCESS Health at Canada Health Infoway, a national, not-for-profit, publicly funded digital-health organization. She leads a national effort to improve the health of Canadians through innovative initiatives that directly connect citizens with their health information and to enhanced digital health-care services.
See the full list of current board members, and learn more about the role of the Board of Governors.
The university also thanks its outgoing board members for their dedicated service:
Karyn Brearley, Chair, Governance, Nominations and Human Resources Committee
Valarie Wafer, Chair, Strategy and Planning Committee
Fardan Ali (Undergraduate Student)
Jeremy Bradbury (Faculty)
Don Duval
Andrew Elrick
Jay Lefton
Bonnie Schmidt
Mary Simpson
Mike Snow
Mary Steele (Staff)
Shirley Van Nuland (Faculty)
Yowsif Yakub (Graduate Student)
Quotes:
"On behalf of the University of Ontario Institute of Technology's Board of Governors, it is my pleasure to welcome our newest board members. Their diverse backgrounds in finance, technology, health care and education will provide fresh energy and expertise to help our university move forward in its mission and vision. I would also like to extend my sincere appreciation for the exceptional service and dedication of our outgoing board members."
-Douglas Allingham, Chair, Board of Governors, University of Ontario Institute of Technology
"It's an exciting time for the University of Ontario Institute of Technology as we position our university as the leader in technological innovation with a social conscience, and a disruptor in higher education. Our university is proactively working to evolve the membership of our Board to reflect the community we serve, encourage a culture of equity and include diverse viewpoints in our decision-making. I look forward to working with this group of experts to help guide our institution for the future and to advance our powerful story."
- Dr. Steven Murphy, President and Vice-Chancellor, University of Ontario Institute of Technology
Media contact:
Patricia Pickett
Communications and Marketing
University of Ontario Institute of Technology
905.721.8668 ext. 6710
patricia.pickett@uoit.ca