University President receives professional excellence award from alma mater
Dr. Steven Murphy presented with inaugural award at Carleton University
November 28, 2018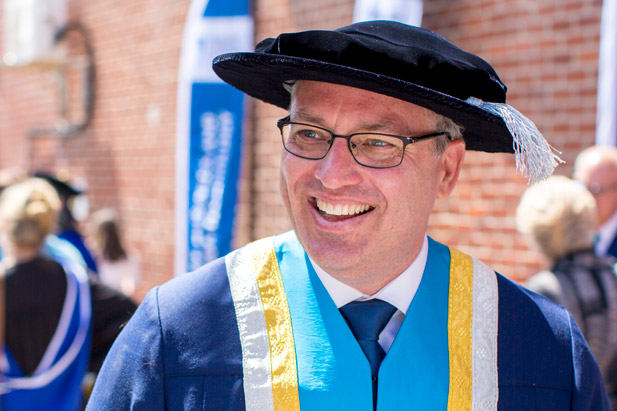 Throughout his career, University of Ontario Institute of Technology President Dr. Steven Murphy has built an outstanding reputation as an academic leader, distinguished organizational behaviour expert, and champion of equity, diversity and inclusiveness.
Dr. Murphy's deep academic roots can be traced back to Carleton University in Ottawa, Ontario, where he earned an undergraduate degree (Honours Bachelor of Commerce in Human Resources Management), a master's (Management Studies with Distinction in the Management of Technology) and a PhD (Organizational Behaviour). Dr. Murphy was later appointed Associate Dean, Research and External at Carleton's Sprott School of Business.
And so, it was with deep pride and a flood of warm memories that Dr. Murphy accepted the inaugural Sprott School of Business Alumni Award for Professional Excellence on November 26 in a ceremony at Ottawa's National Arts Centre. The award is presented to a Carleton University master's or PhD graduate who has demonstrated outstanding achievement within their career or through community service initiatives. The selection committee includes Carleton alumni volunteers and members of the Ottawa business community.
"Carleton University and the Sprott School of Business will always hold a special place in my heart, so I am humbled and deeply grateful to receive this alumni award," says Dr. Murphy, who became the fourth President and Vice-Chancellor of the University of Ontario institute of Technology last March. "I remain true to my roots in my new role as a university president, to advocate for innovation, entrepreneurship and inclusivity as integral elements of education"
As a nationally recognized expert in organizational behaviour and an accomplished researcher and presenter, Dr. Murphy has published more than 100 papers, book chapters and technical reports. He is the former Dean of the Ted Rogers School of Management at Ryerson University in Toronto, Ontario.