University's Engineering Outreach program continues to break new ground in the community
University expands Electronics Lending Library kits program to the Ajax Public Library
December 13, 2018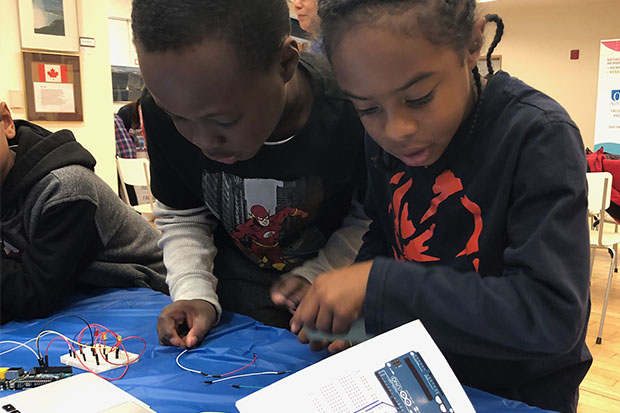 Strengthening community ties continue to open new doors for area students with the University of Ontario Institute of Technology's Faculty of Engineering and Applied Science (FEAS).
As part of its commitment to preparing engineering graduates to excel and lead in the workplace, the faculty's multi-faceted Engineering Outreach program works hard to promote learning opportunities for area youngsters interested in the fields of science, technology, engineering and mathematics (STEM).
Over a very short time frame, Engineering Outreach has established an impressive series of events to engage potential future engineering students, including: ENG Squad Summer Camps, Go ENG Girl, Go CODE Girl and the annual university Engineering Robotics Competition for students in elementary and high schools.
Engineering Outreach also partners with a number of community libraries to make the faculty's Electronics Lending Library kits available. Partnerships with libraries in Clarington and Oshawa have now expanded to include the Ajax Public Library.
The kits provide tools and materials needed to help young people experiment and discover engineering through hands-on activities. By borrowing the kits from their local library, youngsters can explore concepts in coding, technology, electronics and circuitry while learning in the comfort of their own homes, at their own pace.
In addition to the Electronics Lending Library kits, the Engineering Outreach team also offers free STEM workshops for kids 10 and up. Participants have the opportunity to build, design, create, program and 'do-it-yourself' with various types of technologies such as electronics and robots. 
Quote
"The University of Ontario Institute of Technology is excited to bring hands-on STEM activities to the Ajax Public Library. Our student volunteers and outreach instructors will provide valuable learning and mentorship opportunities to youth in Ajax and help young students imagine what's possible with STEM studies and careers."
-Michelle Tsui-Woods, Engineering Outreach, Faculty of Engineering and Applied Science
Gallery