University discussion challenges online hate
January 7, 2019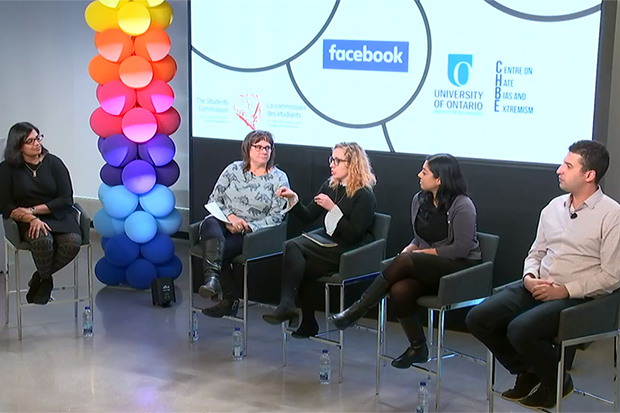 Hate crimes and extremist speech and behaviour in Canada have been steadily on the rise in recent years. Statistics Canada reports an incident spike of nearly 50 per cent in 2017. In response, various government departments are expanding efforts to challenge violent extremism through the development and sharing of counter-narratives on social platforms.
On November 22, the University of Ontario Institute of Technology participated in a panel discussion on how to challenge hate online. Public Safety Canada's Canada Centre for Community Engagement and Prevention of Violence, together with Facebook Canada, co-hosted the event, which was livestreamed on the university's Facebook page.
Panelists included:
Barbara Perry, PhD, Professor of Criminology, University of Ontario Institute of Technology
Kara Brisson-Boivin, PhD, Director of Research, MediaSmarts
Maya Roy, Chief Executive Officer, YWCA Canada
Sharif Mahdy, Executive Director, Students Commission of Canada
Ritu Banerjee, Senior Director, Canada Centre for Community Engagement and Prevention of Violence, moderated the discussion.
"It is very important for us to have this conversation because this is a very significant and serious issue for all of us in Canada," says Banerjee. "We are not immune."
"I think it is pretty obvious that we are living in what many characterize as an era of hate: something unprecedented for the Canadian context in particular," adds Dr. Perry. "I struggle to think about a time when we've seen this kind of normalization of hate in our culture. There is a whole array of indicators of this normalization, not the least of which are at the level of some political leaders who are engaging in Islamophobic, anti-immigrant or anti-Indigenous speech."
This normalization contributed to Dr. Perry's creation of the Centre on Hate, Bias and Extremism (CHBE) at the university: a hub for research and raising awareness to challenge hate crime and hate speech. In addition to connecting the university's broad interdisciplinary expertise on social justice research, the CHBE has established key links with local, national and international non-governmental organizations as well as policymakers.
Kevin Chan, Global Director and Head of Public Policy, Facebook Canada, emphasizes the need for a multi-faceted approach to countering extremism: "There is no one way to eliminate hate. We need to find broader ways to address it."
Discussion participants shared personal stories of family members' experience with hate-based violence, particularly as it pertains to issues of sexuality and cultural identity.
Audience members broke into groups for hackathon-style workshops to analyze counter-narrative campaigns such as One Love Manchester, a benefit concert organized by singer Ariana Grande in response to the terrorist bombing following her performance at Manchester Arena in May 2017.
"We hope the hackathon conversation generated constructive ideas participants can take with them to continue countering hate speech," says Chan.
Organizers believe this pilot event is only the beginning.
"Our long-term objective is to create societal leaders with a powerful anti-hate voice," says Banerjee. "We want to facilitate youth-led organizations and empower young people to support each other."
The timely discussion came just days before the Canada Centre for Community Engagement and Prevention of Violence's December launch of the National Strategy on Countering Radicalization to Violence. That initiative outlines the Government of Canada's approach and key priorities to counter and prevent the destructive and harmful behaviours involved in radicalization-to-violence.