University researcher helps digest changes in Canada's new food guide
Dr. JoAnne Arcand examines recommendations on how to choose and eat foods for optimal health
January 23, 2019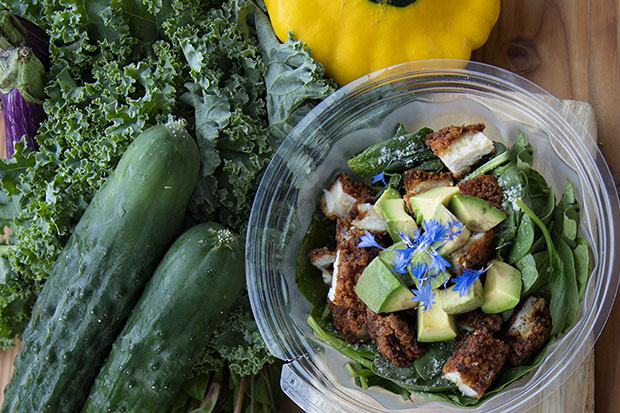 There's a new menu to help Canadians maintain nutritional diets and live healthier lives.
Canada's new Food Guide (released January 22) offers new guidance and advice on wide number of topics. The guide explains eating well is about more than just what we eat. It also makes recommendations on how we eat.
"The new guide was developed based on science and in consultation with nutrition experts," says University of Ontario Institute of Technology researcher Dr. JoAnne Arcand, Assistant Professor, Faculty of Health Sciences. "The intent of the food guide very much remains the same. But the modernized lens takes a food-focused approach and provides actionable advice to reduce the risk of nutrition-related chronic diseases such as obesity, diabetes, cancer and cardiovascular disease."
The new guide calls for more vegetables and fruit, less meat, more water, and more home-cooked meals with others.
"This new Food Guide is an entirely new concept for Canadians," says Dr. Arcand, a nutritionist whose research includes extensive study about the risks of sodium consumption. "No more food groups, food patterns and serving sizes. The guide helps Canadians know what types of foods are healthiest and provides advice on how to choose and eat foods for maximal health impact. Food and eating are an essential part of everyday life, survival, culture and traditions. This guide honours that philosophy. Most people, regardless of their cultural ways of eating, will be able to use this food guide."
Highlights of the Canada Food Guide makeover:
Vegetables, fruit, whole grains and protein foods should be consumed regularly. Among protein foods, consume plant-based more often.
Foods that contain mostly unsaturated fat should replace foods that contain mostly saturated fat.
Water should be the beverage of choice. Replace sugary drinks with water. Fruit juice is now considered a sugary drink.
Limit highly processed foods. If you choose these foods, eat them less often and in small amounts.
There are health risks associated with alcohol consumption.
Food labels should be used to make informed food choices.
Although there are no more meat or dairy food groups, those items are included as protein foods in the new Food Guide. When it comes to protein foods, plant-based proteins such as nuts, legumes and beans should be selected more often than animal-protein foods like eggs, fish, red meat, poultry, milk and milk products.
"Plant proteins are an excellent source of fibre, low in saturated fat and their production has less of an impact on the environment," says Dr. Arcand.
Canada Food Guide's actionable steps on eating healthy:
Be mindful of your eating habits. Take time to eat. Notice when you are hungry and when you are full.
Cook more often. Involve others in planning and preparing meals.
Enjoy your food. Culture and food traditions can be part of healthy eating.
Eat meals with others. Share food traditions across generations and cultures.
Some have argued the new Food Guide will cost more money, making it difficult for many Canadians to follow. But Dr. Arcand says there is another perspective to consider.  
"People can choose to buy prepared foods outside the home, like from restaurants or take-out establishments; or they can prepare healthier foods themselves at home for a fraction of the cost. Eating less animal protein is less expensive too, and better for the environment." 
Journalists interested in speaking with Dr. JoAnne Arcand should contact:
Bryan Oliver
Communications and Marketing
University of Ontario institute of Technology
905.721.8668 ext. 6709
289.928.3653 (mobile)
bryan.oliver@uoit.ca