Go Girls! University's outreach events encouraging girls to get interested in STEM
Go CODE Girl brought dozens of intermediate and secondary school students to campus
February 20, 2019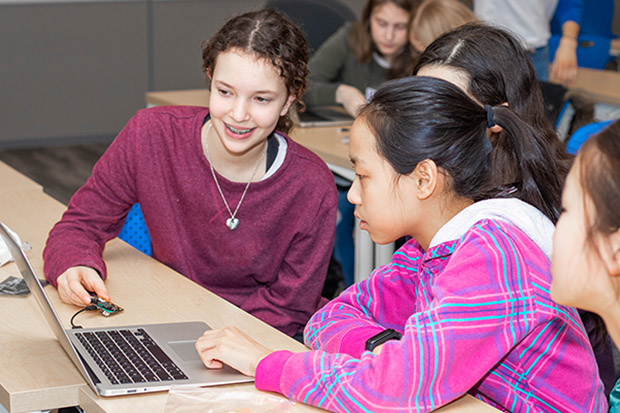 Grade 9 Brampton, Ontario student Cindy Sanford dreams of one day being an engineer or computer programmer. But the St. Thomas Aquinas student is very much aware the academic path she intends to follow has historically been more travelled by boys than by girls.
"Engineering and computer programming is normally believed to take a lot of thinking and work, and is probably viewed socially as a more 'male' type of profession," says Cindy. "But I love science, math and coding, and so do many of my friends."
Last fall, Cindy joined her school's robotics team and participated in the Engineering Robotics competition in November at the University of Ontario Institute of Technology (UOIT). A few months later, Cindy was back on campus with her mother Danielle Sanford to take part in the university's daylong Go CODE Girl event (February 9).
At Go CODE Girl, girls from grades 7 to 11 learn about the exciting world of coding and software development. Using 'micro-bits' (tiny programmable computers) and 'Dash Bots' (small responsive robots customizable through coding), the girls are able to explore possibilities in computing and discover engineering fields they may not otherwise be exposed to.
"My favourite part was getting to program a Dash Bot to go through a maze," says Cindy. "We had freedom to make the Dash Bot do more stuff than the micro-bit, like making it emit sounds and light. Go CODE Girl was a fun way to learn coding and work with other girls."
Cindy's mother Danielle says she started following the university's Twitter account after her daughter had such a great time at the university's Engineering Robotics competition.
"I saw the tweet about Go CODE Girl, and Cindy enthusiastically said 'yes, let's go', so here we are," says Danielle.
However, Cindy was not the only one participating. Mom was busy too because the day also provides programming for parents.
"I also learned more about engineering: really what it is, and what it isn't. This got me excited about it for Cindy, and made me think maybe I should have done engineering too," says Danielle.
Go CODE Girl participants heard from some of the Faculty of Engineering and Applied Science's (FEAS) current female students. FEAS alumni also spoke about their experiences learning and working in male-dominated fields.
Yes, a seismic shift is underway in Canadian culture to encourage and convince young women with an interest in science, technology, engineering and mathematics (STEM) to follow their academic dreams.
"The unfortunate fact is that girls as young as age six often develop negative perceptions about STEM, assuming it is something they could never pursue," says Ellen James, Program Co-ordinator, Women in Engineering, FEAS. "That's why we need to do all we can as a country to ensure girls know those doors are open to them. We have a long way to go, but we are making great strides. Hands-on STEM-focused activities like day camps and summer camps provide a vital introduction to young girls where they discover all they can be."
The University of Ontario Institute of Technology proudly supports the growing trend to eliminate barriers and change longstanding societal attitudes that have prevented girls from exploring careers in STEM disciplines. The university's faculties of Engineering and Applied Science, Education and Science are among those leading the way through an array of engaging outreach activities throughout the calendar year that are designed to spawn girls' interest in and awareness of the vast opportunities in STEM that are in front of them.
"It's great to have these programs for girls at this age," says Danielle. "It's so important for girls to not just have mentors and role models, but also feel comfortable participating so they don't feel intimidated by thoughts like 'am I going to be the only girl there?'"
In November 2018, the university also launched the Women for STEM program, designating entrance scholarships to 20 women enrolling in STEM programs in 2019.
"All of these initiatives are part of the bigger picture within the Faculty of Engineering," says Ellen. "Our goal is to make STEM more accessible for women of all ages, and to be able to support them throughout their entire academic journey and beyond."
Next Go CODE Girl event set for Saturday, March 2
The university's next Go CODE Girl event takes place Saturday, March 2 at Venture13 in Cobourg, Ontario (739 D'Arcy Street) from 10 a.m. to 2:30 p.m. 
More information
---
Media contact
Bryan Oliver
Communications and Marketing
Ontario Tech University
905.721.8668 ext. 6709
289.928.3653
bryan.oliver@uoit.ca