How the emerging autonomous vehicle industry will profoundly change human mobility
Ontario Tech and ACE host networking event exploring AV linkages to smart city infrastructure
April 12, 2019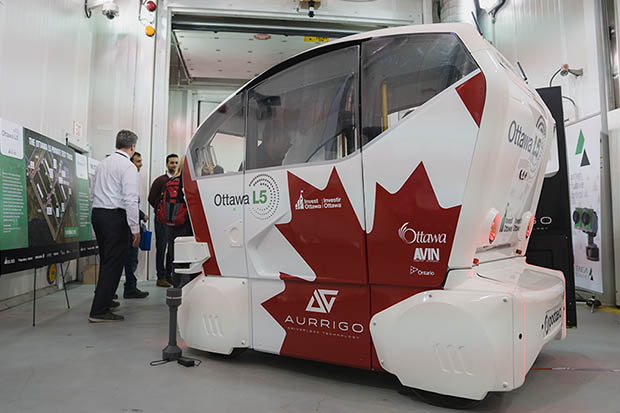 'Driverless cars' are no longer a concept for a future world. The future has arrived. Autonomous vehicles (AVs) are coming soon to a road near you, and their emergence is going to open up new roads for mobility and accessibility.
A fully AV-capable vehicle will give people with a vision challenge or a physical limitation (such as paralysis) the freedom to drive safely on their own. A 95-year-old motorist will have the capacity to drive like a young adult as technology enables the car to take on a big part of the cognitive workload and make up for the response-time difference that occurs with aging. This new access to mobility will result in increased opportunities for employment, improved health care and overall quality of life. 
"Technology will change so much with respect to how we have traditionally viewed a car's practicality," says Justin Gammage, PhD, Industry Liaison Specialist with the Office of Research and Innovation at Ontario Tech. "Mobility will be a service much like Google is as a search engine, except you will 'Google' where you want to go. Consumers will have a number of lower-cost options to get either you or your products where they need to be."
AVs are classified for autonomy on a range from 1 to 5. Today there are commercial offerings at Level 3, but full autonomy (Level 5) is still a few years away from the market.
"The reality is autonomous vehicles are safer than those driven without driver-assist systems," says Gammage. "Manufacturers are stepping forward carefully to ensure products operate safely before moving to the next level. Industry builds trust by demonstrating it is taking the time to get the new technology right."
Of course, basic driver-assist technologies have existed in cars for many years in the form of features such as cruise control and global-positioning/navigation systems. Researchers and industry use controlled testing environments like ACE at Ontario Tech University to uncover new ways of adapting technology that allows a vehicle to operate autonomously and with maximum energy efficiency.
Ontario Tech University and ACE hosts Future of Transportation and Mobility Series event
On March 28, Ontario Tech University welcomed a crowd of more than 250 guests with industry, government and faculty coming from across North America to participate in the inaugural event for the Future of Transportation and Mobility Series, developed in partnership with the Hamilton Innovation Factory and Durham Region partners like Spark Centre and Durham College. 
The event focused on the way humans interact with autonomous vehicle technology. It took place inside ACE's massive testing chambers, which anchors Ontario's Autonomous Vehicle Innovation Network (AVIN) Regional Technology Development Site (RTDS) for Durham Region.
Participants included:
Automotive Parts and Manufacturers Association
Canadian National Institute for the Blind
General Motors of Canada
IBM Canada
National Research Council Canada
Ontario Centres of Excellence
Ontario Ministry of Transportation
QA Consultants
QA Consultants (QAC) celebrated its partnership with ACE with a ceremonial ribbon cutting to announce the QA Consultants Test Bay. The ACE-QAC partnership will provide comprehensive automotive software systems testing for autonomous and connected vehicles. Together, QAC and ACE provide testing services to 12 major original equipment manufacturers in North America, Japan and China.
"At Ontario Tech, we have experts working extensively with automakers and their suppliers on complex issues like cybersecurity and quality assurance," says Gammage. "ACE helps validate new technologies to meet and exceed international safety and cybersecurity standards. Industry is also educating the greater public on the safety enhancements AVs bring to everyday life."
Related links
Autonomous Vehicle Innovation Network Hub: AVINHub.ca
Centre for Integrated Transportation and Mobility: CITM.ca
Gallery