UPDATE: Parking restrictions and road closures due to ongoing construction at the north Oshawa campus location
June 4, 2019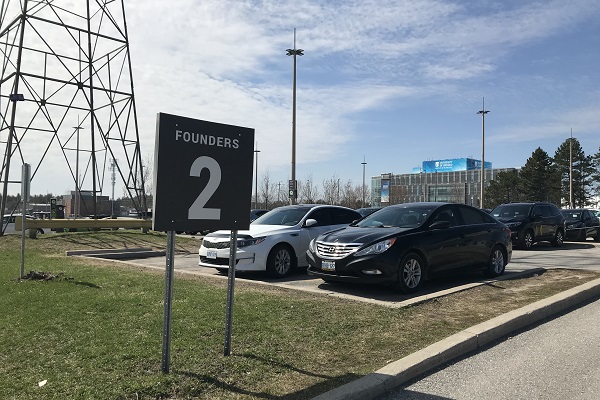 Note: See updated tentative dates in the parking restrictions section of this announcement.
In preparation for the start of construction of the university's new building (to be completed in 2021), the Student Life (U5) and U6 buildings will be moved to a temporary new location at the west end of Founders Lot 2 and combined into one building. A section of the UL Building will also be permanently removed.
The Student Life (U5), U6 and UL relocation/removal work will take place over a number of weeks. University services currently located in the affected buildings have been assigned new temporary locations from late April to mid-August.
Preparations for moving of these buildings to Founders Lot 2 have commenced. The current location of the Student Life (U5) and U6 buildings have been fenced off. In addition, the parking gate (entrance and exit) directly north of Avenue of Champions (far west entrance to Founders Lot 2) is now closed; it will re-open after the building relocation is completed in August.
Parking restrictions:
Approximately 225 parking spots in the west section of Founders Lot 2 have been fenced off to accommodate construction. After the completion of the Student Life (U5)/U6 Building move, approximately 150 spots will remain unavailable throughout the duration of the new building construction project (until mid-August 2021).
The rest of Founders Lot 2 will remain open during most of the Student Life (U5)/U6 Building moving process; however, an additional 175 spots in certain sections of the parking lot will be temporarily unavailable on the following tentative dates to allow for trucks to pass through (dates to be confirmed closer to the move):
Wednesday, June 5
Thursday, June 6
Note: Founders Lot 2 permit holders and campus visitors intending to use Founders Lot 2 will only be able to park in the centre and east sections of the lot during this period. If you experience any issues with parking in your designated lot, please use the intercom system to contact Parking Services, who will direct you to an alternative location.
View a map of parking lot restrictions.
Lane restrictions/road closures:
Wednesday, June 5 and Thursday, June 6: Vehicle access along the stretch of Founders Drive just east and north of the current location of the Student Life (U5)/U6 buildings will be limited. Expect road closures and potential traffic delays in this area during the tentative dates listed above. Updates will be posted as they become available.

View a map of road closures.
Additional information:
For safety, pedestrians should obey signage and construction personnel.
Weather permitting, the move of the Student Life (U5) and U6 buildings is scheduled for completion by Friday, August 2, with staff and affected university services moving back into the combined building by Monday, August 12. Updates will be shared as information becomes available.
For construction-related inquiries, contact Patrick Neil, Senior Project Manager, Office of Campus Infrastructure and Sustainability, at ext. 2513. For parking-related inquiries, contact Ross Carnwith, Manager, Ancillary Services, at ext. 2895.