Students explore international development initiatives in Central America
April 11, 2019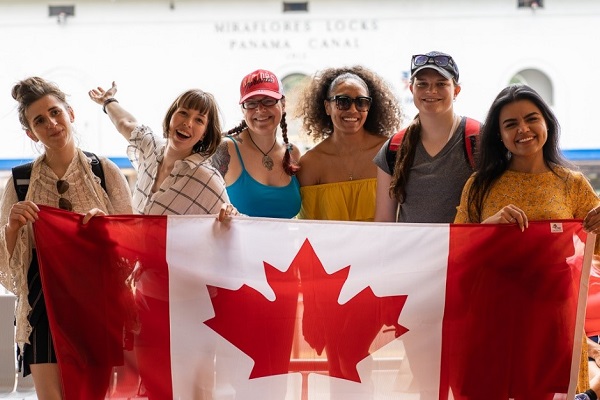 When Heidi Graf headed to Toronto Pearson International Airport on an early cold February morning, she knew she was about to embark on the experience of a lifetime.
Graf, along with five other students from Ontario Tech University's Faculty of Social Science and Humanities (FSSH) were about to spend two weeks on an educational tour of Panama and Costa Rica, to engage in international development initiatives while completing the requirements of their FSSH Practicum course.
The tour was organized through a partnership between FSSH's Practicum office and Horizons of Friendship, a Cobourg, Ontario-based charity committed to eliminating poverty and injustice in Central America and Mexico. Students met with Indigenous community leaders, visited schools and community centres and learned how Horizon's grassroots programs are strengthening communities through literacy, community building, and the empowerment of women and children all across Panama.
"Spending time on the land with the Ngobe-Bugle Indigenous peoples from Panama and the Térraba Indigenous peoples from Costa Rica significantly altered my perspective about social justice initiatives and the international development process within these countries," says Graf, a fourth-year Criminology and Justice student. "During our visits with these two groups I was able to draw similarities between their culture and ours."
For Graf, the educational tour included many memorable moments, such as exploring Panama City, dipping her feet in the Pacific Ocean, hiking down the side of a mountain to a waterfall, and visiting Indigenous communities. The only hard part was being away from her husband and two young children.
"I made each of my children a calendar so they could cross off the days until I left for my trip, as well as cross them off until my return," she says.
Daniel Quesada, Community Outreach Officer with Horizons of Friendship, says these educational tours seek to connect North and South America as well as strengthen ties with partner organizations within the regions. Horizons of Friendship has previously taken a variety of groups on these tours, from doctors to professors to social workers.
"It's an exchange of knowledge and best practices," says Quesada. "Ontario Tech University is committed to developing global citizens, and this educational tour was a great way to encourage that initiative. The students will take the knowledge and life skills gained from the trip back to their communities."
"It's the perfect fusion of exploring social justice through a cultural lens while applying academic theories," adds Dan Walters, Practicum Co-ordinator, FSSH.
Walters was drawn to the people working at Horizons of Friendship, and inspired by their long-term commitment to their partner organizations.
"One of the initiatives of the Practicum department is to build and maintain strong relationships with community partners, which up until now has only encompassed Ontario," Walters says. "With this partnership, it's expanding on a global scale. Ontario Tech University hopes to continue the partnership with Horizons of Friendship in the future. These kinds of experiences are part of the transformative power of universities. If we expand our scope and challenge our students in unique ways, they can go forth and enrich their relationships. We can empower populations to do life through a wider lens."
Additional links:
Gallery