Future of human health and prosperity at risk, warns Ontario Tech researcher
Dr. Peter Stoett contributes to groundbreaking UN environmental report
May 28, 2019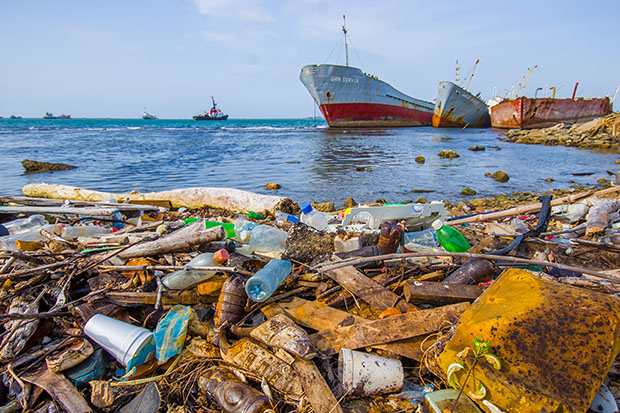 If we think of our planet in all its natural glory, we might imagine blue skies, green forests and vast lakes and oceans teeming with wildlife.
But the abundance and variety of life on our planet is under threat, according to a recent comprehensive study by the United Nations (UN). The sixth Global Environmental Outlook (GEO-6), delivered in Nairobi, Kenya this past March, includes contributions from Ontario Tech University researcher Peter Stoett, PhD, Dean, Faculty of Social Science and Humanities.
Commissioned by the UN's Environmental Assembly, GEO-6 provides an extensive overview on the state of the Earth's environment, warning that future generations will bear the burden of our neglect unless urgent action is taken. Authored by 250 scientists and experts from more than 70 countries, the report took five years to complete.
"Given the multiple environmental crises identified in GEO-6, it is clear we need to make systems-level decisions that will impact the ability of future generations to survive and thrive," says Dr. Stoett, an expert on global environmental politics. "In some areas, such as land-use change, biodiversity conservation, ocean governance, and air quality, the challenges are immense; but the health and justice impacts of not taking decisive action are even greater."
The report outlined key environmental issues and their direct effect on human health and prosperity:
Air pollution (currently causes six to seven million premature deaths per year) is projected to continue to cause 4.5 million to seven million premature deaths per year by 2050.
Mass extinction of species from land-use change, habitat fragmentation, illegal wildlife trade, invasive species, pollution and climate change compromises the planet's ecological integrity and its capacity to meet human needs.
Unsustainable production and consumption patterns combined with population growth put at risk the health the planet needs to attain sustainable development.
Marine plastic litter and microplastics occurring in all levels of the marine ecosystem are showing up in fisheries and shellfish at alarming levels and frequency, creating an unknown impact on human health.
Pollution of natural resources such as freshwater and oceans cause approximately 1.4 million deaths per year from preventable diseases associated with pathogen-polluted drinking water and inadequate sanitation.
Anti-microbial resistance due to pollutants in our freshwater systems will become a major cause of death by mid-century, and endocrine disruptors (chemicals that interfere with endocrine or hormone systems, causing diseases such as cancer, diabetes and thyroid disorders) will impact male and female fertility as well as child neurodevelopment.
The report also highlights that the world currently has the science, technology and financial means necessary to move towards a sustainable future, in spite of these critical issues. However, far more support from the public, as well as business and political leaders, is needed.
"The time to combine science and policy is now, and GEO-6 presents a sophisticated blueprint for moving ahead in systematic fashion while reminding us how dire the environmental situation has become," says Dr. Stoett. "Technological solutions are often helpful, but need policy collaboration and cultural contextualization if they are to be effective. Ontario Tech University can contribute to the achievement of the UN's Sustainable Development Goals with its unique combination of advanced technology, science and social science research."
Additional information: