Ontario Tech scientists exemplify the power of transformational research
Learn how dietary sodium interventions and full cell technology impact our world
May 10, 2019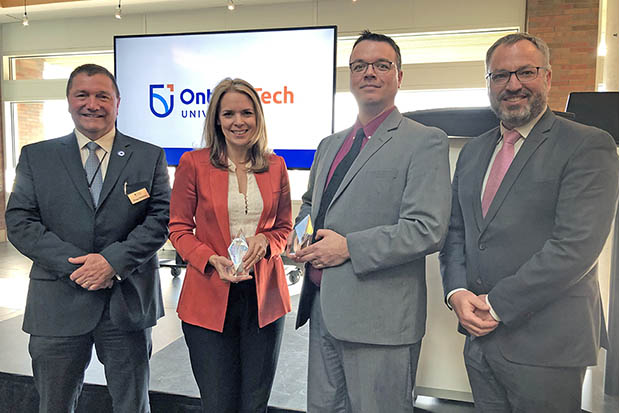 In a world of rapid technological change where humans constantly navigate through mountains of information, sometimes we need to pause for a moment to really understand what's happening around us.
That's exactly what happened at Ontario Tech University on May 8 as two leading researchers offered a brief glimpse of the compelling work they do every day to help make our world a better place.
Held annually since 2007, the university's Research Excellence Award Speaker Series showcases Ontario Tech's research talent as they share highlights of their work and the potential of their findings to positively influence society.
Watch this year's presentations on the Mediasite link (time codes indicated):
Dr. JoAnne Arcand, Assistant Professor, Faculty of Health Sciences (2018 Early Career Researcher Award) (from 8:09 to 31:20)
Topic: Maximizing health through dietary sodium reduction interventions
Dr. Brad Easton, Professor, Faculty of Science (2018 Senior Researcher Award) (from 36:58 to 1:05:38)
Topic: Are metal oxide materials the key to a fuel cell future?

 
Dr. Easton also became the university's first researcher to win the Senior Researcher Award in addition to having previously received the Early Career Researcher Award (in 2013).
Quote
"We need universities now more than ever, to help build a society that's prosperous and just. We live in a complex world and Ontario Tech University researchers are not only doing first-rate work, they are also applying it to the real world to help the public gain a greater understanding of important issues. The quality of the research by Drs. Arcand and Easton is indicative of the remarkable discovery work and scholarship happening every day at Ontario Tech."
-Dr. Steven Murphy, President and Vice-Chancellor, Ontario Tech University