Health-care simulation and aquatic environmental biology highlight Ontario Tech's new Canada Research Chair portfolios
Canada Research Chair in Linguistic Information Visualization also renewed
June 19, 2019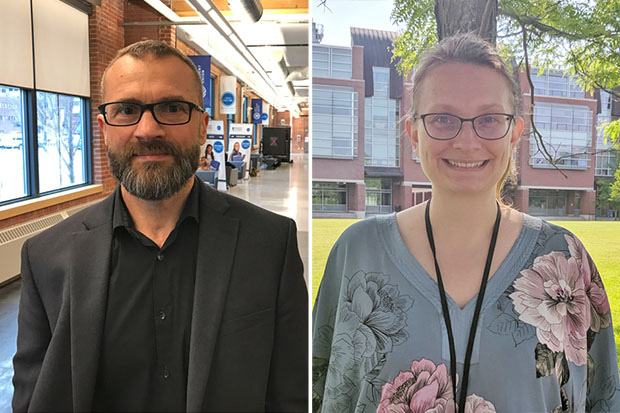 Building on its mandate to explore technology for greater societal good, Ontario Tech University's expanding research portfolio includes two new Canada Research Chairs (CRC).
Faculty of Health Sciences researcher Dr. Adam Dubrowski (start date July 1, 2019) becomes the university's third-ever Tier 1 CRC (Dr. Douglas Holdway; Dr. Greg Naterer), appointed to help drive new discoveries in health-care simulation. Dr. Dubrowski will use disruptive technologies such as virtual reality, virtual collaborations and 3D printing to make simulation more cost-effective and responsive to the needs of health-care professionals in Canada.
Faculty of Science researcher Dr. Denina Simmons is Ontario Tech's Tier 2 CRC in Aquatic Toxicology. Dr. Simmons will combine large-scale identification of biomolecules with chemical contaminant analyses to examine the toxicological effects of environmental contaminants on wildlife.
In addition to their CRC funding,* Dr. Dubrowski and Dr. Simmons will also each receive a research infrastructure grant from the Canada Foundation for Innovation (CFI) through the John R. Evans Leadership Fund (announced June 14, 2019).
As part of the same CRC announcement, Faculty of Science researcher Dr. Christopher Collins receives a second five-year term for his Tier 2 CRC in Linguistic Information Visualization. Dr. Collins' research helps Canadians better manage and gain insight from the overwhelming amount of language data in today's world.
CRC spotlight: Adam Dubrowski, PhD
Tier 1 CRC in Health-Care Simulation
Professor, Faculty of Health Sciences
It is often said that 'practice makes perfect' and simulation does just that. Simulation is a powerful tool for training health-care professionals. Trainees become proficient in performing routine skills such as catheter insertion, while experienced professionals can maintain skills required less frequently such as pediatric resuscitation, or rehearse complex procedures like tumour removal.
"Simulation is expensive and not easily accessible in remote and rural areas," explains Dr. Dubrowski. "My research explores application of disruptive (new) technologies to make simulation more cost-effective and accessible. For example, a surgeon preparing for a complex surgery would be able to send a patient's scan to a dedicated digital design laboratory, which would generate a 3D printable model of the treatment. The physician can then rehearse the procedure many times before performing it on the patient."
At a time when health-care systems are increasingly resource-constrained, creating a cross-Canada network dedicated to rapid development of cost-effective simulation and visualization tools is a significant contribution. Dr. Dubrowski's research laboratory at Ontario Tech University is a unique and multidisciplinary environment combining expertise and research methods from health, economics, materials and computer engineering, psychology, kinesiology, sociology, implementation science, as well as digital art and design. 
CRC spotlight: Denina Simmons, PhD
Tier 2 CRC in Aquatic Toxicology
Assistant Professor, Faculty of Science
Blood plasma is the pale yellow liquid component of blood that holds the blood cells in suspension. Used for the diagnosis and treatment of human disease, plasma samples are also an ideal bio-fluid for wildlife monitoring of sensitive populations.
Environmental 'omics' is a growing field of interest in biology involving genomics, proteomics and metabolomics to quantify and characterize the structure, dynamics and functions of organisms.
"The function of plasma is largely unexplored in wildlife and model organisms used in ecotoxicology," says Dr. Simmons, who conducts research in the university's Aquatic Toxicology Laboratory in the Science Building. "My research aims to better understand the function of plasma in vertebrate organisms so it can be used for non-lethal health monitoring of wildlife populations, particularly the impacts of chemical contamination in ecosystems."
Dr. Simmons will create a database or library of plasma protein and metabolite 'expression signatures' specific to different classes of biologically active chemicals, such as perfluorinated chemicals and heavy metals like chromium and copper. Researchers can then use this database as a diagnostic tool to identify when an organism has been exposed to a particular contaminant.
Quote
"Ontario Tech University is proud of the collective passion and record of discovery of its Canada Research Chairs. CRCs are national and international leaders in their specific areas of expertise. Our research chairs exemplify the university's commitment to excellence in evidence-based scholarship and pursuit of new knowledge and solutions on major societal issues."
-Jennifer Freeman, Executive Director, Office of Research Services, Ontario Tech University
Ontario Tech University's Canada Research Chair portfolio:
The university has two additional CRCs in development.
Canada Research Chair alumni whose research continues at the university:
Douglas Holdway, PhD – Tier 1 CRC in Aquatic Toxicology (Faculty of Science, 2004 to 2018)
Carolyn McGregor, PhD – Tier 2 CRC in Health Informatics (Faculty of Business and Information Technology, 2007 to 2017)
*About the CRC program
The CRC program invests approximately $265 million per year to attract and retain some of the world's most accomplished and promising minds. Nearly 1,700 CRC holders are working at more than 70 post-secondary institutions across the country in a wide range of fields. The CRC designation recognizes leading national and international experts in engineering and the natural sciences, health sciences, humanities, and social sciences.
Tier 1 Chairs are outstanding researchers acknowledged by their peers as world leaders in their fields. Valued at $1.4 million, appointments are for seven years and are renewable.
Tier 2 Chairs recognize exceptional emerging researchers, as judged by their peers, with potential to lead in their field. Valued at $500,000, appointments are for five years and renewable once.
Website: chairs-chaires.gc.ca
---
Media contact
Bryan Oliver
Communications and Marketing
Ontario Tech University
905.721.8668 ext. 6709
289.928.3653
bryan.oliver@uoit.ca