Ontario Tech University researchers applaud federal commitment on equity, diversity and inclusion
University receiving federal funds to build institutional capacity to support equity for underrepresented populations in post-secondary education
June 27, 2019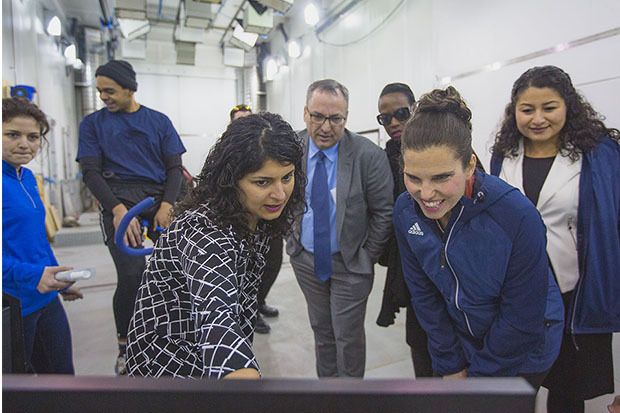 In May 2018, shortly after becoming Ontario Tech University's fourth President and Vice-Chancellor, Dr. Steven Murphy affirmed the university's commitment toward greater equity, diversity and inclusion (EDI).
"We need to be an open tent; we need to make sure that everyone feels welcome in our community. Fostering diversity, equity and inclusivity is an active process reflected on an hour-by‐hour basis by how we act, think and lead." 
-Dr. Steven Murphy, Ontario Tech University Presidential Installation Speech, May 8, 2018
Dr. Murphy quickly established the President's Equity Taskforce (PET) to reinforce the university's core values, provide venues for open dialogue and initiate consultation across the university and with external stakeholders on EDI-related topics.
Canada's research community also recognizes that the country's greatest potential can only be realized when all people are welcomed into the lab, the classroom and the field. In February 2019, Minister of Science and Sport Kirsty Duncan came to Ontario Tech University to unveil the draft Made-in-Canada Athena SWAN (Scientific Women's Academic Network) Charter, as well as the creation of a new fund to foster EDI in Canadian Research.
On May 8, Minister Duncan announced Ontario Tech as one of 15 recipients (out of 51 applications) of an EDI Institutional Capacity Building Grant, valued at $385,000 over two years.
Engagement with all Ontario Tech stakeholders is a key component to the success of future EDI initiatives. Faculty, staff, students and other stakeholders will participate further in the EDI activities funded by this grant.
"Ontario Tech's Office of the Vice-President, Research and Innovation is proud of its role in leading the application for an NSERC EDI Institutional Capacity Building Grant," says Jennifer Freeman, Executive Director, Office of Research Services. "A co-ordinated EDI framework will enable the hiring of Ontario Tech's first Director of Equity, Diversity and Inclusive Engagement to undertake data collection, including a diversity audit: activities required to inform a robust and effective university-wide EDI strategy and action plan."
What Ontario Tech researchers are saying:
"One of the biggest barriers to creating an EDI-friendly environment is a lack of self-awareness of implicit biases. These funds will allow the university to create tools and training for those who may have inadvertently affected the success of women, people of colour, or Indigenous students, colleagues, and community members. This type of training can lead to more open, collaborative learning environments, and further increase our success in advancing science and innovation. If we want all of our students to be successful, they need to see role models they can relate to."
-Shilpa Dogra, PhD, Associate Professor, Faculty of Health Sciences
"The majority of university graduates are women, yet there is a gender gap when it comes to STEM (science, technology, engineering and mathematics) graduates. In the revolutionary shift in technology toward artificial intelligence, human beings who are put out of work will need to be retrained or reskilled. Some of the most vulnerable people are women, especially racialized and Indigenous women. This begs the question, where will these women be in this brave new world that is being designed by men? Equitable access can help improve diversity amongst underrepresented groups in the technology sector."
-Janette Hughes, PhD, Professor and Canada Research Chair in Technology and Pedagogy, Faculty of Education
"Over time, representation of under-represented groups will increase at universities, and these role models will be more evident to high school students visiting universities, or when university graduate students and faculty visit high schools. This EDI funding means new mechanisms and procedures will remove career advancement barriers for historically under-represented groups. For example, more women will be willing to stay in academia."
-Andrea Kirkwood, PhD, Associate Professor, Faculty of Science
"This will establish greater support and enhance retention for new faculty coming from overseas, along with supporting all genders, persons with disabilities, Indigenous peoples and members of visible minorities. This is particularly vital for faculty, staff and students having children, not only throughout their maternity, but also help them stay connected while on leave, and make the transition easier when they are ready to return to campus."
-Carolyn McGregor, AM, PhD, Professor and Research Excellence Chair in Health Informatics, Faculty of Business and Information Technology
---
Media contact
Bryan Oliver
Communications and Marketing
Ontario Tech University
905.721.8668 ext. 6709
289.928.3653
bryan.oliver@uoit.ca