Campus buzz: Ontario Tech University receives 'Bee City Campus' designation
One of eight Canadian post-secondary institutions recognized for pollinator protection and repopulation efforts
July 5, 2019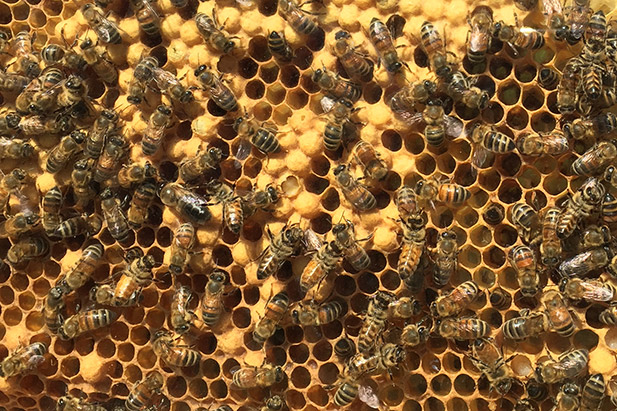 Bee and butterfly populations have disappeared by the millions world-wide over the past several years due to habitat loss and pesticide use. In 2016, Ontario Tech University decided to do something to start reversing the trend.
As part of the university's many Go Green initiatives, Ontario Tech launched the Pollinator Project on the former Windfields Farm lands in Oshawa, Ontario. It started modestly three summers ago with a pollinator garden and a few bee boxes after bee hives were discovered in the old barns at Windfields. Since then, the operation has expanded to include 40 honey-producing beehives (maintained by Royal Meadows, a bee farm in Bowmanville, Ontario), and a three-hectare hydroseeded (planting process using a slurry of seeds and mulch) pollinator garden featuring a variety of native wildflowers.
In recognition of the university's pollinator sustainability efforts, Bee City Canada has designated Ontario Tech a 'Bee City Campus'. Bee City Canada partners with cities, schools and businesses across Canada to protect pollinators and increase awareness about the vital role pollinators play in a healthy ecosystem. Only seven other Canadian post-secondary institutions hold the Bee City Campus designation.
The announcement created a buzz at the university's recent Pollinator Tour and Nature Cleanup in celebration of National Pollinator Week. Bee City Canada's Director Shelly Candel was on hand to present the award during the event.
Students, faculty, staff and community members explored the exciting expansions to the Pollinator Project, including the wildflower gardens, beehives, bat homes and bee hotels (artificial nesting structures for solitary bees) made from recycled materials.
Participants also visited the campus Community Garden plots, tree nursery, greenhouse and solar panels now in place at Windfields. Expert apiarists gave a Beekeeping 101 talk, answered questions and allowed a peek into the hive window box. Participants cleaned up the surrounding farmlands throughout the tour.
Quote:
"Ontario Tech University is continuously looking at ways to expand and support its eco-friendly initiatives, and promote a culture of sustainability on campus. We are honoured to receive the Bee City Campus designation and look forward to increasing biodiversity and sustainability awareness through further expansion of our pollinator efforts on campus."
- Nadia Harduar, Asset and Sustainability Planner, Office of Campus Infrastructure and Sustainability, Ontario Tech University
How can you support the Pollinator Project?
You can purchase wildflower honey produced on campus at:
Pollinator facts:
Native bees and European honey bees do the majority of pollinating, but butterflies, ants, beetles, moths, hummingbirds and bats are also considered pollinators.
All bee species have different tongue lengths that adapt to different flowers.
Different-coloured flowers will attract different kinds of pollinators. Bees often prefer blue and purple-coloured flowers; hummingbirds enjoy colours like red and pink, while butterflies like bright yellows.
A flower's fragrance also attracts pollinators, especially night pollinators such as bats and moths.