Can technology help uncover new answers on dementia research?
Ontario Tech University and Ontario Shores partnership explores the interface of technology and frontline care
July 8, 2019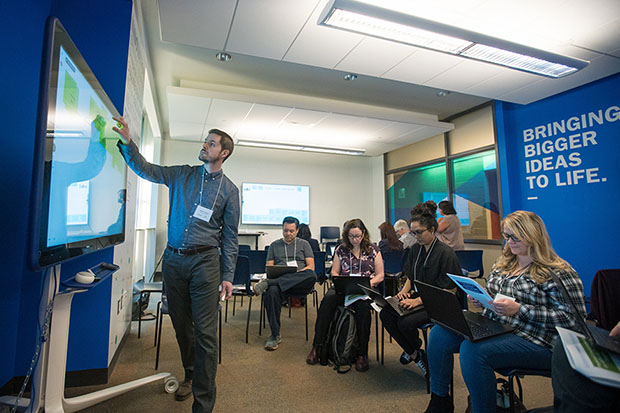 Dementia was once considered a normal part of aging. But in the century since medical science began actively studying diseases leading to deterioration in brain function, we have learned a great deal about the causes and symptoms of dementia.
The advent of technology in the 21st century is offering new hope that leading-edge research will help find new ways to improve dementia care. This spring, two leading organizations in Durham Region came together to share ideas and directions.
Ontario Tech University and the Ontario Shores Centre for Mental Health Sciences (Ontario Shores) are working toward closing the gap between frontline care and laboratory research. Their inter-disciplinary partnership focuses around the Geriatric Dementia Unit (GDU) at Ontario Shores. The GDU provides short-term care to patients and supports those working on the frontlines who aid in patient recovery.
The Ontario Tech-Ontario Shores collaboration allows for cutting-edge research to move more quickly into frontline practice and provides frontline careworkers and patients' family members with an opportunity to present the problems needing solutions.
"Caregivers and the family members of patients worked together with researchers to develop a list of obstacles faced by patients in their recovery," says Dr. Wally Bartfay, Associate Professor, Faculty of Health Sciences, Ontario Tech University. "Now, more than ever, we have access to technological tools to help to facilitate overcoming these obstacles. Through collaboration and inter-professional approaches, we can take advantage of technology."
In an effort to ensure all voices were heard, the inaugural April workshop in the university's Brilliant Catalyst space deployed a Google Jamboard, a tool designed for collaboration through a digital platform. The interactive environment allowed participants to present their ideas anonymously and unfiltered.
"The single morning session generated tangible ideas that have real potential to improve dementia care, either through direct implementation in the GDU or applied research," says Jennifer Freeman, Executive Director, Office of Research Services, Ontario Tech University. "The steering committee is prioritizing these ideas and plans to both launch a call for research proposals, and implement ideas in the GDU, with the goal of achieving real change for the health and well-being of patients and their caregivers."
"This Clinical Demonstration Unit will transform the GDU at Ontario Shores and will improve patient quality of life and recovery," says Andra Duff-Woskosky, Director, Geriatrics and Pharmacy, Ontario Shores. "This unit, which creates a space of technological innovation in frontline care, will be a benchmark for national and global comparators in dementia care excellence."
Identified projects will be also be offered to Brilliant Solutions, a new work-integrated learning program launching for Ontario Tech University undergraduate students in September. Brilliant Solutions assembles multidisciplinary teams of talented students who will collaborate to help solve vexing problems faced by the university's public, private and not-for-profit community partners. 
Contact Brilliant Solutions today at brilliant@uoit.ca.
---
Media contact
Bryan Oliver
Communications and Marketing
Ontario Tech University
905.721.8668 ext. 6709
289.928.3653
bryan.oliver@uoit.ca