Ontario Tech University among North American leaders in energy efficiency; employee/student wellness programs
University earns a Gold rating in the 2019 Sustainable Campus Index
August 30, 2019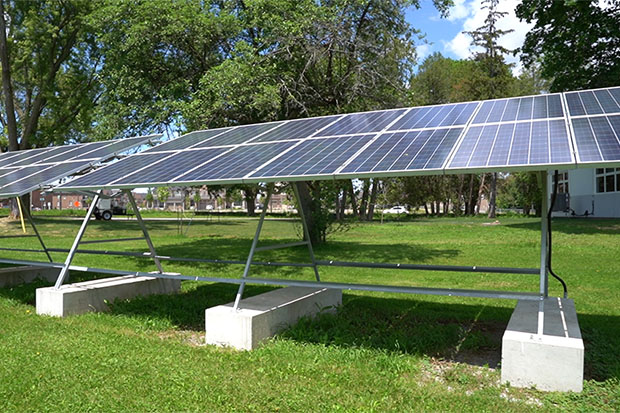 Ontario Tech University's long-established reputation as a post-secondary leader in conservation and green community-building is earning fresh praise from the Philadelphia-based Association for the Advancement of Sustainability in Higher Education (AASHE).
Just as it did in the last report in 2016, Ontario Tech has achieved a Gold rating from AASHE's Sustainability Tracking, Assessment and Rating System (STARS), a voluntary framework used by universities and colleges to measure, report and strengthen their contributions to sustainability. The index recognizes top-performing North American universities and colleges in 17 distinct impact areas.
Ontario Tech's Office of Campus Infrastructure and Sustainability (OCIS) drives the university's diverse efforts to be innovative as a future-driven institution.
Selected 2019 STARS highlights at Ontario Tech:
Energy
Ontario Tech has reduced greenhouse gas emissions by nearly 50 per cent since 2012 through upgrading power systems and efficiencies, energy efficient retrofits of lighting and equipment, to name a few.
The university's renewable energy capacity has expanded in 2019 with 182 kilowatts of solar photovoltaic power on campus, including panels at the Software and Informatics Research Centre, Clean Energy Research Laboratory, Charles Hall, Polonsky Commons West Promenade, and at OCIS offices at Windfields Farm lands.
Academic curriculum expansion
Additional sustainable course offerings for students graduating from programs that include sustainability as a learning outcome.
Immersive experience programs such as practicum placements where students engage in sustainable development work (e.g. Horizons of Friendship trip by Social Science and Humanities students in Central America).
Campus and public engagement
Completed a campus-wide Sustainability Literacy and Sustainability Cultural assessment (pre- and post-survey for the same cohort of students).
Offering Continuous Learning courses that address sustainability issues:

Sustainability Strategies for the Public Sector (Master's Certificate in Public Sector Management).
Marketing and Advocacy for Agriculture (Agricultural Leadership Certificate Program).
Change in Agriculture and Next Steps (Agricultural Leadership Certificate Program).
Transportation
Ontario Tech has its first two full-electric fleet vehicles along with 11 electric vehicle charging ports on campus with outdoor solar lighting.
Grounds
Following sustainable landscape management practices and designated as a Bee City Campus by Bee City Canada this summer.
Working with Central Lake Ontario Conservation Authority to complete an assessment of environmentally sensitive areas (wetlands and tributaries on and surrounding campus).
Greenhouse and Community Garden growing produce on campus for donations to St. Vincent's Kitchen in Oshawa, and providing to Aramark (Campus Food Services provider) to incorporate in meals on campus as of September 2019.
Did you know?
In 2014, the university launched the Go green. Stay blue platform, to focus on strengthening green initiatives on campus and in the community through active student, staff and faculty engagement.
The university is home to Canada's largest geothermal system (and the second largest in North America), a 1,500-ton Borehole Thermal Energy Storage System hidden beneath the 7,500-square-metre Polonsky Commons quad. More than 370 boreholes (180 metres deep) are used to heat and cool campus buildings. Water circulates through the underground network (150 kilometres of polypropylene piping). In the winter, the geothermal system takes heat from the earth and carries it to the buildings. In the summer, the same system removes heat from the buildings and disperses it into the ground. The innovative system links each building to a central heating, ventilation and air-conditioning (HVAC) plant.
The university uses a 'greywater' collection and management system to enhance its water conservation efforts. It recycles the 180,000 litres of water used daily in its Aquatic Toxicology laboratory into 'greywater' that flushes toilets and urinals on campus. This system saves 32 million litres of water every year.
Ontario Tech has over three hectares of wildflower gardens along with an apiary of 44 hives.
Electrical outlets along the West Promenade of Polonsky Commons are powered by solar.
About AASHE
AASHE empowers higher education administrators, faculty, staff and students to be effective change agents and drivers of sustainability innovation. AASHE works with and for higher education to ensure that our world's future leaders are motivated and equipped to solve sustainability challenges. For more information, visit aashe.org.
Media contact
Bryan Oliver
Communications and Marketing
Ontario Tech University
905.721.8668 ext. 6709
289.928.3653 (mobile)
bryan.oliver@ontariotechu.ca
Gallery
---
Media contact
Bryan Oliver
Communications and Marketing
Ontario Tech University
905.721.8668 ext. 6709
289.928.3653
bryan.oliver@ontariotechu.ca