Ontario Tech University researchers on the leading edge of emerging technologies research
Summer 2019 federal research investments underscore university's commitment to technology research for ethical purposes
August 12, 2019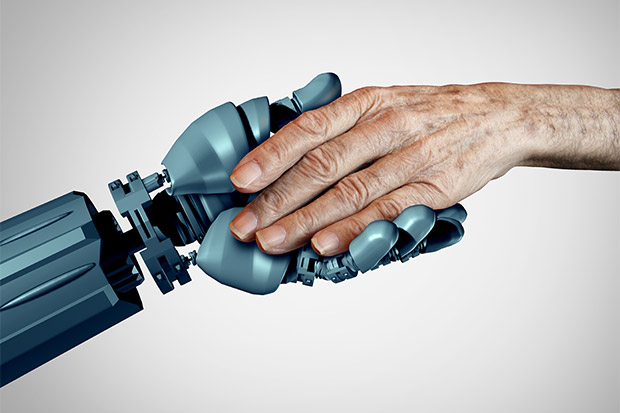 From communications to financial transactions to virtual reality, we live in a world immersed in technology. As society continues to weather concerns about issues like cybersecurity and privacy, research experts at Ontario Tech University focus on the development and impact of new technological applications to make our world a better and safer place.
More than 30 researchers at Ontario Tech will share more than $1.82 million in new funding for various projects aimed at helping us understand some of the biggest challenges Canadians face. The investments announced in July by the Social Science and Humanities Research Council of Canada (SSHRC) and the Natural Sciences and Engineering Research Council of Canada (NSERC) will promote collaboration and partnerships among researchers, businesses and community partners to advance knowledge.
Ontario Tech research spotlight: Legal and ethical issues related to use of social robots for in-home support
Among 25 funded projects at Ontario Tech University is a SSHRC Insight Development Grant awarded to Faculty of Social Science and Humanities researcher Andrea Slane, PhD. Dr. Slane will lead an interdisciplinary investigation into legal and ethical issues related to the use of social robots as in-home support for seniors.
"Developers hope to convince us that social robots will provide a useful means to support seniors who wish to continue living independently as they age," says Dr. Slane. "We are on the cusp of a sustained period of consumer and elder-care market penetration for technologies providing social support, which typically involve a humanoid robot enhancing the kinds of things that we are already doing via our smartphones and digital assistants. But seniors are rarely engaged in determining how this emerging phenomenon will affect them, help them, or even potentially hurt them."
The research will collect opinions among seniors about robots as assistants and companions, and analyze seniors' receptiveness, concerns, and thoughts about ways to protect their interests.
"We will be asking participants how they feel about consumer protection regulations and how much they know about the data handling practices of these technologies," says Dr. Slane. "We will assess opinions on what would allow them to feel their sensitive information is secure when interacting with a social robot. The study will inform both regulators and developers about potential best business practices for these technologies, while giving seniors a forum to convey their perspectives."
Dr. Slane is also conducting a related study collecting seniors' views on privacy protections when using social support technologies more generally, funded by the Office of the Privacy Commissioner of Canada.
Quote
"Ontario Tech University researchers have been immensely successful in the competition for Tri-Council research funding in 2019. All of the projects funded by SSHRC and NSERC speak to the university's deep capacity for impactful, multidisciplinary research of the highest quality. We are proud of the broad spectrum of scholarship our university champions and the fact that many of these projects overlap the expertise of different faculties while also engaging industry partners and researchers at other universities across Canada. Ontario Tech University is emerging as a leader in Canada's research community on disruptive technologies and the importance of thinking about tech with a conscience."
-Les Jacobs, PhD, FRSC, Vice-President, Research and Innovation, Ontario Tech University
Summer 2019 SSHRC/NSERC grant summary
SSHRC Insight Grants (7)
Faculty of Business and Information Technology (FBIT)
Faculty of Education (FEd)
Faculty of Social Science and Humanities (FSSH)
SSHRC Insight Development Grants (5) 
FBIT
FEd
FSSH
Sharon Lauricella, PhD: Constructing the mental health crisis: Narrative sources and media consumption by emerging adults and post-secondary institutions (two external co-applicants)
Matthew Shane, PhD: Using functional magnetic resonance imaging (fMRI) to evaluate the existence of virtuous and non-virtuous motives to empathize
Andrea Slane, PhD: Gathering input from seniors on legal and ethical issues related to use of social robots for in-home support (two Ontario Tech co-applicants: Patrick Hung, PhD, FBIT; Isabel Pedersen, PhD, FSSH; plus one external co-applicant and three external collaborators)
NSERC Discovery Grants (13)
Faculty of Engineering and Applied Science
FBIT
Faculty of Science
---
Media contact
Bryan Oliver
Communications and Marketing
Ontario Tech University
905.721.8668 ext. 6709
289.928.3653
bryan.oliver@uoit.ca