The road to autonomous vehicle development leads through Ontario Tech University
Ontario Tech's ACE on the forefront of autonomous transportation research
August 9, 2019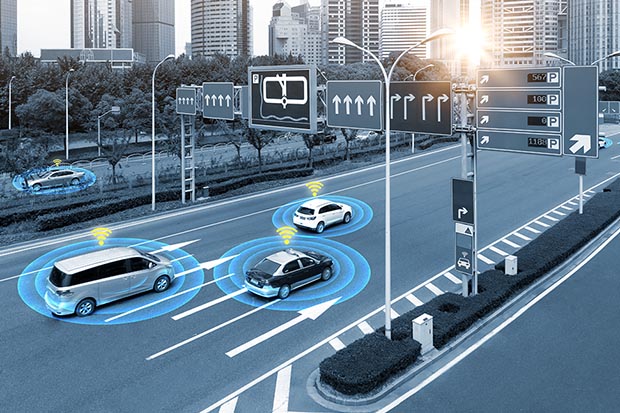 You are likely aware that Ontario is well down the road toward the development of a vibrant, modernized and diversified automotive and transportation technology ecosystem. Autonomous vehicle (AV) research is paramount to the future of mobility in the province. But what you may not know is that a lot of the critical research to advance AV technologies is happening right here in your own backyard at Ontario Tech University. 
In fact, Ontario Tech University's ACE is a key hub within in the Ontario Autonomous Vehicle Innovation Network (AVIN), and home to one of AVIN's six Regional Technology Development Sites across the province.
In collaboration with various community partners, ACE's focus within AVIN is the development of technologies related to the human-machine interface (HMI) of new vehicles and the enhancement of user experience.
"ACE's and Ontario Tech University's connection to AVIN is a massive contribution toward supporting the province's efforts to seize the economic opportunities of connected and autonomous vehicles," says Justin Gammage, PhD, Industry Liaison Specialist, Ontario Tech University. "ACE's remarkable dynamic test chambers, including our renowned Climatic Wind Tunnel, offer enormous capacity for the real-time development and validation of new AV technologies. New software and hardware applications are put to the ultimate climatic and vibration tests at ACE."
AV technology in Ontario will allow for:
Reduced traffic congestion.
Reduced emissions.
Fewer accidents and risk mitigation (and possibly lower insurance costs for all).
Vehicle owners to 'monetize' (rent or lease) their vehicle when not using it, including new business models offering mobility as a service.
Potential cost/tax savings through reduced parking inventory needs and fewer new roads.
Self-driving buses to enhance public transport, with the potential for 24/7 service.
"The future of mobility is all about accessibility for all drivers and passengers, including the blind, those with mobility restrictions and those who are otherwise unable to drive or do not own a method of transportation," says Dr. Gammage. "ACE is about practical whole-vehicle testing. We are here to connect the virtual world with the real world. ACE enables research and development (R&D) in all conceivable road conditions and every possible weather scenario, from Arctic blizzards to ice storms to torrential high-wind storms to searing desert heat."
Deployment and operation of AVs also includes ensuring the safety of those not inside them, such as pedestrians, motorcyclists and bicycle riders.
"Developing 'smart' infrastructure requires understanding diverse objects, environments and situations," says Dr. Gammage." There will be challenges in computing platforms, analytics, architecture, and privacy protection. ACE will provide AVIN with accurate sensing technologies and reliable machine-learning techniques to improve urban traffic management, design and connectivity.
ACE's R&D capacity:
Autonomous and electric vehicle charging test bed for the development of autonomous and inductive high-power charging systems.
Simulated wireless environment within the chambers to mimic wireless environments vehicles would encounter anywhere in the world.
AV achievements at ACE to date:
Partnership with eCAMION (Scarborough, Ontario) to install and commission a first-of-its-kind autonomous/electric vehicle charger test bed (to evaluate new fast-charger systems and design and develop new power electronics devices that will improve efficiency and charging capability).
Partnership with Keysight Technologies (Mississauga, Ontario) to install indoor an wireless environment in the Climatic Wind Tunnel allowing engineers and test technicians to trick a car into thinking it is driving anywhere in the world. Vehicles can be operated in any simulated location while being exposed to the expected environment in that region.  
Other partners include automobile manufacturers and key tech leaders such as Nokia, SmartCone Technologies (Stittsville, Ontario), and IBM.
About AVIN
The Autonomous Vehicle Innovation Network (AVIN) is a Government of Ontario initiative launched in November 2017 that supports Ontario's competitive advantage and reinforces its position as a North American leader in transformative automotive and mobility technologies, including transportation and infrastructure systems. This initiative capitalizes on the economic potential of connected and autonomous vehicle (C/AV) technologies by supporting the commercialization of best-in-class, Ontario-made solutions. AVIN also helps Ontario's transportation systems and infrastructure plan for, and adapt to, these emerging technologies.
AVIN comprises four distinct programs and a central hub:
AV Research and Development Partnership Fund
Talent Development
Demonstration Zone
Regional Technology Development Sites (including Ontario Tech's ACE in Durham Region)
A central hub acting as a co-ordinating body for AVIN activities
---
Media contact
Bryan Oliver
Communications and Marketing
Ontario Tech University
905.721.8668 ext. 6709
289.928.3653
bryan.oliver@uoit.ca