Ontario investing in research in Durham Region at Ontario Tech University
Province advancing new knowledge to strengthen economy and create jobs
September 11, 2019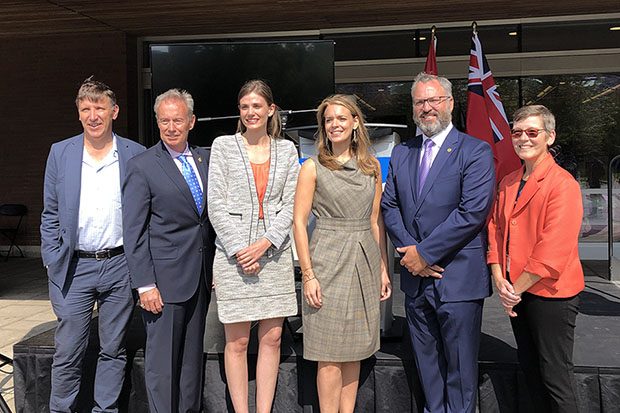 Lindsey Park, MPP for Durham, and Lorne Coe, MPP for Whitby, visited Ontario Tech University September 10 to announce $140,000 in new provincial funding for local research, demonstrating the government's commitment to making Ontario open for business and open for jobs.
"Knowledge and research give our industries in the Durham Region the tools they need to be competitive and innovative, and to push the envelope when it comes to developing new products, services, and technologies for an ever-changing economy and world," says MPP Lindsey Park. "As a government, we are investing in research and providing the support researchers need as they look to cure diseases, invent new technologies, and spur innovation."
Province-wide, Ontario is investing $41 million in 174 research projects through three separate funding programs. The grant to Ontario Tech University (for dietary sodium research by Dr. JoAnne Arcand, Faculty of Health Sciences) is part of the Early Researcher Awards program, designed to help newly appointed researchers working at Ontario's research institutions build their teams. Investments province-wide are also making sure colleges and universities have up-to-date labs and equipment, and are supporting key projects in the field of genomics.
"Research leads to new knowledge that can deliver advances in health care, make our businesses more competitive, and lead to new products and services, companies and jobs," says MPP Lorne Coe.
Quick facts
Research projects were selected for funding through a rigorous and competitive peer review process.
The research investment for Ontario Tech University will go towards Dr. JoAnne Arcand's Faculty of Health Sciences research project that aims to improve dietary behaviours and reduce cardiovascular risk through novel e-health interventions.
Ontario Tech University in Oshawa has 56 undergraduate programs, 37 graduate programs, 20 college-to-university transfer programs, and faculty that engage with more than 300 industry partners to incorporate practical, hands-on learning for students.
The Ontario Research Fund – Research Infrastructure program provides research institutions with funding to help support infrastructure needs, such as modern facilities and equipment.
The Early Researcher Awards program helps new researchers working at publicly funded Ontario research institutions build their research teams.
Through the Ontario Research Fund – Genomics Programs, the government is investing in advancing our knowledge of genomics. Genomics, the study of the building blocks of life, promises many benefits, including speeding up the discovery of new drugs.
Additional resources
University quotes
"This funding from the Ministry of Economic Development, Job Creation and Trade will enable me to expand my research and uncover new ways to build awareness about sodium consumption, and to discover new ways of using policy-level and technology-based solutions to reduce sodium intake and improve the overall quality of Canadians' diets. I look forward to applying this support toward improving Canadians' awareness of nutritional health and helping lower the rates of cardiovascular diseases such as hypertension and heart failure."
-Dr. JoAnne Arcand, Assistant Professor, Faculty of Health Sciences, Ontario Tech University
"This investment by the Ministry of Economic Development, Job Creation and Trade will enable Dr. JoAnne Arcand to continue breaking new ground in innovative health sciences research. Dr. Arcand's Early Researcher Award exemplifies Ontario Tech University's outstanding portfolio of leading-edge research that drives and promotes ethical applications of technology to improve the lives of all Canadians."
-Dr. Les Jacobs, Vice-President, Research and Innovation, Ontario Tech University
Selected archival stories about Dr. Arcand's dietary sodium research at Ontario Tech University
Learn more