Ontario Tech University advancing drone cybersecurity research for remote-location inspections
University collaborating with aerial data company SkyX
October 24, 2019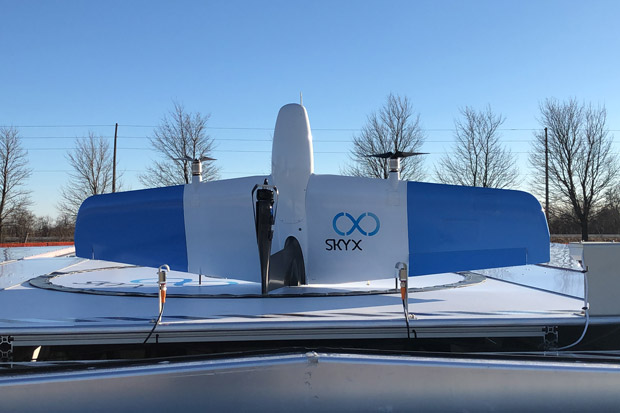 You see them almost everywhere you travel: electricity transmission lines extending for hundreds if not thousands of kilometres across vast areas of countryside. Canada's massive grid of power wires and towers is just one component of Canada's energy infrastructure, with most of the equipment far away from urban areas and highways.
Perhaps even more remote is Canada's four-million kilometres of oil and gas pipelines. Almost the entire network is extremely difficult to access for ground inspection. Fortunately, modern technology in the form of drones or 'remotely piloted aircraft systems' (RPAS) helps utilities easily and quickly inspect huge areas of equipment from afar, anywhere, anytime.
Autonomous drone deployment is expanding rapidly across a wide range of industries. Commercial inspection applications include emergency response, medical supply delivery, coastal monitoring and border patrol.
Toronto, Ontario-based aerial inspection and monitoring company SkyX specializes in building vertical take-off and landing (VTOL) drones for companies and organizations needing to monitor and inspect their long-range critical infrastructure assets. SkyX engineers work with Ontario Tech University information security researcher Dr. Khalil El-Khatib and his research team to ensure the security architecture of their advanced autonomous aerial platform is safe from cyberattacks. 
Quotes
"The security of assets and information is SkyX's number-one priority. Our partnership with Ontario Tech University allowed us to test the security of our xStations (drone charging stations) against outside threats; their team did a great job of identifying the known attack vectors. In working with some of the world's largest energy companies, we understand how necessary it is to have the proper security systems in place and to challenge them continually as new technologies and threats emerge. We look forward to partnering with the Ontario Tech University team again soon."
-Jason Braverman, Chief Technology Officer, SkyX
"Drones like those developed by SkyX not only gather massive amounts of data, but are also intricate pieces of equipment with cameras and high-tech software. Just like with finance or communication technology platforms that collect and transmit sensitive data, we need to be certain drones are free of potential flaws and protected against cyberattacks. Our innovative research focuses on auditing SkyX's current systems and methods, and proposing efficient and secure solutions to defend against any vulnerability."
-Dr. Khalil El-Khatib, Professor, Faculty of Business and Information Technology, Ontario Tech University
About SkyX
SkyX is an end-to-end aerial inspection and monitoring solutions provider revolutionizing the way aerial data is accumulated, analyzed and actioned. By integrating Artificial Intelligence (AI) with purpose-built aerial systems, we deliver actionable data to drive operational excellence for the midstream energy sector, rail and other verticals with long-range assets. Equipped with this intelligence, organizations can make intelligent and informed decisions about the health of their aging infrastructure, mitigate risks associated with having remote assets and reduce a tremendous amount of cost for maintenance and insurance. For more information visit skyx.com.
---
Media contact
Bryan Oliver
Communications and Marketing
Ontario Tech University
905.721.8668 ext. 6709
289.928.3653
bryan.oliver@ontariotechu.ca