Ontario Tech University's Cyber Girls Ambassador Program provides insight and vision for girls in STEM
October 18, 2019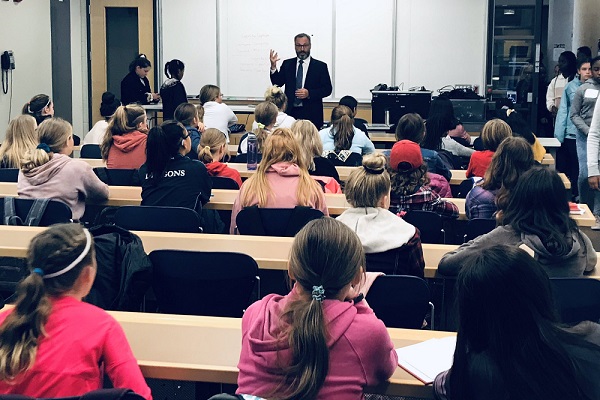 Young girls often show a keen interest in science, technology, engineering and math (STEM) disciplines, but if they have no role models, they may not see themselves as candidates for careers in these fields. Ontario Tech University is changing that with its Cyber Girls Ambassador Program.
On October 16, the university hosted more than 65 students and 30 teachers to educate and empower them on cybersecurity. Participants learned about phishing emails and what to look for, and how to stay safe online. They also did some team-building activities in groups.
Ontario Tech President Steven Murphy welcomed the group, highlighting the importance of STEM education and encouraging them to pursue studies in the fields of science, technology, engineering and math.
Sean Higgins, Co-Founder and CTO Customer Success, The Herjavec Group, led a teacher education session focused on cybersecurity training and provided tips on how to train others in their schools.
In the summer of 2019, the university launched its new Cyber Girls Ambassador Program to spark the interest of female students between 11 and 14 years of age who are keen to learn about the world of cybersecurity.
Through an environment of discovery, hands-on experience, coaching and fun, students will gain a broad understanding of cybersecurity, including digital citizenship, coding and critical thinking. Topics include the Internet, social media risks and safe networking, cyberbullying, identity protection, theft and online game development.
Quote:
"As the world becomes more digitally connected, the cybersecurity industry is set to grow exponentially. Ontario Tech University is taking another bold step forward in actioning our tech with a conscience philosophy. Through this new program, we will prepare girls to embrace their full potential, so they may aspire to rewarding careers in online safety and security."
- Dr. Steven Murphy, President and Vice-Chancellor, Ontario Tech University