Ontario Tech University welcomes Global News to campus for October 16 newscast
October 18, 2019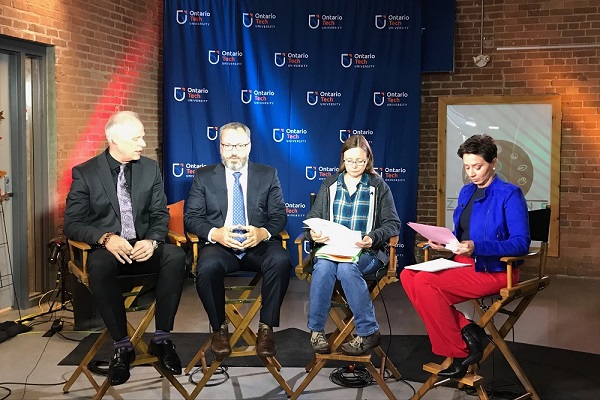 In case you missed it, Global News was on campus October 16 to film their 5 p.m. Durham newscast and broadcast their Ontario-wide newscast live at 5:30 p.m. (anchored by Alan Carter) from the university's 61 Charles Street Building in downtown Oshawa. 
The Durham newscast included a panel discussion about the future of Oshawa, moderated by Global News Producer Crystal Goomansingh; participants included:
Toward the end of the newscast, Global News ran a piece entitled Ontario Tech, Green Jobs Oshawa, mayor weigh in on future of Oshawa, which shone the spotlight on Ontario Tech's key role in Oshawa's transition to a tech-focused future. In addition to showcasing the university's powerful ACE Climatic Wind Tunnel, the piece also highlighted:
A number of green tech projects currently in the works at the university, including a corporate energy management plan and a storm water management plan.
The revamping of a number of Ontario Tech's academic programs to align with the university's focus on 'technology with a conscience', which will equip students with the knowledge and skills they need to address social issues and improve the lives of citizens in Oshawa and beyond.