Ontario Tech positioned to support province's new economy
November 7, 2019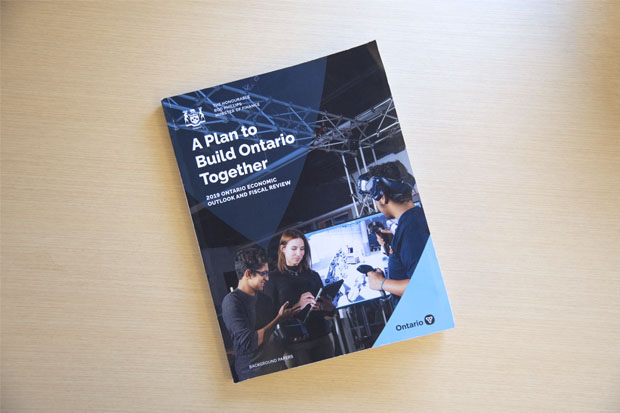 Ontario Tech University has an important role to play as the Province of Ontario prioritizes that university students — tomorrow's entrepreneurs, innovators and workers — have the skills needed to succeed in a highly competitive global economy.
As part of the Fall 2019 Ontario Economic Outlook and Fiscal Review, the province acknowledges that advances in technology, globalization and an aging population are just a few of the challenges facing Ontario's workforce.
Ontario Tech is a university whose technology focus and highly skilled graduates are key ingredients in helping the province adapt to a shifting new economy.
The province's commitment to a digital-first service delivery model and preparing people for jobs aligns with Ontario Tech's mission to advance the discovery and application of knowledge to accelerate economic growth, regional development and social innovation.
Selected highlights of the Fiscal Review pertaining to Ontario Tech University:
Renewed focus on science, technology, engineering and math (STEM) fields to prepare students for successful careers aligns with university's objectives.
The university is well-positioned to support Ontario's transition to a digital-first approach for service delivery.
We have the resources and expertise needed to support Ontario's Cybersecurity Centre of Excellence.
Applauds support for small business and entrepreneurship. Ontario Tech champions learner-centred educational options that encourage entrepreneurship activities, such as through programs like Brilliant Solutions.
Cover story
Ontario Tech University is a leader in providing the best employees for the new economy. This is exemplified with the university's Gaming and Virtual Reality Laboratory being featured on the cover of the province's Fiscal Review, showcasing the university's modern teaching, learning and research infrastructure.
Quote
"Ontario Tech champions the improvement of lives through the ethical application of technology, social innovation and exciting new approaches to flexible, accessible and dynamic learning. Our graduates are already making a difference and taking a leading role in the workplaces of the new Ontario economy."
-Dr. Steven Murphy, President and Vice-Chancellor, Ontario Tech University