Winter weather guidelines and FAQs
November 11, 2019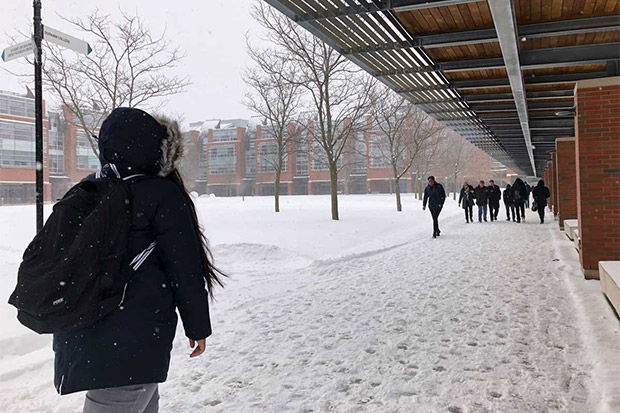 Inclement winter weather conditions such as heavy snow, freezing rain and/or ice pellets can often make travel difficult. When it comes to curtailing operations in times of severe weather, different organizations—public and private—follow their own protocols and best practices. For example, school boards might decide to cancel school bus services, but keep schools open.
Winter conditions can sometimes be intimidating even though the university does not cancel classes. During most winter weather, the campus remains open and activities remain unaffected.
Please allow for plenty of time to get to the campus, and to travel with due caution and care, especially if you are in an area heavily affected by the weather. If you are in an area heavily affected by the weather and cannot get to campus, contact your supervisor or professor regarding your absence.
Students, faculty and staff are reminded they are responsible for determining when weather conditions make their travel unsafe.
How are decisions to cancel classes made?
Sometimes the Emergency Management Response Team (EMRT) will decide to cancel classes and non-essential services until weather conditions improve. The EMRT will consider such factors as the ability to operate the campus safely (e.g. utility disruptions, and for the university community to get to and from campus safely). The EMRT also assesses the status of regional transit operations, primary road conditions in Durham Region, and Environment Canada forecasts, warnings and advisories.
If the campus can be operated safely, if regional roads are passable, if Durham Region Transit and GO Transit are operational, and if those conditions are not expected to change significantly, the university will operate as usual.
How are cancellations communicated?
The university will post full information about the campus status on the Service Disruptions page on ontariotechu.ca as quickly as possible. 
Depending on the situation, the university will also:
Issue information on social media channels and the Ontario Tech mobile app, on the university's home page, and on ontariotechu.ca/servicedisruptions

.

Forward university messages to regional newspapers and radio/television stations.
Communicate via other means as needed, including campuswide emails to faculty and staff; emails to students' UOITnet accounts; and on-campus digital signage.
The EMRT will do its best to provide information as quickly as possible. Please monitor this web page for late evening and early morning updates on severe winter weather days.
Important links:
Note: This winter weather information is not intended to cover all possible eventualities. It's assumed that the decision-making and relevant communications will be adapted, as appropriate, to suit the circumstances. It cannot be assumed that all individuals who may be coming to campus or on campus at the time of a weather emergency can be notified of a cancellation.