How technology-enabled simulations at Ontario Tech will deepen our understanding of dementia-related challenges
Ontario Tech University launches Ontario-exclusive collaboration with U.S.-based AGE-u-cate® Training Institute
March 3, 2020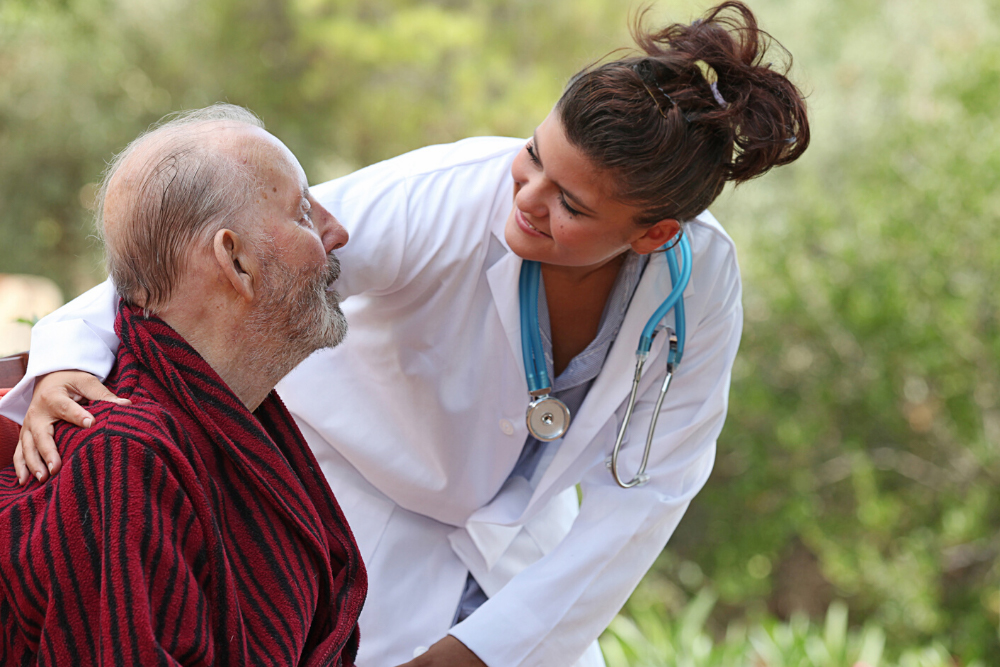 Once misunderstood to be a normal part of aging, dementia is a syndrome that affects memory, behaviour, problem solving and the ability to perform everyday activities.
As a major global public health priority, dementia not only overwhelms people who live with it, it also poses serious psychological and economic challenges for their caregivers and families. In many cases, the lack of awareness of dementia results in stigmatization.
Thanks to recent advances in technology, Ontario Tech University is delivering solutions to help care partners navigate the many demands they face while also building a greater public understanding of dementia's many forms.
As part of its designation as an Age-Friendly University, Ontario Tech's Office of Continuous Learning ( ontariotechu.ca/learn) is collaborating with Texas-based AGE-u-cate® Training Institute, a leading international provider of aging and dementia training programs for professional and family caregivers. Ontario Tech is the exclusive provider for AGE-u-cate's Dementia Live® and Compassionate Touch® Coach training programs throughout the Province of Ontario. 
How AGE-u-cate's technology works
Today's technology now enables care partners to gain a greater understanding of and empathy for the challenges of living with dementia. Through specialized wearable technology components including headphones, eyewear and gloves, Dementia Live® is a powerful training tool that simulates such real-life dementia-related experiences as:
Reduced peripheral vision.
Reduced hearing capacity due to enhanced background noise.
Reduced tactile sensation when handling objects.
Dementia Live® empowers participants with new methods for improved communication skills and care practices, helping improve the quality of life of those living with dementia while reducing care partner stress. 
Through its exclusive collaboration with AGE-u-cate, Ontario Tech University is eager to establish, expand and build relationships across Ontario with long-term care providers such as hospitals, home-care and hospice providers, and other organizations. The university hopes to improve quality-of-care for persons living with dementia-related illnesses across the province.
Facts about dementia in Canada
More than 500,000 Canadians live with dementia (250,000+ in Ontario). Due to an aging population, this number is expected to approach one million Canadians by 2031.
Dementia is most common among people over the age of 65, but about seven per cent of diagnoses are made in people between 40 and 65 years old.
By 2031, combined health-care system and out-of-pocket caregiver costs are expected to reach $16.6 billion (update from $10.4 billion in 2016).
(sources: Alzheimer Society Canada; Province of Ontario)
Quotes
"Ontario Tech University is excited to bring AGE-u-cate Training Institute's top-notch experiential training and education programs to Ontario. It is critical that we better-prepare health-care professionals with effective skills to meet the needs of the growth in aging population and help families further understand the impact dementia has on a loved one."
- Michelle Aarons , Director, Continuous Learning, Ontario Tech University
"Aging care is more and more becoming about dementia care, and stakeholders must collaborate to reach the training needs across the globe. We believe Ontario Tech University is well positioned and prepared to deliver these training programs and support the efforts of implementing these programs across the spectrum of care." 
- Pam Brandon , President and Founder, AGE-u-cate Training Institute
About AGE-u-cate Training Institute
AGE-u-cate Training Institute develops and delivers innovative, research-based aging and dementia training programs for professional and family caregivers. AGE-u-cate programs are implemented in over 600 locations including long term care communities, hospitals, in-home, hospice, and community-based organizations as well as institutions of higher learning, in the U.S., Canada, and internationally. 
About Ontario Tech University
A modern, forwarding-thinking university, Ontario Tech advances the discovery and application of knowledge to accelerate economic growth, regional development and social innovation. We inspire and equip our students and our graduates to make a positive impact in a tech-focused world. For us, it's not only about developing the next tech breakthrough. Understanding and integrating the social and ethical implications of technology differentiates us as a university. Learn more at  ontariotechu.ca.
Media contacts 
Mary Petersen
Manager, Client Engagement
AGE-u-cate Training Institute
Fort Worth, Texas
817.857.1157 ext. 204
mary.petersen@AGEucate.com
Michelle Aarons
Director, Continuous Learning
Ontario Tech University
905.721.8668 ext. 3722
michelle.aarons@ontariotechu.ca