Ontario Tech University creating a great learning environment for older adults
'Age-Friendly' designation represents university's commitment to diversity and providing lifelong educational opportunities
July 2, 2019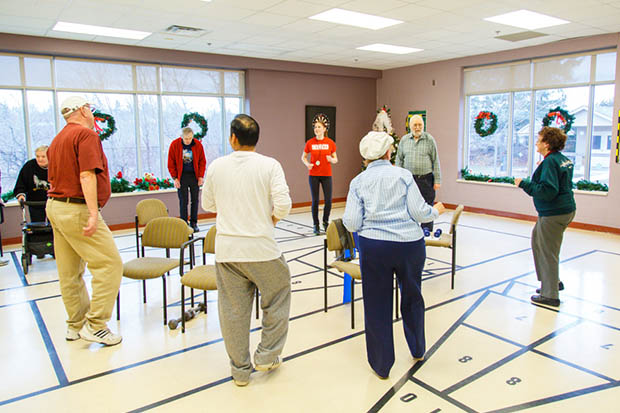 Canada is experiencing unprecedented growth in its aging population. By 2031, one in four Canadians will be an older adult (aged 55 and over). In the City of Oshawa, more than 30 per cent of residents are older adults.
The times are changing for this emerging demographic. Unlike previous generations, today's older Canadians are seeking access to ongoing educational and learning opportunities. Accordingly, post-secondary institutions are recalibrating. The onus is on universities to create and develop innovative teaching, research and community engagement strategies to answer the anticipated demand.
Ontario Tech University recently became one of a handful of Canadian universities to receive the Age-Friendly University (AFU) designation from the AFU Global Network. The AFU network includes higher-education institutions around the world endorsing the 10 AFU principles and committing themselves to becoming more age-friendly in their programs and policies. AFU-designated universities like Ontario Tech enrich the student experience and improve the quality of life of older adults in the community.
Age-friendly initiatives currently under development at Ontario Tech:
Enhancing experiential learning opportunities for younger students by pairing them with older mentors who have extensive experience in their fields.
Building technology-related learning opportunities for older adults through student internships and capstone projects.
Engaging older adults from the community in Career Centre activities such as career development lectures and leadership development.
Engaging older adults in continuing education programs as well as graduate programs.
Providing professional development opportunities to faculty and staff at Ontario Tech who may be interested in pursuing a second career.
Supporting an active, healthy lifestyle for older adults through a Senior Ridgebacks athletic program.
In celebration of Ontario Tech's AFU designation, the university will welcome older adults from the community to campus as part of Doors Open Oshawa 2019 on Saturday, September 28 (further details coming soon). Participants will tour some of the university's facilities, and meet with students, faculty and staff. 
In addition, the university will form a committee of Ontario Tech faculty and staff as well as older adults in the community. Older adults interested in joining the committee or learning more about this initiative should contact: 
Shilpa Dogra, PhD
Associate Professor (Kinesiology)
Faculty of Health Sciences
Ontario Tech University
905.721.8668 ext. 6240
shilpa.dogra@uoit.ca 
Quotes: 
"Ontario Tech University is striving to create an inclusive and welcoming campus, not just for students, but for our community members as well. We want older adults committed to lifelong learning to come to our campus to learn, make use of our modern facilities, and be part of the student experience. Young students can gain from the experience of our older adults, and older adults can learn from our young students. We want to see intergenerational interactions happening here on campus. True innovation requires diversity; this age-friendly initiative is aimed at increasing age diversity on our campus."                                                                                                                                                                                               -Shilpa Dogra, PhD, Associate Professor, Kinesiology, Faculty of Health Sciences, Ontario Tech University
"Inclusion of any underrepresented group is of great benefit to any institution. Traditionally, the needs of older adults have been overlooked by post-secondary institutions. It's time for that to change. Opening our doors to older adults is critically important, given the increasing number of older adults in Canada. The research conducted at Ontario Tech University in the areas of healthy and active aging will have positive effects on the health and quality of life of older adults. It will encourage students to spend more time on campus outside of their classes, and lead to intergenerational learning opportunities."    
- Lori Livingston, PhD, Provost and Vice-President, Academic, Ontario Tech University