Ontario Tech researchers exploring a colourful solution to stopping antibiotic resistance
Chemistry research could have major applications for health care, food processing and other industries
June 16, 2020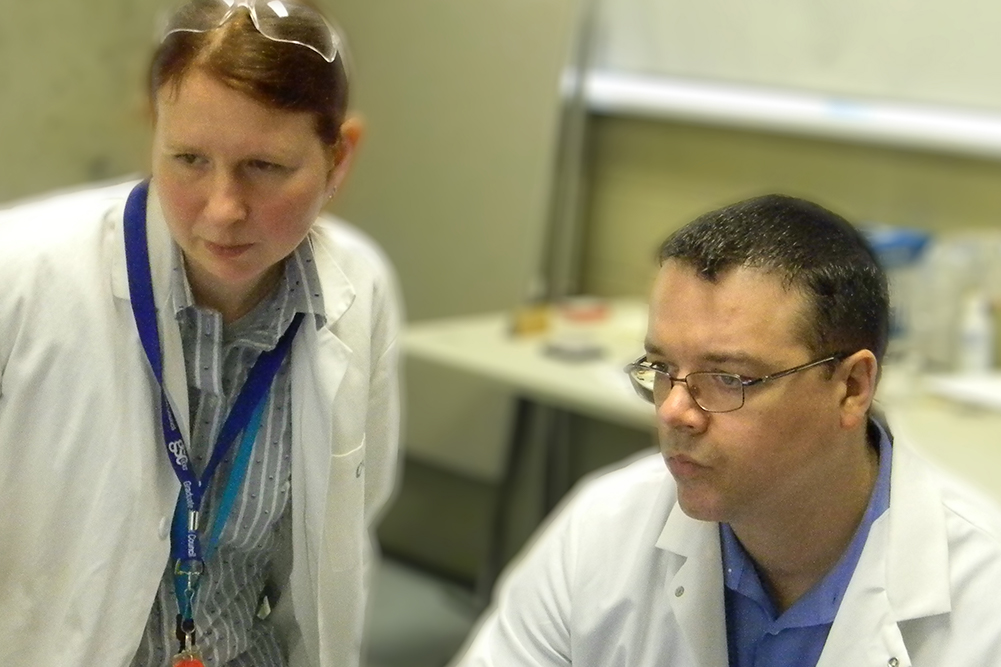 Antibiotics are medicines used to prevent and treat bacterial infections. Science has long known that bacteria structurally change in response to the use of these medicines.
The World Health Organization says antibiotic resistance is one of the biggest threats to global health and food security, and the misuse of antibiotics in humans and animals is accelerating that process to dangerously high levels. Infections such as pneumonia, tuberculosis and blood poisoning are becoming harder and sometimes impossible to treat as antibiotics become less effective.
Antimicrobial substances (such as disinfectants) are also a huge part of the battle to prevent infection spread. Antimicrobials kill microorganisms like bacteria, mold and mildew to protect people from infections after touching surfaces like countertops, toys and hospital equipment.
At Ontario Tech University, Faculty of Science researcher and Associate Professor Dr. Olena Zenkina is exploring the creation of a new generation of antimicrobial materials designed to be more effective than products currently on the market. Dr. Brad Easton, Professor, Faculty of Science is co-Principal Investigator on the research.
"Common antimicrobial protective coatings are based on the application of thick liquid layers that slowly release bacteria-killing compounds," says Dr. Zenkina. "But some of these coatings are not environmentally friendly or suffer from short shelf-life."
Colour changes will indicate contamination levels
Dr. Zenkina's research proposes creation of a new class of low-cost, ultra-thin hybrid coatings that will bond easily with antimicrobial molecules on surfaces to not only inhibit the growth and proliferation of bacteria, viruses and fungi, but also exhibit colours to easily identify the level of contamination.
Imagine an antimicrobial molecule comprising several tiny LEGO blocks, each block with different functions, including the ability to catch and kill bacteria. Some of these molecular 'blocks' contain interactive metallic ions that will change a bacterium's oxidation state, observable as a colour change to the naked eye.
"My research group has previously worked on colorimetric sensors with proteins and blood hemoglobin," says Dr. Zenkina. "Self-cleaning, self-sterilizing and self-indicating 'smart' materials can prevent the initial growth of biofilms believed to be the critical event in infection development. Coupled with a global reduction in antibiotic treatments, this could help overcome the global antibiotic resistance crisis."
"This research reflects a real strength for Ontario Tech University, is very timely given the current COVID-19 situation, and underscores our expanding reputation as a research-intensive university," says Dr. Les Jacobs, Vice-President, Research and Innovation, Ontario Tech University. "Dr. Zenkina's findings could lead to a significant decrease in hospital infections. And there could be a wide range of applications beyond COVID-19, including food processing, marine industries, and many other strategically important manufacturing sectors in Canada."
Funded by the federal New Frontiers in Research Fund (NFRF), Dr. Zenkina's $250,000 project is one of 186 across Canada selected for bringing scientific disciplines together in non-traditional ways to explore new research directions. The NFRF is managed as a tri-agency program on behalf of the Canadian Institutes of Health Research, the Natural Sciences and Engineering Research Council and the Social Sciences and Humanities Research Council.
Media contact
Bryan Oliver
Communications and Marketing
Ontario Tech University
289.928.3653 (mobile)
bryan.oliver@ontariotechu.ca