Leading energy executive appointed Chair of Ontario Tech University's Board of Governors
Appointment of Dietmar Reiner and new governors bolsters university's tradition of strong academic governance
September 2, 2020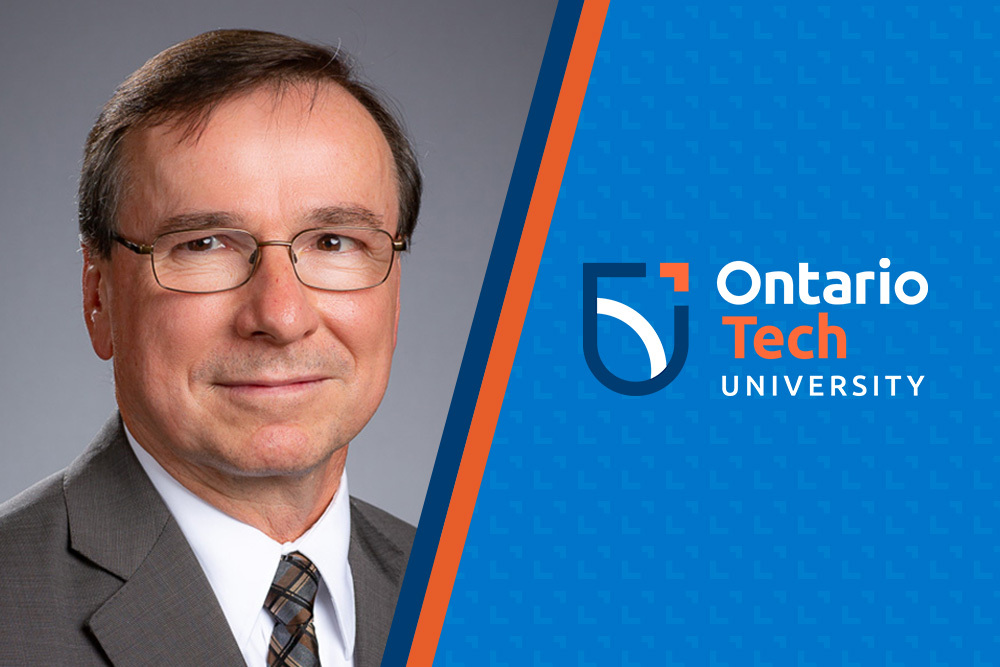 OSHAWA, ONTARIO – Distinguished electricity industry executive Dietmar Reiner will widen his role at Ontario Tech University as the new Chair of the university's Board of Governors for the 2020-2021 academic year.
Mr. Reiner is Senior Vice-President, Enterprise Projects at Ontario Power Generation Inc. (OPG), one of the largest electrical generating companies in Canada with a diverse fleet of nuclear, hydroelectric, gas, biomass and renewable generating stations. 
With more than 35 years of experience in the electricity industry, Mr. Reiner is responsible for providing vision, strategy, and leadership in the planning and execution of OPG's major capital projects, including the refurbishment of OPG's Darlington Nuclear Generating Station and the safe storage and decommissioning of OPG's Pickering Site. 
In addition to having received many professional awards, Mr. Reiner's record of leadership includes advisory and governing board membership with many companies such as Hewlett-Packard Canada, Sun Microsystems, the SPi Group, among others. His community work includes chairing OPG's Charity Campaign and serving on the McMaster University Faculty of Engineering Dean's Advisory Board. 
Related link
Mr. Reiner, a graduate of the University of Waterloo, succeeds Douglas Allingham as Chair.
During Chair Allingham's tenure, the university introduced its ambitious new Ontario Tech brand and distinct visual identity. It moved forward with the new five-storey building that will be the new home for the Office of Student Life and the Faculty of Health Sciences, now under construction at the north Oshawa campus location. He also focused on building lasting relationships with the private sector in support of Ontario Tech students and the university's academic mission. Ontario Tech sincerely thanks Mr. Allingham for his many years of dedicated service to the university.
University appoints two new governors
Ontario Tech University proudly welcomes Kim Grant and Roger Thompson as the board's two newest governors.
Toronto-based Kim Grant is the Director of Emerging Markets and Commercialization with the Public Services Health and Safety Association (PSHSA). Grant previously worked with university students and faculty through the PSHSA's Internship Program. As a strategic thinker, Ms. Grant brings to the board a deep understanding of government, safety, technology, e-learning, digital products, technology development and legislation. The University of Windsor graduate has also worked with Workplace Safety and Prevention Services, and the Ontario Service Safety Alliance.
Roger Thompson is Vice-President of Strategy and Sustainability with FirstService (TSX:FSV.TO), an essential property services company in Toronto. Mr. Thompson's ties to the university date back to 2016 academic networking with the Faculty of Business and Information Technology. He previously held executive leadership roles with a number of companies including President Property Management, Campitelli-Thompson Enterprises Inc., and is a former IBM Canada financial analyst. The Pickering resident holds a bachelor's degree from Western University and master's degree in business administration from the University of Toronto's Rotman School of Management.
The university thanks outgoing board members Nigel Allen, who chaired the Audit and Finance Committee, and Owen Davis for filling the student governor's seat, wishing him the best as he returns to his studies.
Quotes
"Ontario Tech University's Board of Governors is pleased to welcome Dietmar Reiner as its new Chair. I had the pleasure of working on the Ontario Tech Board with Dietmar for many years. His combination of professional experience, university knowledge and community connectivity will make him an outstanding board chair and represent strong continuity in the university's leadership."
-Douglas Allingham, 2017-2020 Chair, Board of Governors, Ontario Tech University
"I am looking forward to my role as Chair of Ontario Tech University's Board of Governors. The university has executed a powerful brand change over the past year and continues to expand its wide range of market-driven academic programs for undergraduates and graduate students. Our emergence as one of Canada's newest research-intensive universities is driving exciting new partnerships and collaborations with industry, and deepening our community relationships. I sincerely thank outgoing Chair Doug Allingham, not only for serving as Chair, but also for his commitment and contributions as a longtime board member."
-Dietmar Reiner, Incoming Chair, Board of Governors, Ontario Tech University
Photograph of Dietmar Reiner available upon request.
Media contact
Bryan Oliver
Communications and Marketing
Ontario Tech University
289.928.3653 (mobile)
bryan.oliver@ontariotechu.ca
Gallery
---
About Ontario Tech University
A modern, forwarding-thinking university, Ontario Tech advances the discovery and application of knowledge to accelerate economic growth, regional development and social innovation. We inspire and equip our students and our graduates to make a positive impact in a tech-focused world. For us, it's not only about developing the next tech breakthrough. Understanding and integrating the social and ethical implications of technology differentiates us as university. Learn more at ontariotechu.ca.