Remarkable COVID-19 observation: Fewer incidents of aggression in a mental health-care setting
New Ontario Shores and Ontario Tech University position paper outlines some amazing findings
October 14, 2020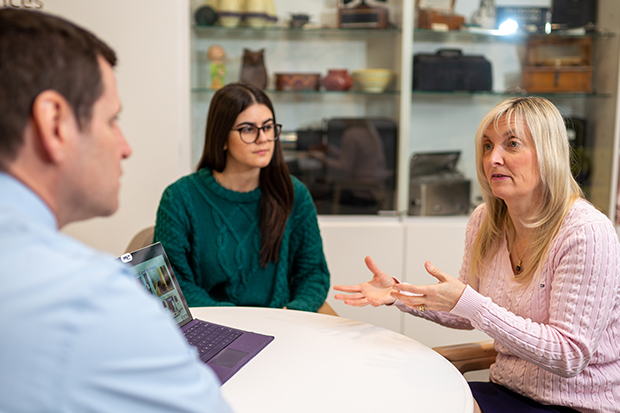 OSHAWA, ONTARIO – The global COVID-19 pandemic has dramatically changed the operation of health care, including psychiatric facilities. Despite anticipating generally negative pandemic-related outcomes, the Ontario Shores Centre for Mental Health Sciences (Ontario Shores) in Whitby, Ontario is uncovering a much different narrative.
A research partnership involving Ontario Shores and Ontario Tech University is documenting a reduction in aggressive incidents at the hospital during the pandemic, along with the decreased need to use restraints and seclusion to manage patient behaviour. These unexpected learnings could have significant impact on future approaches to mental health support and preventing aggression. The data suggests that health care should not necessarily return to 'normal' post-pandemic.
"Against initial common thought that aggression is related to mental health, aggression levels have fallen dramatically during COVID-19," says Ontario Tech University researcher Dr. Carolyn McGregor, Research Chair in Artificial Intelligence for Health and Wellness at Ontario Shores. "While many operational changes were implemented at the hospital during the onset of COVID-19 to enhance safety and proactively prevent negative outcomes, patients are tolerating the unusual situation."
Why is there a reduction in aggression?
Ontario Shores says organizational strategies in response to the pandemic continued to focus on patient well-being while it intensified their 'co-design' approach to more heavily involve all stakeholders, including patients and their loved ones. This level of engagement shifts trust, choice and power, while also proactively identifying any gaps in service delivery.
"With a co-design model, patients have equal decision-making power to determine the implementation of programs and activities, and participate in co-delivery," says Dr. Simone Arbour, Research Scientist at Ontario Shores. "As a result, this shifts power from the service provider to the service user. The very nature of the pandemic put patients and staff on the same side of the crisis and subject to the same vulnerabilities. It is speculated that this phenomenon lessened the perceptions of 'us and them' often found within mental health service delivery."
COVID-19 protocols also meant that all Ontario Shores patients have faced equal physical distancing restrictions and access to privileges. Experts believe this has alleviated the perceived subjective nature of patient-to-patient comparisons and lessened any feelings of power imbalance.  
"Both groups are aligned in meeting the health-care challenges posed by COVID-19," says Dr. Krystle Martin, Clinical Psychologist and Research Scientist at Ontario Shores, and Adjunct Professor with Ontario Tech's Faculty of Health Sciences. "And along this journey we've discovered an opportunity for mental health care to establish a 'new normal' for service models after the pandemic."
"This downward trend in incidents suggests aggression in mental-health hospitals may be more situation-specific and less so a factor of mental illness," says Dr. McGregor, who is also a Professor with the Faculty of Business and Information Technology at Ontario Tech. "More investigation is certainly needed. But we are strongly encouraged to maintain this new approach and continue to find better ways to support and work with patients."
Media contacts
Bryan Oliver
Communications and Marketing
Ontario Tech University
289.928.3653 (mobile)
bryan.oliver@ontariotechu.ca
Andrea Marshall
Communications and Public Affairs
Ontario Shores Centre for Mental Health Sciences
905.430.4055 ext. 6581
marshalla@ontarioshores.ca