Small modular reactors: The dawn of a new era of Canadian nuclear energy
Ontario Tech plays leading role in advancing clean energy options that address demand and climate change
April 16, 2021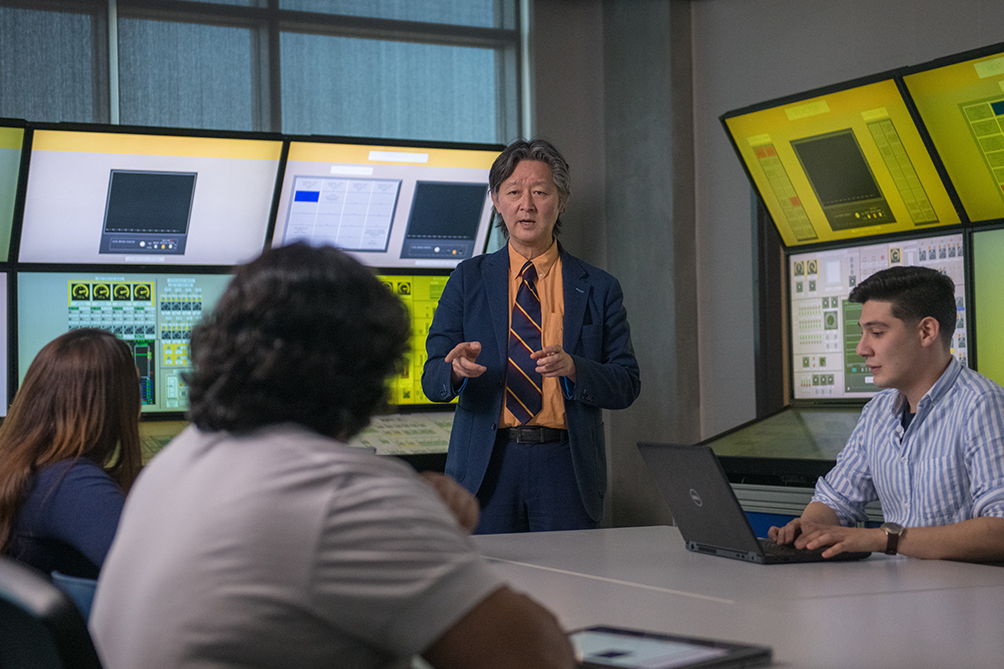 A half-century after Ontario's first large-scale nuclear power station in Pickering started delivering electricity to the provincial grid (July 1971), two generations of Ontarians have become accustomed to receiving cheap electricity from our home-grown CANDU reactors.
Much of Ontario's original nuclear infrastructure continues to supply the grid with reliable energy produced with the lowest carbon emissions of any major jurisdiction in the world. These nuclear plants will continue doing this well into the middle of the century.
What you may not know is there are some new nuclear kids in town, so to speak. Small modular reactors (SMR) aim to renew the way Ontario, and Canada, produces nuclear energy in the longer term.
In 2019, Ontario signed an inter-provincial Memorandum of Understanding (MOU) related to SMR development, an agreement that connects provincial governments and power utilities in New Brunswick and Saskatchewan. Alberta has now joined the MOU, further solidifying Canada as a global leader in this emerging technology.
What are SMRs and what are their advantages?
In short, SMRs are not the same nuclear reactors of your grandparents' generation: those iconic structures lined up adjacent to the shorelines of Lake Ontario and Lake Huron.
SMRs are nuclear reactors that produce 300 megawatts (MW) of electricity or less. Some SMRs, 'microreactors', produce as little as 4 MW of electricity, enough to power a large hospital. To put this into perspective, the 18 existing reactors at OPG's Pickering and Darlington stations, along with Bruce Power's units collectively produce about 13,000 MW of electrical power.
So yes, SMRs are small when compared to their predecessors, but they are big on further safety features. Built in factories with the benefits of quality control and economies of scale, SMRs cannot catastrophically melt down. Not requiring external active heat removal, they can be deployed almost anywhere, far away from lakes or rivers.
How small is 'small'?
Just like cars or airplanes, SMRs will come in different designs and sizes. They can be made-to-order, to meet the energy demand of the areas they will serve.
Larger SMRs, the size of a semi-trailer on a site roughly the size of a football field, are suitable comparable replacements for grid-scale coal and natural gas power stations.


Small SMRs, the size of a large SUV on a site roughly the size of a gas station, could replace diesel generators in remote off-grid communities, as well as provide dedicated power for industry or process heat for hydrogen production.
Seamlessly able to adjust power output as system demand fluctuates, SMRs can work in tandem with solar, wind and hydroelectric power to ensure the lights stay on, no matter the weather or time of day.
Much is said about the radioactive waste burden of nuclear energy generation at big nuclear plants. While SMRs produce far less waste, some SMRs can burn used CANDU reactor fuel (from their bigger cousins), which will help Canada close the nuclear-fuel cycle.
Money saved by reusing spent nuclear fuel, and from not requiring use of natural gas to make electricity, would allow Ontario alone to build at least one large SMR annually. As additional SMRs are produced and technology advances, the unit cost for each reactor will decrease.
What's next for SMRs?
Led by Natural Resources Canada (NRCAN), in co-ordination with provincial utilities (OPG, Bruce Power, NB Power and SaskPower), Canada is following a three-stream strategy for SMR deployment.
Stream 1 proposes a first-of-a-kind grid-scale SMR of around 300 MW be constructed and in operation at the Darlington nuclear site in Ontario by 2028. Subsequent units in Saskatchewan would follow, with the first projected to be in-service in 2032. This 'fleet-approach' would then roll out around the country.


Stream 2 involves the development of two 'fourth-generation' advanced small modular reactors in New Brunswick and the construction of demonstration units by 2030. Similar timeframe deployments are envisioned Western Canada. Fourth-generation SMRs include very-high temperature gas-cooled, liquid metal-cooled and molten-salt reactors.


Stream 3 proposes a new class of SMRs, microreactors, designed primarily to replace the use of diesel in remote communities and mines. A 5 MW gas-cooled demonstration project is under way at Canadian Nuclear Laboratories in Chalk River, Ontario, with plans to be in-service by 2026.
About a dozen SMR designs from across the three streams are currently under active vendor design review by the Canadian Nuclear Safety Commission (CNSC). Several dozen further SMR designs are under active development around the world.
Under the NRCAN MOU, the partner provinces will continue to work with the nuclear industry on SMR feasibility studies and demonstration projects, ensuring Canada remains at the forefront of nuclear innovation, while creating new opportunities for jobs, economic growth, innovation and a lower-carbon future.
SMR research at Ontario Tech University
Hundreds of nuclear engineers will be needed by the mid-to-late 2020's to support deployment of SMRs in Canada. With the only accredited Nuclear Engineering undergraduate program in Canada, and the third-biggest in North America, Ontario Tech's Faculty of Energy Systems and Nuclear Science supports the SMR enterprise by preparing the SMR workforce via advanced training and education.
Ontario Tech's Centre for Small Modular Reactors (CfSMR) undertakes research and consultancy activities to support SMR development. With researchers who have industry backgrounds in naval nuclear propulsion and SMR start-up, CfSMR is the only academic research centre in Canada that has real-world experience of SMR design, manufacture, operation and decommissioning.
Quotes
"Ontario Tech University's leading nuclear expertise, research infrastructure and academic programming has a vital role in supporting small modular reactor development in the coming years. Ontario Tech congratulates the provincial partners on their vision that will position Canada as a global energy technology leader. SMR research and development will create new employment and drive economic growth."
-Dr. Akira Tokuhiro, Dean, Faculty of Energy Systems and Nuclear Science, Ontario Tech University
"SMRs are based on proven technologies, updated to modern standards, built using high-tech manufacturing techniques, and employing best-in-class safety practices. In fact, you'll find factory-built SMRs in-service in the ships and submarines of several navies around the world."
-Dr. Kirk Atkinson, Director, Centre for Small Modular Reactors, Ontario Tech University
Related links
Media contact
Bryan Oliver
Communications and Marketing
Ontario Tech University
289.928.3653 (mobile)
bryan.oliver@ontariotechu.ca