What's cooler than cool? Ice cold -40C conditions for new vehicle testing inside ACE at Ontario Tech
ACE Climatic Wind Tunnel helping GM Canada test new electric Hummer for weather durability
May 12, 2021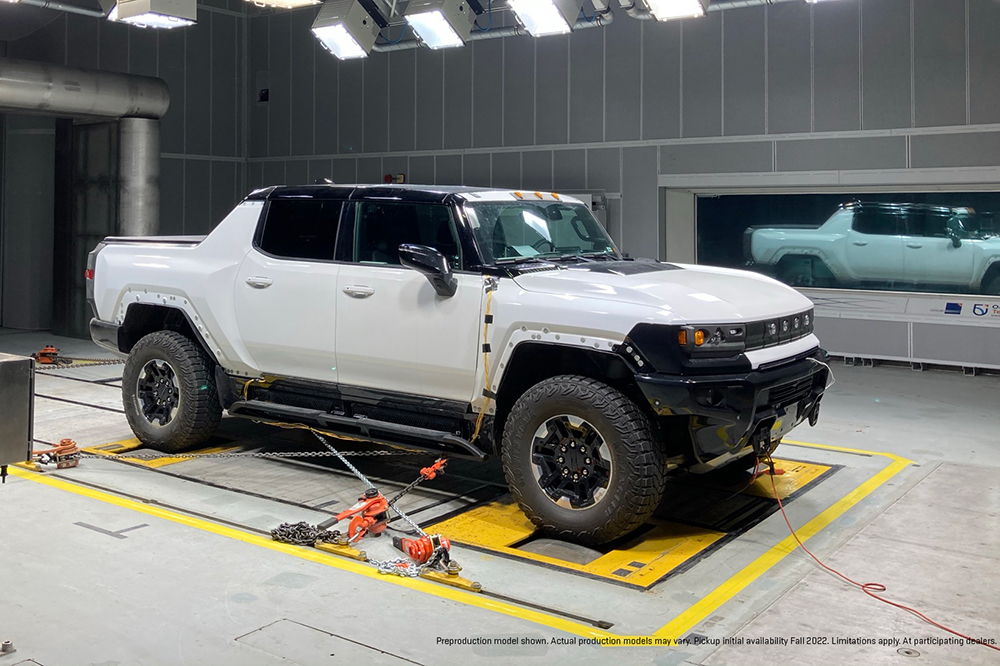 Baby it's cold inside. Really cold.
When GM North America tests new vehicles for cold weather durability, much of the development work takes place outdoors during the winter in Northern Ontario at GM's Kapuskasing Proving Ground.
But when winter ultimately retreats, the automaker can still conduct the same frigid tests, some 800 kilometres to the south, by going indoors at the massive Automotive Centre of Excellence (ACE) Climatic Wind Tunnel at Ontario Tech University in Oshawa.
This spring, GM's Canadian Technical Centre engineers have become the first to evaluate the GMC HUMMER EV (electric vehicle) pickup in the extreme cold at ACE. The vehicle is expected to be ready for the market in Fall 2022.
While at ACE, the HUMMER EV pickup is subjected to consistent minus-40 Celsius temperatures. ACE engineers tether the vehicle on a dynamometer that allows the HUMMER EV to operate at typical highway speed while also being buffeted by typical highway headwind speeds in the wind tunnel.
GM's electric vehicles undergo the same rigorous durability testing that internal combustion engine vehicles experience. Engineers rely on ACE's capabilities to help them identify vehicle performance issues to prevent them from ever reaching customers. From the propulsion system to power seats and tailgates, wind whistles, rattles, squeaks, and cabin comfort – Canadian engineers work hard to ensure each GM vehicle's software and hardware features will perform in extremely cold temperatures.
ACE's world-class research and development facility also features thermal chambers adjacent to the Climatic Wind Tunnel that allow engineers to test and study GM vehicles and systems in a steady, repeatable environment. In fact, about five per cent of GM North American vehicles visit the ACE Wind Tunnel for cold weather durability testing when development timing falls outside of GM's winter season.  
Gallery