Leading experts in adaptive aerodynamics, and trustworthiness in artificial intelligence join Ontario Tech's research team
June 15, 2021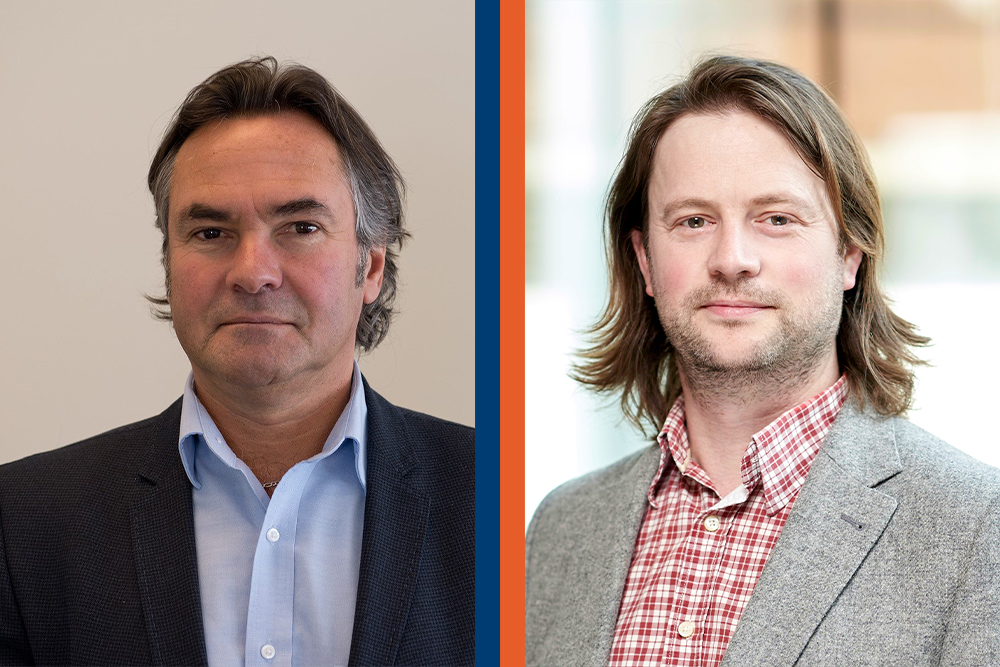 Ontario Tech University's mandate to explore technology for greater societal good and nationally acclaimed research leadership is getting a major boost this year with the addition of two newly appointed Canada Research Chairs (CRC).
The Natural Sciences and Engineering Research Council of Canada will fund both new Ontario Tech CRCs, which expand the university's CRC portfolio to 11 specific research disciplines*. They will also receive additional infrastructure support for their work through the Canada Foundation for Innovation's (CFI) John R. Evans Leaders Fund. The CFI is providing close to $6.9 million in research infrastructure funding to new and renewed Canada Research Chairs across the country.
New Ontario Tech CRC spotlights
Horia Hangan, PhD
Tier 1 CRC in Adaptive Aerodynamics
Faculty of Engineering and Applied Science
Dr. Hangan's international expertise is in 'bluff body' aerodynamics: objects that because of their shape have separated airflow over substantial parts of their surface (such as generic cylinders, cubes, spheres or vehicles).  
This CRC will develop novel on-vehicle weather-data collection systems to investigate the physics of the impact of weather stressors (wind, rain, snow and fog) on autonomous vehicles (AVs). He will collaborate extensively with Ontario Tech's ACE Climatic Wind Tunnel as well as the university's Environment Canada Meteorological Supersite at Windfields Farm.  
"Through on-road testing and physical simulations in ACE, we will develop weather design cases to improve AV aerodynamics, safety, and sensor functionality," says Dr. Hangan. "These design cases will inform the AV industry in Canada, elevate the safety of AVs, and accelerate AV implementation in regions with harsh weather conditions."
Dr. Hangan becomes the university's fourth-ever Tier 1 CRC (previous recipients Dr. Douglas Holdway; Dr. Greg Naterer; Dr. Adam Dubrowski). He comes to Ontario Tech from Western University in London, Ontario.
Peter Lewis, PhD
Tier 2 CRC in Trustworthy Artificial Intelligence (AI)
Faculty of Business and Information Technology
Whether or not we're aware of it, AI technology is deeply embedded in our everyday lives, from our vehicles and homes, to our workplaces, as well as media and government. But how and when do humans decide to trust these AI systems? A phenomenal worldwide effort aims to unlock the benefits of AI across society, business and the economy. Yet embedding AI in society presents a complex mix of technical and social challenges, raising questions around its responsible use and trustworthiness. Dr. Lewis explores the intersection of these issues, bringing his expertise in computational self-awareness and trust to the design, development, and adoption of AI.  
"This CRC will develop a new generation of trustworthy AI technologies with reflective capabilities, able to model and reason about their congruence with social norms and values as well as their own trustworthiness," says Dr. Lewis. "Aligned with Ontario Tech's vision of 'tech with a conscience', industry-academia collaboration will support responsible adoption of trustworthy AI."
He arrives at Ontario Tech from Aston University in Birmingham, England.   
Quote
"Ontario Tech University is proud of the legacy of cutting-edge discovery of its Canada Research Chairs. CRCs are national and international leaders in their specific areas of expertise. Our new research chairs in adaptive aerodynamics and trustworthy artificial intelligence exemplify the university's commitment to excellence in evidence-based scholarship and pursuit of new knowledge and solutions related to major societal issues."
-Dr. Les Jacobs, Vice-President, Research and Innovation, Ontario Tech University
Related links
About the CRC program
The CRC program is a tri-agency initiative of the Social Sciences and Humanities Research Council (SSHRC), the Natural Sciences and Engineering Research Council (NSERC), and the Canadian Institutes of Health Research (CIHR), Canada's national funding bodies. 
Tier 1 Chairs are outstanding researchers acknowledged by their peers as world leaders in their fields. Valued at $1.4 million, appointments are for seven years and are renewable once.
Tier 2 Chairs recognize exceptional emerging researchers, acknowledged by their peers as having the potential to lead in their field. Valued at $500,000, appointments are for five years and renewable once.
Website: chairs-chaires.gc.ca
Media contact
Bryan Oliver
Communications and Marketing
Ontario Tech University
289.928.3653 (mobile)
bryan.oliver@ontariotechu.ca