Ontario Tech recognizing national and local dignitaries with honorary doctorates
Canada's 28th Governor General, Canada's 18th Prime Minister among distinguished recipients at virtual Convocation ceremonies June 23 and 25
June 1, 2021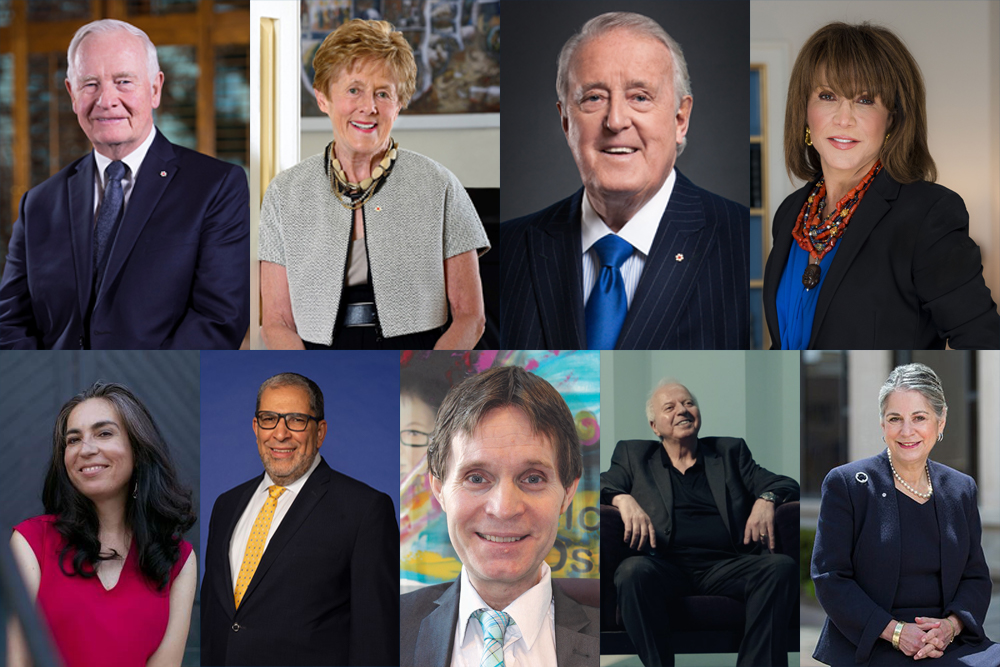 Ontario Tech University will celebrate the academic success of more than 4,500 new bachelor's, master's and PhD degree graduates during special Convocation events in late June.
The virtual ceremonies honouring graduates of the Class of 2020 (Wednesday, June 23 at 4 p.m.) and Class of 2021 (Friday, June 25 at 3 p.m.) will be the first Convocations presided over by new Ontario Tech Chancellor Mitch Frazer. With this year's Convocations, the university's alumni base will surpass 23,500.
As is Convocation tradition, Ontario Tech will also confer honorary doctorates recognizing outstanding individuals who inspire others and embody the university's vision and mission. This year, nine dignitaries will receive honorary degrees for their outstanding intellectual and/or scholarly contribution in their chosen field of academic eminence, or outstanding service and/or contributions to greater society through non-academic achievements and/or public service.
Class of 2020 honorary degree recipients
Presented Wednesday, June 23 (full biographies/citations hyperlinked)
For dedicated service to Canada, outstanding leadership as scholars, educators and public servants, and for setting philanthropic example. Mr. Johnston served as Canada's 28th Governor General (2010-2017) and is a former President of the University of Waterloo and Principal of McGill University. Mrs. Johnston has enjoyed an illustrious career in rehabilitation science, known for her steadfast commitment to mental health and wellness advocacy, and lauded for her dedication to supporting Indigenous youth and families.  
Class of 2021 honorary degree recipients  
Presented Friday, June 25 (listed alphabetically; full biographies hyperlinked)
For outstanding service to the Durham community, entrepreneurial leadership and commitment to building better communities. Mr. Apostolopoulos epitomized the energy, ambition and entrepreneurial success of millions of people who have chosen Canada as their home. Sadly, in February 2021, Mr. Apostolopoulos passed away peacefully at the age of 69.
For lifelong service as an engineer and educator, and for academic leadership. Dr. Lachemi is President and Vice-Chancellor of Ryerson University, first appointed in 2016 and reappointed to a second term through 2026. An internationally recognized researcher and accomplished academic administrator, he has been a key contributor to the growth and development of Ryerson over a transformational time in the university's history.
For economic and environmental leadership, support for scientific research, and service to Canada and the world. For more than five decades, Mr. and Mrs. Mulroney have made Canada a better place through their political leadership, their international profile and as champions of charitable causes and philanthropy. Mr. Mulroney was Canada's 18th Prime Minister (1984-1993). Mrs. Mulroney's work and legacy includes serving as National Chair of the Cystic Fibrosis Foundation of Canada along with leadership roles with numerous other charitable organizations and boards.
Mr. Paul Ralph
Doctor of Laws, honoris causa
For commitment to the people of Oshawa and work as a city builder, and for unstinting advocacy on behalf of Ontario Tech University and its students. In various leadership roles over more than three decades, Mr. Ralph has helped the City of Oshawa expand beyond its traditional role as a centre of automotive manufacturing into a regional centre of research, learning and health services.
For award-winning journalism, excellence as a writer and lecturer, and outstanding commitment to telling the stories of Indigenous people. Ms. Talaga possesses the rare gift of storytelling, a tradition she shares with her Anishinaabe elders.   
For lifelong service as an educator, support of Canadian culture as founder of the RBC Taylor Prize for non-fiction writing, and extensive stewardship of, and passion for Ontario Tech University. Through her connection with Windfields Farm, the longtime advocate of patient care and home care became involved with the evolution of Ontario Tech University. She served the university's Chancellor from 2016 to 2020, offering personal congratulations to more than 10,000 graduates at Convocation ceremonies.
Related links
Media contact
Bryan Oliver
Communications and Marketing
Ontario Tech University
289.928.3653 (mobile)
bryan.oliver@ontariotechu.ca