All for one: ACE at Ontario Tech University helps test a single-person electric vehicle
University's research and testing solutions provider delivers unparalleled engineering and expertise to automotive partners and more
July 19, 2021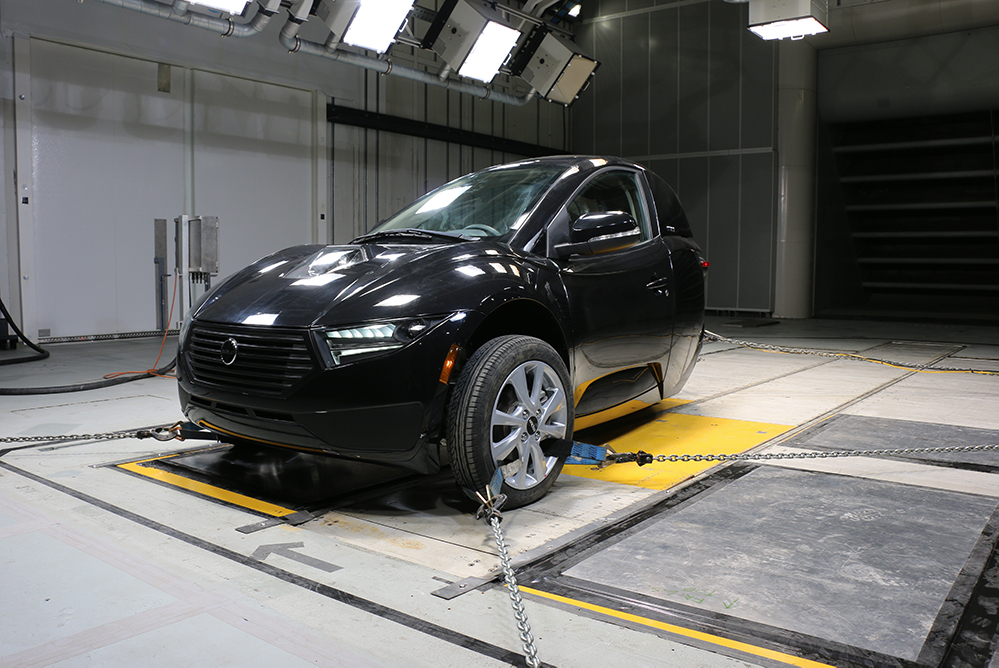 In cities large and small around the world, hundreds of millions of vehicles snake their way daily along crowded roads and highways during rush hour commutes. The vast majority of cars are gasoline-powered and single-occupant, each with multiple empty seats.
Vancouver, British Columbia-based company Electra Meccanica (EM) believes the market is ripe for some commuters to go it alone, in an electric vehicle (EV) built for one.
EM will roll out its Solo EV, a vehicle with just three wheels, and about half the cost of an average passenger car. But before hitting select North American markets, the company had some final testing to do. And for that work, EM looked across the country to ACE, Ontario Tech University's world-class solutions provider for product development, research and testing.
"We had originally planned to use an automotive test facility in the United States, but because of COVID-19 travel restrictions, we cannot export prototype designs or even send staff south of the border," says Tedd McHenry, EM Engineering Testing Manager. "ACE not only offered the ideal climate-controlled and EV-enabled testing environment, but its team of engineers also provided invaluable insights to help us meet our needs. As a Canadian company, it's a huge benefit to us to collaborate with a facility in Canada like ACE."
At ACE, EM tested the Solo's motor, battery, and HVAC cooling systems at elevated temperatures, using hill climb and static pull-down scenarios.
"ACE has nearly a decade of experience putting every kind of object you can imagine through the ultimate dynamic tests and developing solutions to help our clients get new products to market," says John Komar, ACE Executive Director. "We provide made-to-order weather conditions, in this case searing 45-degree-Celsius heat, high humidity and high solar load to replicate the potential extreme conditions seen in the southern California desert. We worked with Electra Meccanica before they arrived to come up with a custom solution to test the Solo's air conditioning capacity."
"We relied on ACE's data-acquisition equipment, along with their expertise in configuring and operating it," says Rodrigo Landim, EM Marketing Communications Strategist. "The Solo will initially market in U.S. west coast cities like Los Angeles, Portland and Seattle, but ACE's high-tech test facilities will help us ensure we are also ready to target other markets around the globe."
Quick facts about the Solo
Fully electric.
Three wheels, rear-wheel drive.
Retail price about half of a typical passenger car.
An average 40-kilometre commuter would save more than $1,000 annually in fuel costs (assuming a gas price of $1 per litre). Longer commutes and higher gas prices would net higher savings.
Media contacts
Bryan Oliver
Communications and Marketing
Ontario Tech University
289.928.3653 (mobile)
bryan.oliver@ontariotechu.ca
Mark Klintworth
Manager, Business Development
ACE
Ontario Tech University
905.809.3480 (mobile)
mark.klintworth@ontariotechu.ca
Gallery