Ontario Tech dishes up award-winning creations at national culinary challenge
Ontario Tech University wins Gold and People's Choice Award at Canadian College and University Food Services Association's culinary competition
July 29, 2021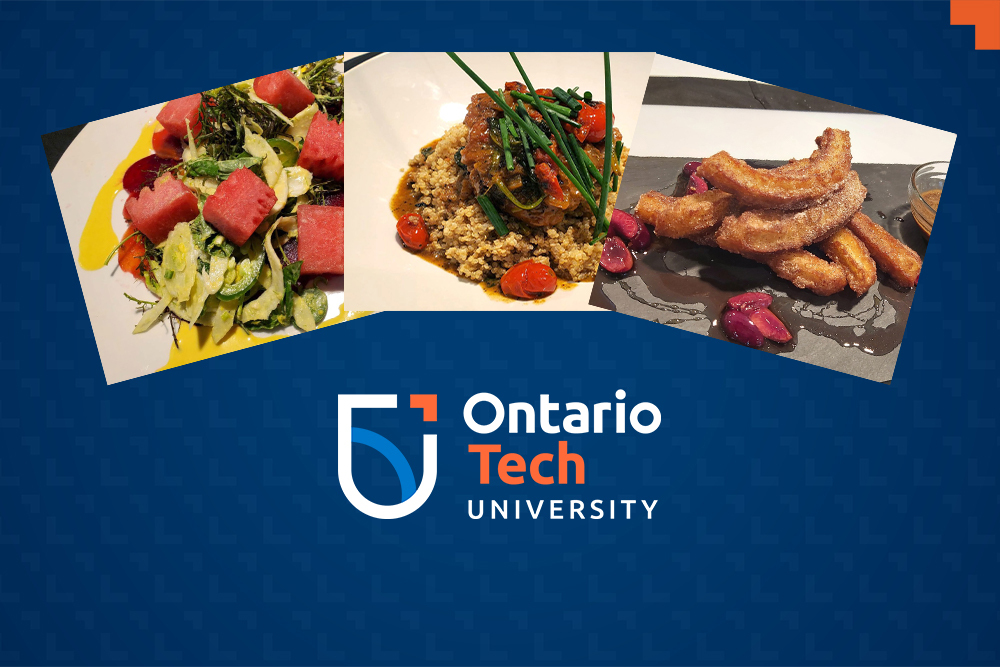 The competition was fierce as Ontario Tech University partnered with its food services provider, Dana Hospitality at the Canadian College and University Food Services Association (CCUFSA) national conference and culinary challenge held June 28 through 30.   
Facing off in an 'iron-chef'-style competition, the university's team was victorious, winning Gold and the People's Choice Award against competitors, Durham College and Compass Group team, and Queen's University and Aramark team.
"This is the first time the university has entered a team in CCUFSA's annual conference," says Melissa Price, Director, Office of Ancillary Services. "We are thrilled to take home first place and that conference delegates selected us for the People's Choice Award."
The challenge, sponsored by Nestlé Professional Canada, required teams to elevate a home delivery meal kit. The twist? Contestants received notification of mandatory secrets ingredients (fresh cherries, oat milk and vegan mayo) just before the event. The teams presented their menus in a pre-recorded video format. 
Inspired by the food services experience on campus, the Ontario Tech team focused on making food from scratch, using fresh local ingredients, including basil and chives grown in the university's garden and honey produced at Ontario Tech's Windfields Farm Lands.
"The university values Dana Hospitality's 'fresh, local and from scratch' mantra, so I was pleased to see it incorporated in the meals," says Price. "We intend to feature the award-winning menu in UB Café this fall so that everyone can try the dishes."
The team's three-course meal:
Cured watermelon and beet salad crudo served with spicy greens, including university grown basil, and topped with a citronette dressing.
Creamy Tuscan chicken served with blistered tomatoes, Canadian quinoa and chives grown in the university garden.
Mexican churros served with fresh local cherries, hemp seed chocolate sauce and Ontario Tech honey.
The team considered the university's sustainability initiatives when designing packaging for the meal kits. They minimized waste by using recyclable materials, including a paper bag for packaging the kit and choosing 100 per cent recyclable plastic containers for the ingredients.
Award recipients:
Judge-awarded medals:

Gold: Ontario Tech and Dana Hospitality
Silver: Durham College and Compass Group
Bronze: Queen's University and Aramark team

People's Choice Award (voted by conference delegates): Ontario Tech and Dana Hospitality
Nestlé Professional Award for best dessert (judge-awarded): Durham College and Compass Group