'Spot' on: Ontario Tech researchers investigating remote-inspection effectiveness of four-legged robot
Faculty of Engineering and Applied Science partnering with OPG and RMUS Canada
September 20, 2021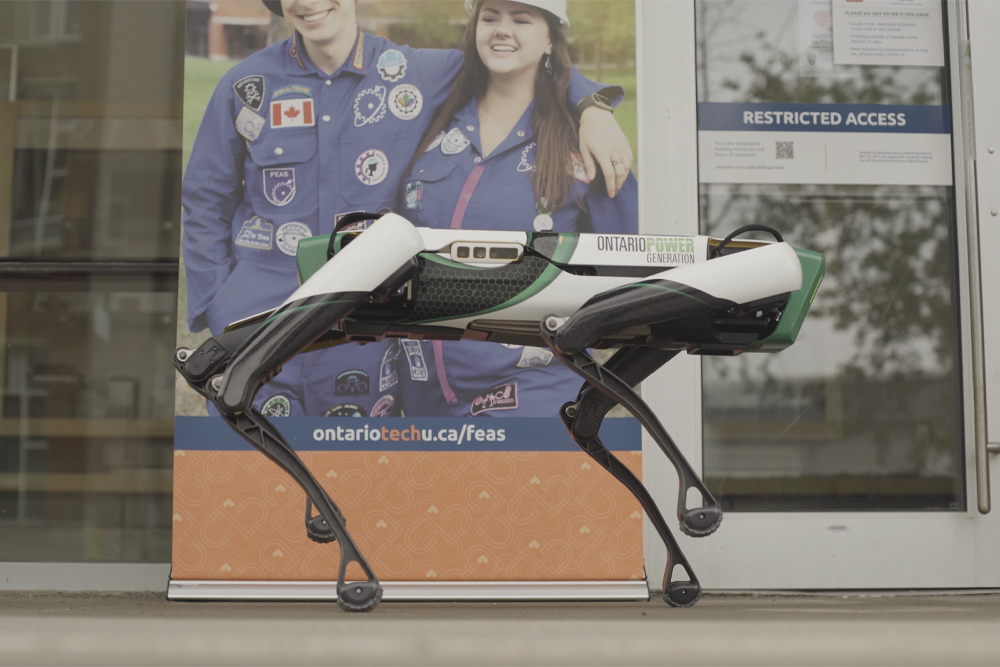 Wow, did you just see that? At first glance, you might think it was a strange-looking dog, or a perhaps even a long-lost smaller robotic character from the classic 1993 movie Jurassic Park.
A remarkable four-legged machine is making a name for itself this fall within Ontario Tech University's Faculty of Engineering and Applied Science. The robot's name, 'Spot', is simple enough. But rest assured, Spot has a very complex task list to take care of over the next three years while making its rounds in Ontario Tech's Mechatronic and Robotic Systems Laboratory (MARS Lab).
Spot, a creation of U.S. engineering and robotics design company Boston Dynamics, is the focal point of a three-year university research project in conjunction with Ontario Power Generation (OPG) and 'unmanned solutions provider' RMUS Canada. Researchers will collectively test Spot's ability to conduct remote inspection of OPG facilities in Pickering and Darlington, including industrial areas that may be hazardous or difficult for humans to access.
The research project is one of the Electrical Power Research Institute's four main innovative research-focused initiatives for 2022.
Quote
"Spot's design allows it to traverse a wide range of indoor and outdoor environments in a variety of conditions, including the ability to negotiate stairs and step over piping. We will apply machine learning and artificial intelligence to analyze the images and data gathered to alert personnel of potential safety issues and determine Spot's capabilities and limitations for remote-inspection tasks."
- Dr. Scott Nokleby, Professor, Faculty of Engineering and Applied Science, Ontario Tech University
---
Media contact
Bryan Oliver
Communications and Marketing
Ontario Tech University
289.928.3563
bryan.oliver@ontariotechu.ca