Ontario Tech to launch Canada's International Atomic Energy Agency Collaborating Centre November 2 and 3
October 27, 2021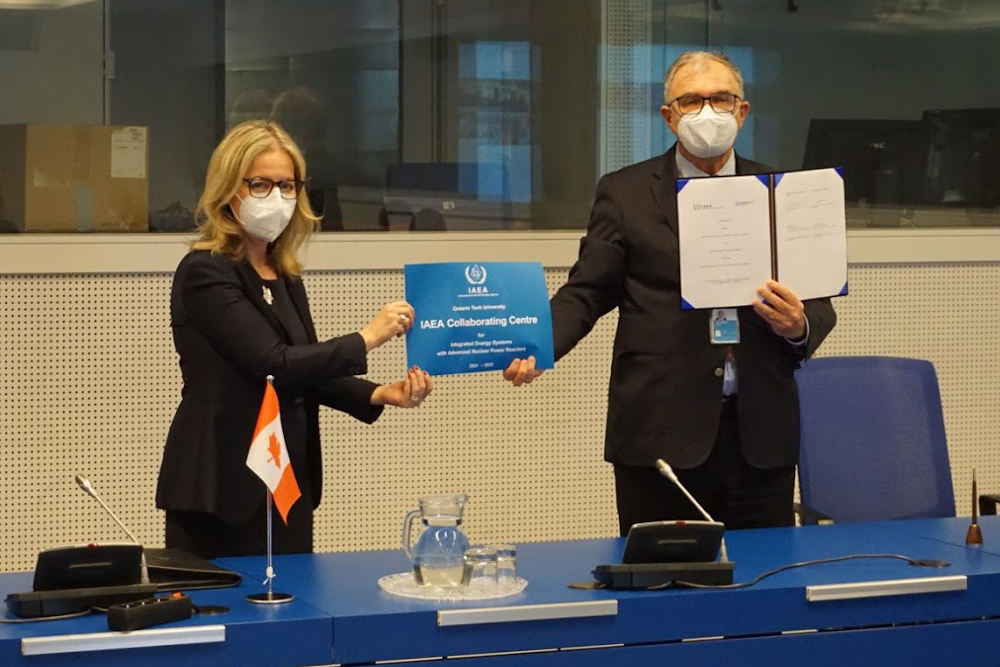 Ontario Tech University's deep capacity in sustainable energy research and expertise is poised to play a leading role in helping Canada and the world respond to contemporary energy challenges related to climate change and the development of carbon-free electricity.
Recognizing the university's strong reputation as a prominent centre of innovation, in April 2021 the International Atomic Energy Agency (IAEA) designated Ontario Tech as the first Collaborating Centre in Canada to support IAEA activities on advanced nuclear power technology. The Centre is part of the university's Brilliant Energy Institute.
On Tuesday, November 2 and Wednesday, November 3, the IAEA Collaborating Centre will officially launch with a virtual (Zoom) event that will include speakers from the IAEA and senior leaders from the nuclear industry. Ontario Tech experts will also share reflections highlighting the long-lasting collaboration and engagement between the different institutes and organizations.
Ontario Tech will also introduce some of its key energy stakeholders from different sectors, including Ontario Power Generation, Bruce Power, The University Network of Excellence in Nuclear Engineering, Canadian Nuclear Laboratories, and many others.
The IAEA Collaborating Centre will focus on the development of micro and small modular reactors, non‑electric applications of nuclear energy, as well as the hybridization of nuclear and renewable energy sources in integrated energy systems for multi-purpose applications including hydrogen production, energy storage, and process heat applications.  
What: Launch of the IAEA Collaborating Centre at Ontario Tech University
When: Tuesday, November 2 and Wednesday, November 3 from 9 to 11 a.m. ET (2 to 4 p.m. Central European Time; the IAEA's headquarters are in Vienna, Austria).
Quote
"The new IAEA Collaborating Centre at Ontario Tech University is an opportunity for our researchers and industry partners to make valuable contributions to the energy sector around the world as we all make strides towards the transition to a carbon emissions-free future. As a part of the university's Brilliant Energy Institute, the IAEA Collaborating Centre launch will provide participants with a window into the exciting developments on small modular reactors and integrated energy systems that we have planned at the university."
-Dr. Les Jacobs, Vice-President, Research and Innovation, Ontario Tech University