Ontario Tech, CNIB Foundation partner to put accessible technology in the hands of those who need it
University collecting personal, gently-used smartphones for people with sight loss
November 30, 2021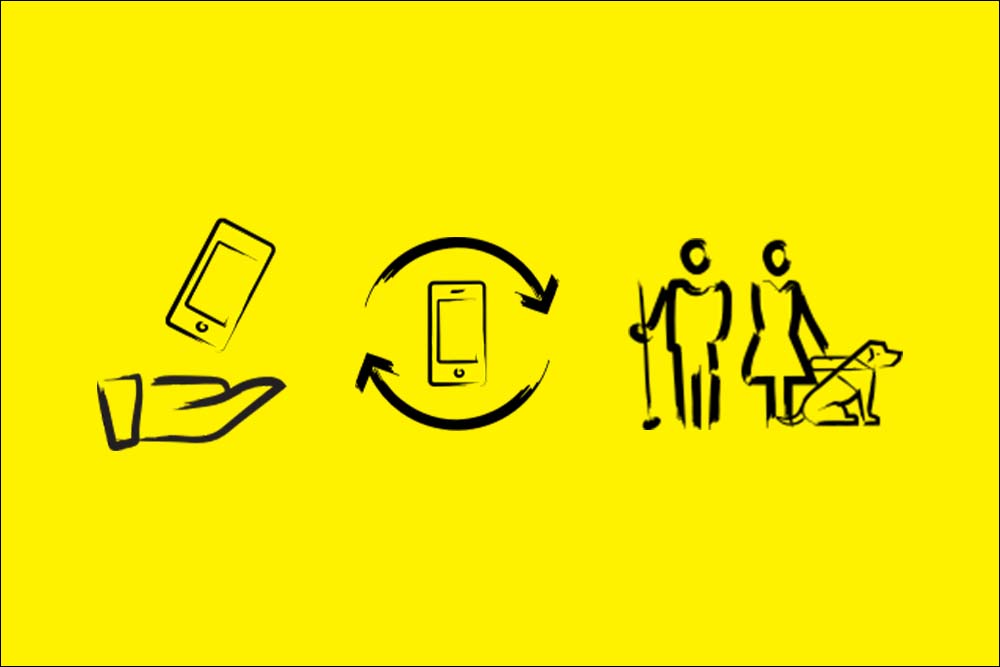 For an estimated 1.5 million Canadians with sight loss, a smartphone can revolutionize daily life by providing vital interpretational tools and accessible apps that can reduce barriers and increase independence. While mobile technology ownership is increasing among Canadians with sight loss, there is still a significant access gap; according to CNIB Foundation (a non-profit organization that assists Canadians living with vision loss), almost half say they own neither a smartphone nor a tablet.
To help address this gap and empower people with sight loss to lead independent, active lives, Ontario Tech University is participating in Phone It Forward, a CNIB Foundation program. The Phone It Forward program collects gently-used smartphones that are then refurbished by the CNIB, loaded with accessible apps, and provided to people with sight loss who need them, along with technical training, discounted maintenance costs, and data plan support.
"Donating a gently-used smartphone is a simple but yet important act to help people with sight loss have access to accessible technology solutions that can increase personal safety and independence," says Susan McGovern, Vice-President, External Relations and Advancement. "Ontario Tech's faculty, staff and students are proud to support the national Phone It Forward program, another way the university is fulfilling its commitment to support accessibility and inclusivity for Canadians.
The Phone It Forward program is an initiative supported by the university's Accessibility Working Group, which focuses on proactively identifying, removing and preventing barriers to persons with disabilities at Ontario Tech.
Smartphones collected as part of the Phone It Forward program will help people who are blind or partially sighted to:
Access emergency assistance.
Read prescription labels and take medication safely.
Recognize the faces of loved ones.
Travel safely alone using GPS.
Use built-in voice-over technology, which reads aloud everything that appears on a phone's screen.
How to donate a gently-used phone
The campus community can donate personal, gently-used smartphones at an Ontario Tech Library circulation desk. For drop-off information, visit the university's Phone It Forward web page.
Ontario Tech's partnership with CNIB
Ontario Tech and CNIB have worked together on several important initiatives:


Networking and community engagement
CNIB's ongoing consultation with faculty and researchers on accessibility, inclusion and technology.

Come to Work networking series

Members of the university's Human Resources department participated in a series of CNIB-hosted national virtual networking events to bring employers and people with sight loss together to network and explore job opportunities.

Connecting the Dots: Education, Technology and Employment Conference
Fiona McArthur, Strategic Project Manager, Ontario Tech University and Rachel Sumner, Executive Director, TALENT (an Ontario Tech skills-development enterprise) participated in a panel discussion on the future of work. They discussed effective ways to deliver flexible, dynamic and inclusive learning to give more choices and employment opportunities to more people.
Experiential learning
CNIB was involved in the Faculty of Business and Information Technology's capstone projects (2018), where students in their final undergraduate year apply what they have learned in their classroom by providing consulting services to local organizations to address real-world business issues.
CNIB has attended multiple Reverse Career Fairs to network and recruit Ontario Tech co-op students and graduates.
Research
Patrick Hung and Dr. Alvaro Quevedo, researchers in the Faculty of Business and Information Technology, partnered with CNIB to explore related robotic applications for persons with sight loss. The team is also investigating the integration of in-vehicle companion robots for truck drivers.
Youth outreach
In July 2019, Ontario Tech hosted 20 youth from two national CNIB programs to experience education and research in Game Development and Interactive Media. The day-long experience included a tour and activities in the undergraduate gaming lab, an interactive experience on spatial and 3D sound in gaming, and a two-part meeting with Dr. Alvaro Quevedo about his work on the design of interactive virtual-reality scenes for people with sight loss in partnership with OCAD University. The day concluded with a brainstorming session to discuss future game development projects.