Ontario Tech University partnering with the University of Miami on high-performance computing research
Collaborating with GlassHouse Systems to build municipal IT system resiliency during severe weather events
November 4, 2021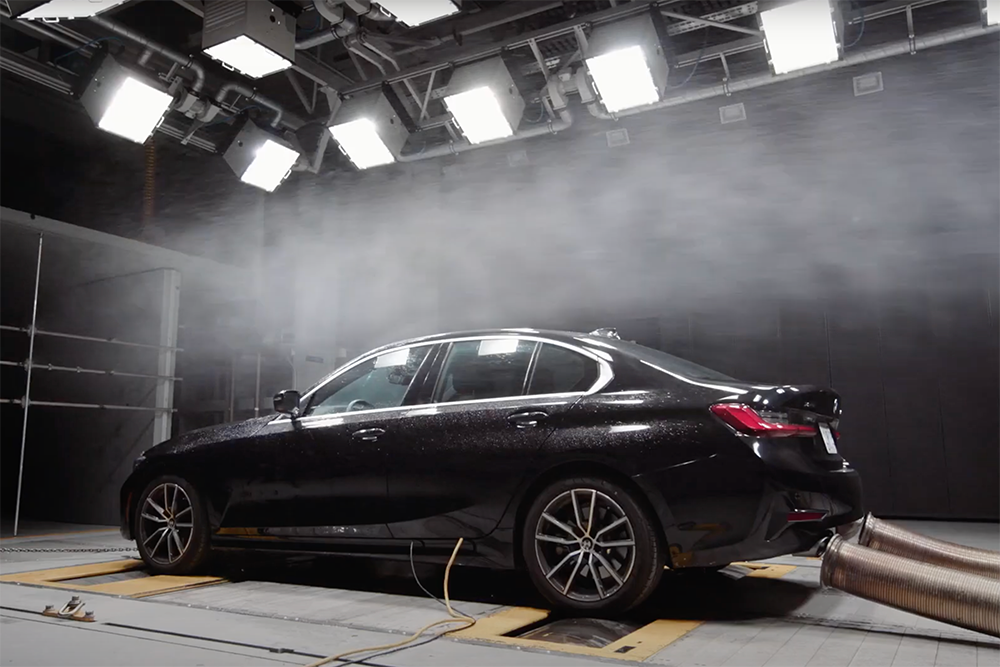 All of us appreciate the challenges involved in managing two or three things at once. Now imagine the capacity it would take to make one- quadrillion computations, every second of every day.
Yes, that's right: quadrillion. That's a '1' followed by 15 zeroes. Or a 'million billions'. It's a stunningly large number that's too large for anyone to fathom. But one-quadrillion measurements per second represents the scale of what scientists call 'Big Data'. And it's a term that goes a long way toward explaining the scale of a Big Data research project involving ACE (Automotive Centre of Excellence) at Ontario Tech University, the University of Miami's Institute for Data Science and Computing, and high-performance computing (HPC) leader GlassHouse Systems.
ACE's massive Climatic Wind Tunnel can generate hot and humid torrential rains with Category 4 hurricane winds, Arctic blizzards at minus-40 degrees, freezing rain, searing desert heat and every conceivable weather condition in-between.
Quote
"The partners are combining their expertise to create a powerful HPC cloud base on IBM technologies to bind massive amounts of data to simulated extreme wind and weather conditions. You can only imagine the potential power of the analytic capabilities with software making up to a quadrillion calculations per second. This research will ultimately support extremely accurate high-resolution weather characterizations to mirror real-world scenarios."
- Dr. Martin Agelin-Chaab , Associate Professor, Faculty of Engineering and Applied Science, Ontario Tech University.
The partnership's four research objectives:
Safe, connected and accessible movement of people and goods

Use of Big Data, HPC-powered analytics and the 'Internet of Things' (IoT) to:

Eliminate road congestion.
Protect vulnerable road users.
Enable the deployment of new mobility solutions (autonomous, on-demand transit, etc.) to enhance access to all in the community.
Optimize emergency traffic management (such as hurricane-related evacuations).
Create safety zones within communities (schools, tourism locations).

Resiliency against severe weather events driven by climate change

Partnership with ACE and the University of Miami's Hurricane Wind Tunnel to evaluate the performance of structures, vehicles and municipal infrastructure using emerging data intensive experimental tools (particle image velocimetry, image analysis).
IoT-based real-time monitoring systems to monitor roadways for flooding, icing/snow and damage.
Electrical and telecommunication network resiliency.

Efficient and secure energy production and distribution

Use of Big Data and HPC to model energy distribution networks to:

Identify opportunities for deployable energy hubs into local distribution networks.
Optimize the integration of renewable energy sources into the power distribution grid.
Re-allocate/distribute energy in severe weather.

Develop and implement new cybersecurity tools and frameworks to protect energy distribution networks from cyberattacks.

Healthy and resilient communities and economies

Use Big Data generated by IoT and HPC-powered analytics to:

Identify the onset of health emergencies (such as wastewater monitoring for traces of COVID-19).
Develop technologies like safe entry, 'ensuring the journey' to re-open economies and businesses (tourism, manufacturing, travel).
Create opportunities for active aging and independence.
Keep our health-care systems protected (long-term care, hospitals, etc.).
---
Media contact
Bryan Oliver
Communications and Marketing
Ontario Tech University
289.928.3563
bryan.oliver@ontariotechu.ca