Technology and policy connect as Canadian Global Affairs Institute joins Ontario Tech University's Brilliant Energy Institute
CGAI's Energy Security Forum to be headquartered at the Brilliant Energy Institute
December 1, 2021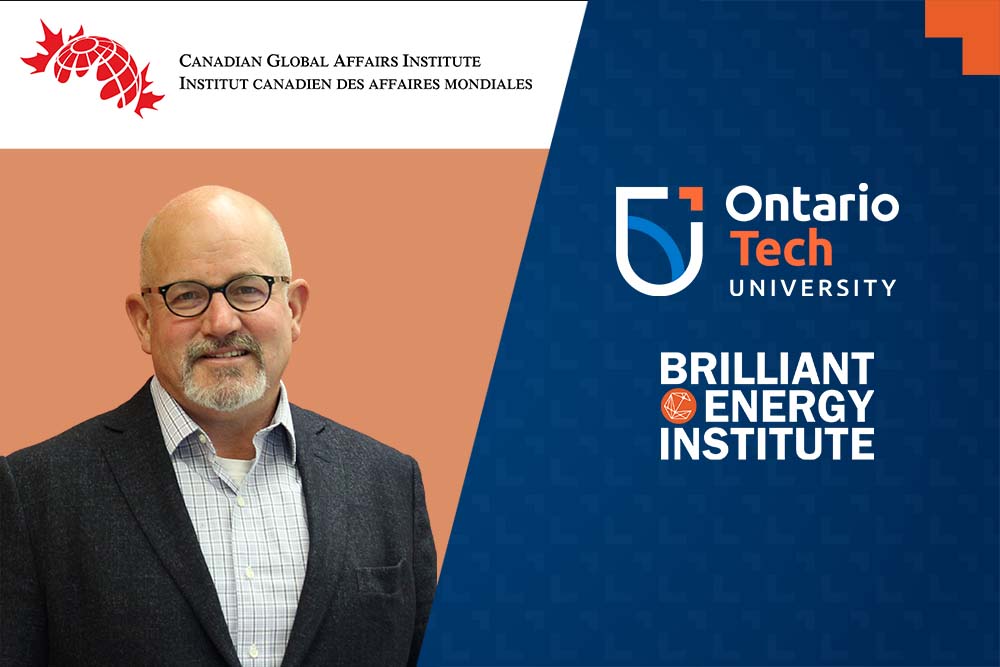 Since its founding nearly two decades ago, Ontario Tech University has developed a reputation as a national leader in clean energy and environmental sustainability research and education.
Similarly, through its 20-year history, the Canadian Global Affairs Institute (CGAI) has earned a reputation as one of Canada's leading voices on international affairs, consistently ranking as one of Canada's Top 5 think tanks in the University of Pennsylvania's annual Global Go To Think Tank Index.
Ontario Tech University has established a new strategic partnership with the CGAI, effective December 1, 2021, to provide the headquarters for the CGAI's Energy Security Forum, a vital think tank that highlights the multi-faceted and ever-changing landscape of energy security in Canada. The forum is a space for CGAI fellows, staff, and other commentators to discuss the increasingly salient and timely issue of global energy security.
With existing locations in Calgary and Ottawa, CGAI will add a regional office within the newly formed Brilliant Energy Institute (BEI) Nicholas Sion Laboratories, at the Ontario Tech north campus location in Oshawa, Ontario, bringing the strengths of these technical and policy institutions together.
CGAI CEO Kelly Ogle will lead development of the CGAI office at Ontario Tech, working with BEI's Executive Director, Jacquie Hoornweg, and serve as Senior Advisor to BEI.
Mr. Ogle is a senior executive and scholar with more than 35 years of entrepreneurial experience covering several business sectors and has served as a board member for various corporations, both public and private. He has also worked with not-for-profit organizations, including as board chair for Student Energy, a global non-profit for youth leadership in sustainability.
The CGAI expansion to Ontario Tech provides an ideal location philosophically and geographically that will build CGAI's presence in the Greater Toronto Area and strengthen its capacity to advance the net-zero carbon transition.
New net-zero emission energy standards, both locally and globally, remain to be defined, but they will be technology-driven and enabled by policy, regulation and market-readiness. With partners like CGAI, and others, Ontario Tech is committed to creating and developing tech with a conscience, a commitment that is so important for shaping our energy future.
About Brilliant Energy Institute
The Brilliant Energy Institute (BEI) leverages the research leadership and expertise at Ontario Tech University as a foundation for a clean energy future. This work contributes to sustainable development goals that strengthen prosperity and quality of life for Canadians and people, worldwide.
BEI builds upon Ontario Tech's energy research strengths in hydrogen, nuclear, including CANDU and small modular reactors, solar, thermal power, geothermal, integrated energy systems, and related fields such as cyber security, transportation, aerodynamics and data sciences.
Through collaboration with other universities, industry and government partners, BEI will inform and mobilize Canada's transition to net-zero carbon emissions by 2050. In this, we are guided by principles of equity, diversity and inclusion as well as environmental, social and governance best practices.
As a pan-Canadian energy institute, BEI advances technologies, skills and knowledge for innovation and continuous improvement across the energy system, so technologies are best placed to contribute to the energy systems of the future.
Together, we will enable the necessary change in how Canadians use energy in their daily lives to create a sustainable future for all.
About Canadian Global Affairs Institute
The Canadian Global Affairs Institute is Canada's most credible source of expertise on global affairs. The work of its researchers, fellows and advisors, sparks impassioned nation-wide discussions and debates that are designed to help Canadians better understand their role on the world stage. Established in August 2001, based in Calgary, Ottawa and now Oshawa, the Canadian Global Affairs Institute is an independent, unbiased, and non-partisan not-for-profit registered charitable organization, which comments repeatedly in the media and publishes extensively on defence, diplomacy, trade, resources, and development.
Its goal is to identify Canadian global interests and promote more active and effective international involvement through rigorous strategic and policy analysis while helping to inform Canadians on the connection between international affairs and a secure and prosperous Canada.
Quotes
"Brilliant Energy Institute at Ontario Tech University is designed to contribute to the national and international conversations about the transition to a net-zero emissions future. The CGAI's Energy Security Forum at BEI will be an important voice in those conversations. It is an excellent complement to the International Atomic Energy Agency Collaborating Centre at Ontario Tech, with both entities showcasing the global reach of BEI."
-Dr. Les Jacobs, Vice-President, Research and Innovation, Ontario Tech University
"The CGAI Energy Security Forum provides a critical voice in the national and global conversation about how we can meet the imperative of energy security while forwarding the transition necessary to reduce carbon emissions. The development of a regional CGAI centre within the Brilliant Energy Institute will strengthen CGAI's ability to inform policy based on the research and development of new solutions, some of which are not evident today. The collaboration between the Energy Security Forum and the Brilliant Energy Institute will be a differentiator on the path to net-zero."
-Kelly Ogle, incoming Senior Advisor, Brilliant Energy Institute, Ontario Tech University, and President, Canadian Global Affairs Institute
"Ontario Tech University is built upon a foundation of research excellence and innovation. Combining Ontario Tech's strength in technology development with the CGAI's credible commentary and policy expertise will position the Brilliant Energy Institute to contribute meaningfully to the development of clean, sustainable energy that will power our infrastructure and economies, and will strengthen social justice."
-Jacquie Hoornweg, Executive Director, Brilliant Energy Institute, Ontario Tech University