Ontario Tech University designated as one of Canada's Research Universities of the Year
Ontario Tech's research enterprise tops in province among smaller universities; No. 3 in Canada
January 25, 2022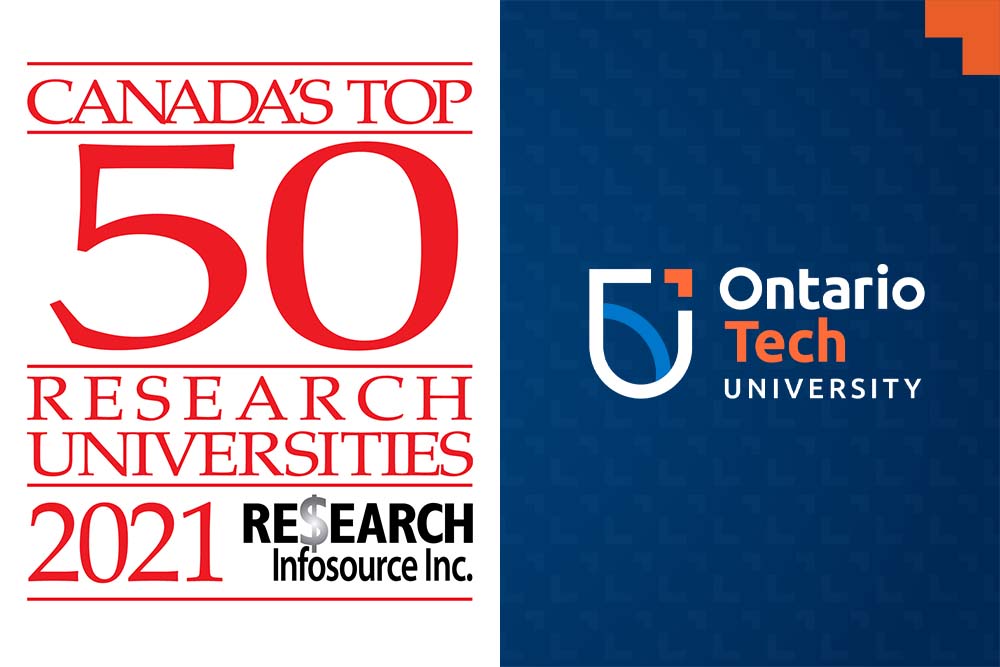 If you roll back the calendar just 20 years, it's hard to recall a time that Ontario Tech University did not exist. Still one of Canada's youngest post-secondary institutions, in just two decades Ontario Tech has climbed to the top of the rankings for its research portfolio.
In impressive fashion, for the first time in the university's history, Ontario Tech has been named one of Canada's Research Universities of the Year for 2021 by Research Infosource (RI), the country's premier research ranking organization and leading provider of research intelligence for business and higher education.
Ontario Tech ranks No. 1 in the province, and No. 3 in Canada among the nation's 21 smaller research universities. And the data within the overall report contains a number of further nuggets of great information about research at Ontario Tech.
Key milestones for Ontario Tech research in Canada's Top 50 Research Universities 2021
No. 1 in Ontario and No. 3 in Canada as Research University of the Year among the country's 21 smaller research universities.
No. 1 in Canada for publication intensity among smaller universities (research published in peer-reviewed journals).
No. 3 in Canada among smaller universities for year-over-year growth in not-for-profit research income growth (63.1 per cent; compared with 37.5 per cent the previous year).
Year-over-year growth of 7.7 per cent in industry-sponsored research income (more than double the tier average).
No. 5 among smaller universities, and No. 30 among all universities in Canada for research intensity per faculty member.
Ontario Tech has been busy assembling a powerful portfolio of leading collaborative research across all of its faculties, and forging hundreds of partnerships with industry and community organizations.
About Canada's Top 50 Research Universities 2021 by Research Infosource
Each year, Research Infosource announces the list of Canada's Top 50 Research Universities, based on sponsored research income and research intensity, as determined by research funding per full-time faculty member and per student in graduate studies. The new report released January 25 reflects data for the 2020 fiscal year.
About research at Ontario Tech University
Ontario Tech has emerged as a vital research hub and cluster of expertise anchoring the eastern Greater Toronto Area. It has built more than 80 world-class research and laboratory facilities that support an engaged, diverse research community of award-winning faculty and graduate students. The university's extensive research-intensive networks of industry, academic and community partners deliver unmatched research opportunities for undergraduate and graduate students and drive a commitment to innovation and research excellence.
Discover more about research at Ontario Tech
Quote
"Ontario Tech's research enterprise story is a remarkable one that our community and region should be exceptionally proud of, and brag about. The momentum of our rapid research growth in recent years is incredible as Ontario Tech emerges as an influential hub of leading discovery and innovation among research-intensive Canadian universities. The scholarly output of our exceptional array of talented researchers is unmatched within our tier. Every day our leading research voices produce ethical, important and impactful discoveries and applications of technology in a wide range of fields." 
-Dr. Les Jacobs, Vice-President, Research and Innovation, Ontario Tech University
Media contact
Bryan Oliver
Communications and Marketing
Ontario Tech University
289.928.3653 (mobile)
bryan.oliver@ontariotechu.ca
Gallery