Top marks again for Ontario Tech University's sustainability-focused practices
Ontario Tech earns Gold rating in the North American 2021 Sustainable Campus Index
January 13, 2022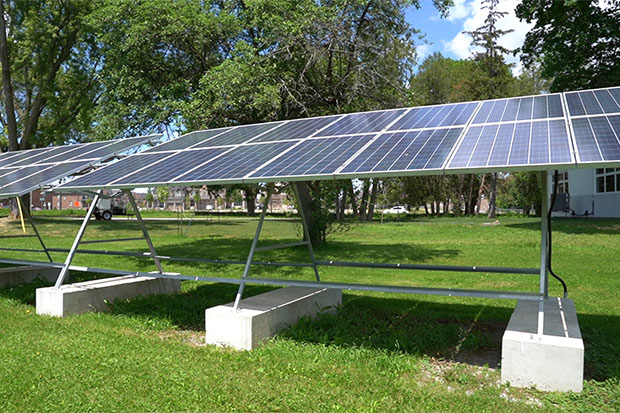 Ontario Tech University's substantial commitment to sustainability is among the highlights of the latest report from the Philadelphia-based Association for the Advancement of Sustainability in Higher Education (AASHE).
Just as in the 2019 report, Ontario Tech has achieved a Gold rating from AASHE's Sustainability Tracking, Assessment and Rating System (STARS), a voluntary framework used by universities and colleges to measure, report and strengthen their contributions to sustainability. The index recognizes top-performing North American universities and colleges in 17 distinct impact areas.
The AASHE Sustainable Campus Index (SCI) (full PDF report) includes innovative and high-impact institutional highlights, and recognizes institutions with exceptional report accuracy and quality. (Note: Because some of Ontario Tech's data was submitted prior to the university's brand change in March 2019, Ontario Tech appears in this SCI report under its previous brand name (University of Ontario Institute of Technology)).
Top 10 SCI rankings for Ontario Tech
In addition to the prestigious Gold rating in the SCI, Ontario Tech made the Top-10 list as a Top Performing Master's Institution (defined as universities conferring at least 50 master's degrees annually, but fewer than 20 doctoral degrees), placing an impressive No. 9.
Ontario Tech also placed No. 3 in the subcategory of Purchasing, for choosing environmentally and socially preferable commodity-specific products (electronics, cleaning, paper), and supporting companies with strong commitments to sustainability.
Through its Go Green program, Ontario Tech's Office of Campus Infrastructure and Sustainability (OCIS) manages the university's  extensive efforts in campuswide environmental responsibility. OCIS oversees a wide range of categories, including energy consumption, water usage, waste management, recycling, transportation and more.
Quote
"A legacy of campus sustainability initiatives is among Ontario Tech University's defining values. Ontario Tech is very proud of the company it keeps as we are again recognized as one of North America's leaders in environmental responsibility. The Office of Campus Infrastructure and Sustainability enjoys outstanding support from the entire Ontario Tech campus community as it continues to set and implement the highest standards possible for sustainability."
-Nadia Harduar, Asset and Sustainability Planner, Office of Campus Infrastructure and Sustainability, Ontario Tech University
---
Media contact
Bryan Oliver
Communications and Marketing
Ontario Tech University
289.928.3653
bryan.oliver@ontariotechu.ca