Emmeline Meens Miller to represent Ontario Tech at provincial Three Minute Thesis finals
Master of Health Sciences candidate's presentation on impact of prolonged sitting wins top honours at 2022 Campus 3MT® competition
April 5, 2022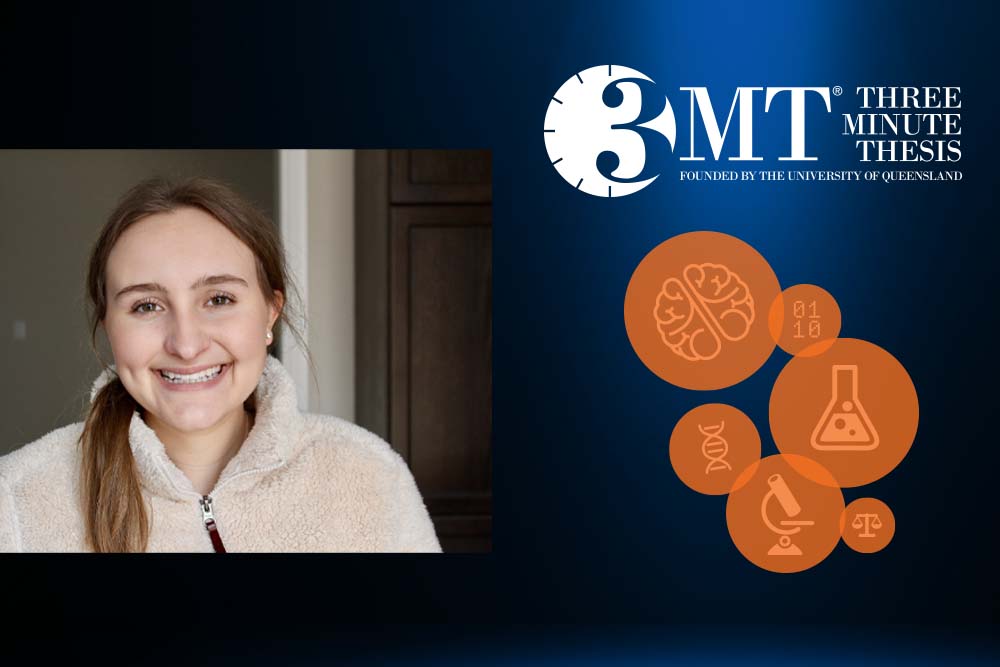 Explaining complicated research findings in a simple way is normally not an easy task. It becomes even more challenging to accomplish if you have only three minutes to tell your story, with only one visual aid: a static image on a screen. The pressure ramps up even more if you are speaking in front a panel of judges and realize you cannot exceed the three-minute time limit under any circumstances.
Such is the scenario posed by Three Minute Thesis (3MT®), an annual contest involving graduate students at Ontario Tech University. This year's 3MT® competition attracted 15 of the university's current candidates for master's degrees and PhDs. After the virtual online 'heats' on March 23, the field was trimmed to six participants for the March 24 final round and awards presentation. When the dust settled, Master of Health Sciences in Kinesiology candidate Emmeline Meens Miller captured top spot for her talk about the physical impact of prolonged sitting.
On Wednesday, May 4, Meens Miller will represent the university in-person at the annual provincial 3MT® Ontario Regional competition, hosted by the University of Guelph.
3MT® offers an opportunity for students in Ontario Tech's School of Graduate and Postdoctoral Studies (SGPS) to share their knowledge and passion for discovery and research with the broader community, while also refining their skills as presenters.
Once available, video links to the finalists' presentations will be posted in the Videos section of the SGPS website (archive of all Ontario Tech 3MT® finalist videos dating back to 2013).
2022 Ontario Tech University 3MT® finalists
Danielle Bates***, Master of Health Sciences (Kinesiology) candidate: Moving Towards Inclusive and Engaging Physical Education for Girls
Ana K Espinosa, Master of Science (Forensic Psychology) candidate: Mock Jurors' Perceptions of Children Testifying via a Language Interpreter
Kavian Khosravinia, PhD (Mechanical Engineering) candidate: Healthy Fast Charging Strategy for Electric Vehicles Using Deep Neural Networks
Cassandre Dion Larivière, Master of Science (Forensic Psychology) candidate: Smile for the Webcam: The Effects of Rapport Building on Information Disclosure in Virtual Interviews
Emmeline Meens Miller*, Master of Health Sciences (Kinesiology) candidate: Identifying Salivary Cytokines Associated with Prolonged Sitting
Mir Afgan Talpur**, Master of Science (Computer Science) candidate: Improving Image Matting Through Deep Learning
* First place ($1,000 and the opportunity to represent the university at the provincial competition)
** Second place ($500)
*** People's Choice winner (as selected by the audience, $250)
Organized by Ontario Tech University's School of Graduate and Postdoctoral Studies, 3MT® is generously sponsored by Scotiabank (gold sponsor); Elexicon Energy and St Marys Cement (silver sponsors); and Canadian Nuclear Laboratories (bronze sponsor).
2022 Three Minute Thesis community judges (heats)
Tammy Cawse, Former Microbiology and Molecular Biology Professional
Craig de Blois, President, Noble Estates
Howard Goodfellow, Adjunct Professor, Department of Chemical Engineering and Applied Chemistry, University of Toronto
Eric Johnston, Chief Innovation Officer, Nuclear Innovation Institute
Emma McGarry Ware, Manager of Innovation, Regional Municipality of Durham Region
Larkin Mosscrop, Project Manager, Canadian Nuclear Laboratories
2022 Three Minute Thesis community judges (finals)
Kirsten Hutka, Community Relations Advisor, Elexicon Energy
Michelle Johnston, President, Society of United Professionals
Margaret McBeath, Co-founder and Director, Company Strategy, Nuclear Promise X Inc.
John Murphy, Vice-President, Radioactive Waste, SNC Lavalin
Rachel Shin, Manager, Corporate Sustainability, Scotiabank
Dilesha Stelmach, Founder and CEO, Oui STEM Academy
The 3MT® competition was developed initially by the University of Queensland (Australia) in 2008 and first staged at Ontario Tech in 2013.
The competition is now held at more than 600 universities and institutions in 65 countries.  
Quote
"This was another amazing year for Three Minute Thesis at Ontario Tech and we are incredibly proud of the dedication and eloquence demonstrated by all participants. In addition to articulating the potential impact of their thesis research, they each navigated through the invaluable experience of preparing and practising their public-speaking skills before a diverse audience. We all wish Emmeline the very best when she presents again at the University of Guelph for the provincial 3MT® event."
-Dr. Bernadette Murphy, Interim Dean, School of Graduate and Postdoctoral Studies, Ontario Tech University
Gallery