Let's count the ways Ontario Tech's annual Pi Day of Giving was a success!
University's fundraising event supporting students celebrates Pi: the ratio of any circle's circumference to its diameter
April 5, 2022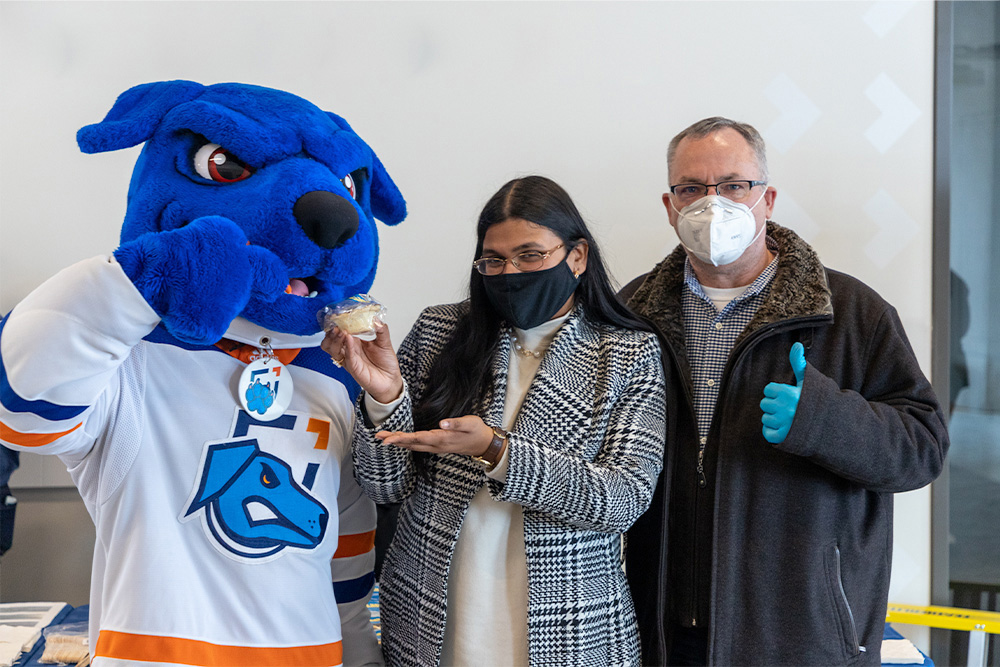 Infinite. Immeasurable. Limitless. All words to describe the generous support received from our donors for our fifth annual Pi Day of Giving. We chose March 14 (3.14) as our giving day because the mathematical constant Pi has an infinite number of decimal places – mirroring the endless possibilities we offer our students at Ontario Tech.
Over the past month, Ontario Tech alumni, faculty, staff, students and members of our community came together for our students raising more than $156,000. Donors gave to scholarships, bursaries, athletics and in support of the Student Relief Fund, which provides assistance to students in many different ways.
Thank you to those who helped celebrate Pi Day of Giving by participating in our events. The following is a snapshot of our success:
More than 400 mini pies were given out at Shawenjigewining Hall at our north Oshawa location and 61 Charles Street at our downtown Oshawa location.
Fourteen Ontario Tech research experts shared their knowledge and passion during our Pi Day Speaker Series with viewers joining from more than 10 countries around the world. All sessions are available on the Pi Day Speakers Series website.
Online Auction hosted by Ridgebacks raised more than $3,700 for the Adopt-a-Ridgeback Fund.
We are grateful to the following sponsors for making our Pi Day of Giving a success:
Scotiabank for sponsoring the Pi Day Speaker Series.
Algoma Orchards for once again donating pies for our campus community.
Kemp Travel Group who continues to support Pi Day and our affinity partner, Johnson Insurance who matched all gifts made by faculty, staff and students.
If you missed the opportunity to make a donation during Pi Day of Giving, we invite you to make a contribution anytime during the year at giving.ontariotechu.ca.
Thank you so much for helping us grow our circle. Mark your calendars for next year's Pi Day of Giving – Wednesday, March 14, 2023!
Quote
"Initiatives like Pi Day are what give us as Ontario Tech students the hope that we will be able to reach our full potential thanks to the help of our amazing donors. These donations allow us the opportunity to put our skills to action and show the world our talents."
-Amrutha Elanko, Vice-President, Ontario Tech Student Union
Class of 2022, Faculty of Health Sciences (Kinesiology)