Ontario Tech Mechanical Engineering researcher participates in international TV science series
Dr. Sayyed Ali Hosseini to appear in an episode of 'Colossal Machines'
May 4, 2022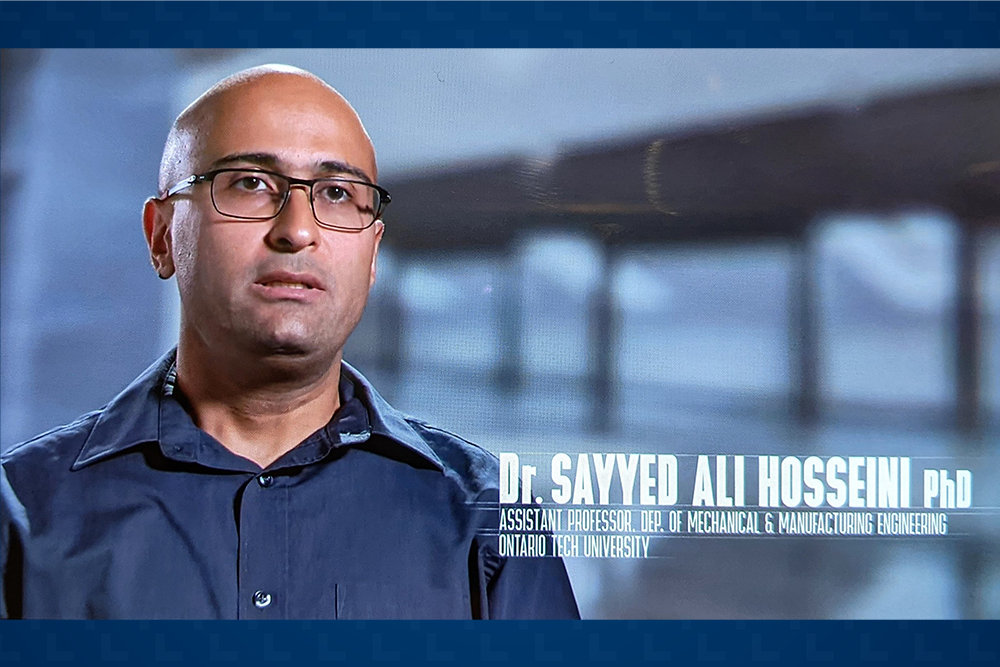 Ontario Tech University has a place in a new episode of the television program Colossal Machines, thanks to the participation of Faculty of Engineering and Applied Science (FEAS) expert Dr. Sayyed Ali Hosseini.
Dr. Hosseini is one of several engineering researchers from across the province who appears in Episode 6 of the new season of the science series Colossal Machines, a program produced by Toronto's Go Button Media and Autentic Media of Munich, Germany. The program explores the inner mechanics of some of the world's largest machines.
The specific episode ('Mammoth Manufacturing') examines the world's largest 3D printer that prints a full vehicle, a tunnel-boring machine to build an underground highway, and an enormous Computer Numerical Control (CNC) machine that creates single-piece metal parts with ultra precision. Dr. Hosseini was interviewed about his expertise in CNC machining, where pre-programmed software dictates the movement of factory tools and machinery.
"My field of research is manufacturing processes focusing on the combination of additive and subtractive (machining) manufacturing," says Dr. Hosseini. "My Natural Sciences and Engineering Research Council of Canada Discovery Grant has also been awarded on the same topic."
The clips from Dr. Hosseini's interview were actually recorded last summer during a production day at the Canadian Warplane Heritage Museum in Mount Hope, Ontario, near Hamilton. The program will air at various times during the month of May on National Geographic Channel  and Super Channel. It can also be accessed through an Amazon Prime subscription. The program is not freely available yet on the broadcasters' websites.
First member of Ontario Tech alumni to join university's faculty ranks
Of historical note, Dr. Hosseini received his PhD in Mechanical Engineering from Ontario Tech in 2013. Shortly thereafter he became the university's first alumnus to transition to becoming a faculty member with FEAS, where he is now an Assistant Professor. Dr. Hosseini is currently serving the Canadian Society for Mechanical Engineering as Vice-Chair of Manufacturing Technical Committee.