Driving business growth: Ontario Tech University and Whitby's 1855 Technology Accelerator
Influential entrepreneurial support structures unveil new partnership
June 22, 2022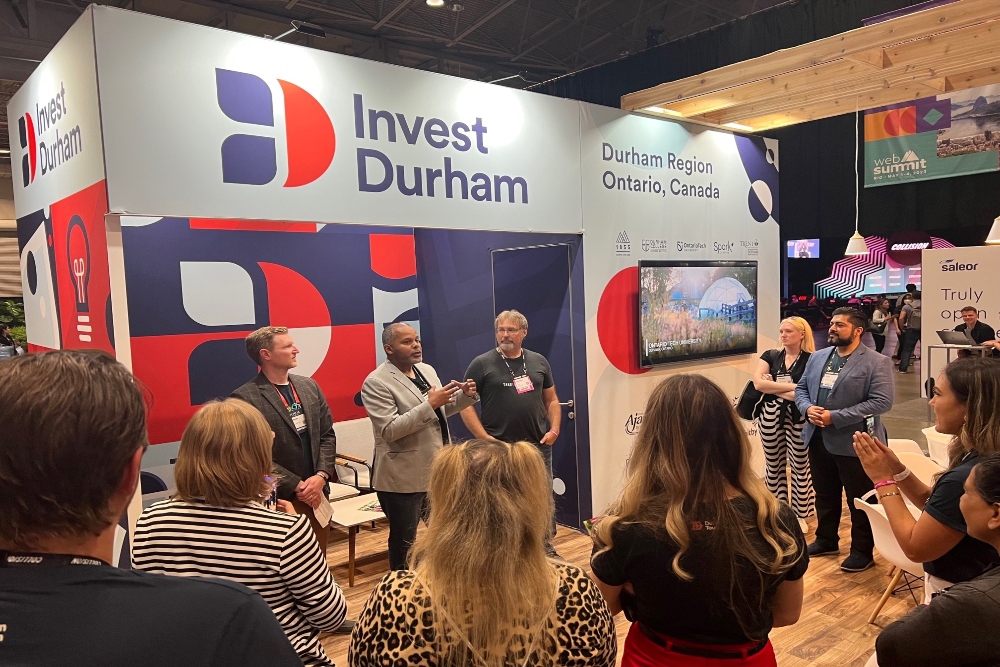 In Durham Region, the largest region in the Greater Toronto Area, a strong, innovative community ecosystem is enabling business startups and founders to scale and grow their companies.
To bolster the startup success rates and create sustainable businesses, Ontario Tech University's Brilliant Catalyst incubator and experiential learning hub is forging a new partnership with Whitby's 1855 Technology Accelerator. To fill a distinct gap in the current startup support industry, together the organizations will provide end-to-end advisory services to local and international entrepreneurs, across all startup stages – from ideation through commercialization.
Bridging the commercialization gap
Thousands, if not millions, of technologies, patents and intellectual properties around the globe sit collecting dust, never used, similar to what you would see in a Raiders of the Lost Ark movie relic warehouse.
Canada's business startup support industry is filled with incubators, accelerators, hubs and co-working spaces, but the majority of these enterprises provide only a superficial support structure to local and international entrepreneurs. The specific limited focus on the idea-creation-to -intellectual-property stage results in an extremely low success rate of startups achieving commercialization (estimated at less than three per cent).
Competitive advantage: New partnership offers the best of all worlds to startups
Brilliant Catalyst and the 1855 Accelerator share a focus on dedicated and deep-value service, genuine caring, and a co-ordinated transition process to optimize success for Canadian and international business developers and founders in the Canadian market. By offering end-to-end advisory services, with personalized and detailed hand-off between incubator to accelerator, entrepreneurs gain continued support that drives future success.
The well-defined private-public partnership between Ontario Tech and 1855 places equal weight on societal priorities and economic viability, which is a distinguishing advantage for students, faculty, alumni and international entrepreneurs. Both organizations have strong brands that proudly embrace diversity and accessibility, and endorse the values associated with improving the lives of humans and the planet through ethical applications of technology.
Quotes
"Brilliant Catalyst, under Ontario Tech's Office of the Vice-President of Research and Innovation, has established an amazing entrepreneurship program which helps not just students, but faculty, international entrepreneurs and private industries commercialize and growth their businesses. Brilliant Catalyst provides a best-in-class experience from ideation through first customer sale, allowing for a seamless hand off to 1855 Accelerator's value proposition." 
-Dennis Croft, CEO, 1855 Accelerator
"1855 is an amazing partner to work with in the Region of Durham's entrepreneurial ecosystem. The focus that 1855 has on scaling companies complements our focus on helping founders build their ventures from ideation to their first sale. This partnership will help solidify our relationship and give founders the leverage to benefit from two organizations with a founder-first vision and goal."
-Dr. Osman Hamid, Director of Creativity and Entrepreneurship, Brilliant Catalyst, Ontario Tech University
About 1855 Technology Accelerator
The 1855 Technology Accelerator is a business accelerator located in Whitby, Canada, focused on helping tech start-ups scale revenue and operations quickly, including expediting sales and marketing, revenue growth, executive mentorship, R&D, IP/trademark protection, stakeholder communications, client and investor presentation readiness, talent optimization and acquisition. Website: 1855whitby.com
About Brilliant Catalyst, Ontario Tech University
Brilliant Catalyst is the university-based incubator and experiential learning hub at Ontario Tech University. Under the Office of the Vice-President, Research and Innovation, Brilliant Catalyst's mission is to build a community of experts, influencers, entrepreneurs and advisors to fuel innovative change, propel the next generation of innovation change-makers, and put more Canadian ventures on the map. It achieves this mission by designing and delivering unique learning opportunities and programs to our diverse community of entrepreneurs and innovators.
Website: ontariotechbrilliant.ca