Canadian forensic science experts to sharpen the accuracy of determining time since death after discovery of human remains
Ontario Tech researcher Dr. Theresa Stotesbury connected to new national interdisciplinary research project
July 21, 2022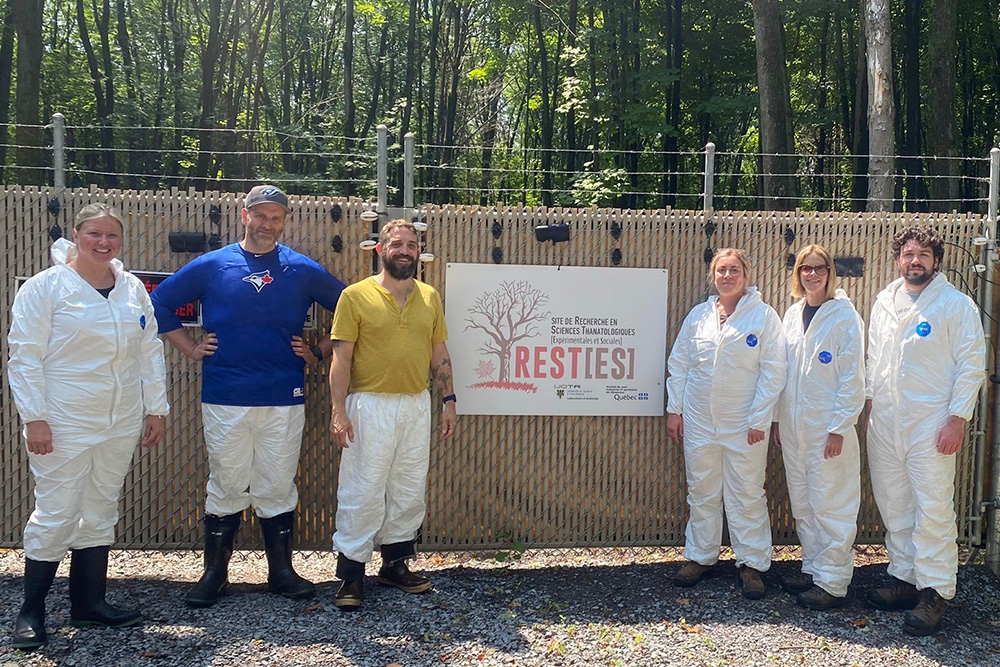 Every year in Canada, between 70,000 and 80,000 people go missing. For those who are not found within seven days, the likelihood of discovery is significantly decreased. In cases where human remains are later found, precision in determining time elapsed since death is essential to help associate a body with a missing person, and can prove particularly decisive in criminal investigations.
When a death is very recent, certain physiological states of the body indicate the time of death. If the body is decomposing, biomarkers such as insects provide information on post-mortem time. At a later date, the analysis of a skeleton makes it possible to approximate the moment of death. However, current forensic science methods to accurately estimate time since death are limited and further hampered by Canada's year-round cold climates.
To develop new scientific approaches that will make time-of-death estimates more accurate in future investigations, the Natural Sciences and Engineering Research Council of Canada (NSERC) is investing a half-million dollars in a new five-year project being led by the Université du Québec à Trois-Rivières (UQTR; Dr. Shari Forbes), with support from research experts at Ontario Tech University (Dr. Theresa Stotesbury of the Faculty of Science) and Trent University (Dr. Aaron Shafer and Dr. Paul Szpak).
The funding comes under NSERC's highly competitive Discovery Horizons program, for which there was a just a one per cent success rate in nationwide applications. The funding will support several graduate students who will actively participate in the research work.
The biomarker research project will be the largest of its kind in the world
Dr. Forbes' multidisciplinary and collaborative, multi-university research team will try to discover new indicators or biomarkers linked to the degradation of soft and hard tissues. The collective group of anthropologists, biologists, chemists, dentists and pathologists on the project will also evaluate modifications appearing over the course of decomposition in certain elements of the body such as DNA, fatty acids and other biomolecules. Samples will be taken regularly from remains to carry out the necessary analyses.
Ontario Tech's connection to the project
Dr. Forbes (formerly a professor at Ontario Tech) also directs the Research in Thanatological Science [Experimental and Social] (REST[ES]) facility at UQTR, an external research laboratory unique in Canada that's dedicated to the study of human cadaveric decomposition, and located south of the St. Lawrence River.
Dr. Stotesbury will conduct her research in forensic chemistry and mass spectrometry imaging at REST[ES] in Bécancour, Québec, the only facility in Canada where time since death can be studied through human body donation.
Quotes
"I am very excited to be connected to this powerful project that will combine analysis methods from a wide range of scientific disciplines. In effect, this team will be meshing different data to drive more-accurate results. By uncovering more-precise biomarkers in colder Canadian climates, we will collectively improve the assessment of time since death, regardless of the state of decomposition of a body. This will contribute to a faster resolution of forensic investigations and identification of offenders in criminal investigations." 
-Dr. Theresa Stotesbury, Assistant Professor, Faculty of Science, Ontario Tech University   
"This project reinforces Ontario Tech's innovative strength in the practical applications of forensic science and the importance to Canadian society. We are delighted to collaborate with other smaller research-intensive universities across Canada."
-Dr. Les Jacobs, Vice-President, Research and Innovation, Ontario Tech University
Gallery
---
Media contact
Bryan Oliver
Communications and Marketing
Ontario Tech University
289.928.3653 (mobile)
bryan.oliver@ontariotechu.ca