Ontario Tech summer student from Ukraine exploring idea for a social robot to help alleviate stress and anxiety
Software engineering student Iryna Parkhomchuk among 60 Ukrainian interns brought to Canada through Mitacs Globalink research internship
July 29, 2022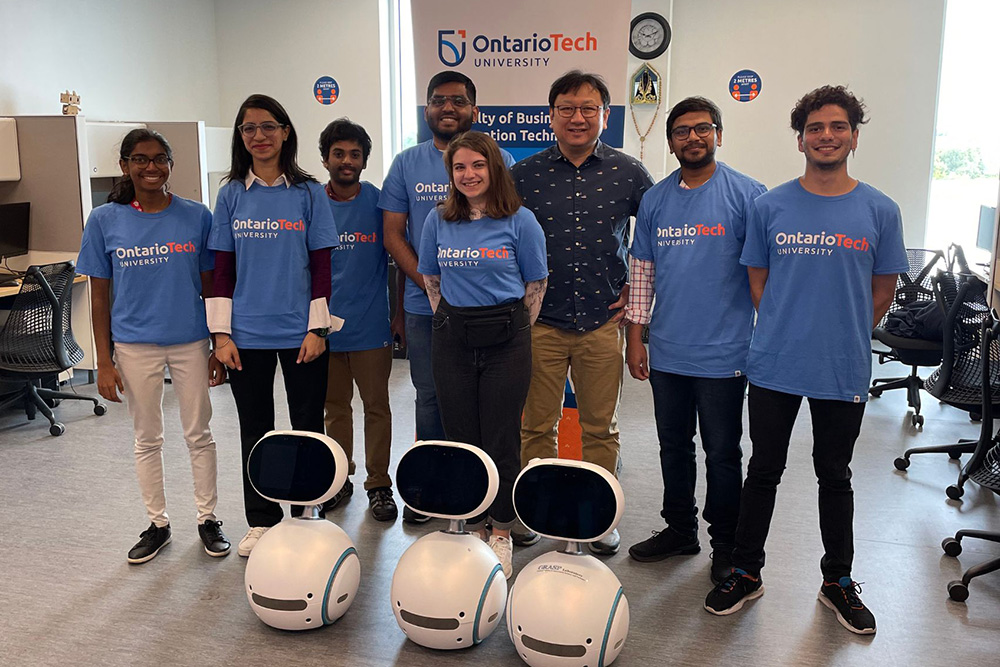 Many months prior to her home country being attacked in a painful and enduring war, Ukrainian university student Iryna Parkhomchuk had applied for a research internship in Canada in what was to be her first-ever journey to another country. But in the weeks before her internship began, Parkhomchuk was fearing for her life every day, hiding with her family and friends in a bomb shelter.
The ongoing and incalculable fear and anxiety of the war inspired the software engineering student from the National University of Life and Environmental Sciences of Ukraine in Kyiv to find a way to apply technology to help fellow citizens everywhere cope with issues related to mental health and post-traumatic stress disorder.
Parkhomchuk's internship through Mitacs, a Canadian non-profit research organization that helps connect university students with training placements related to industrial and social innovation, brought her to Ontario Tech University. She is one of more than 60 Ukrainian students taking part in the Mitacs Globalink Research Internship program across Canada this summer. 
Over a three-month period, she has worked with Ontario Tech's Digital Life Institute, supervised by Dr. Patrick Hung, Professor with the Faculty of Business and Information Technology. In collaboration with Dr. Isabel Pedersen, Canada Research Chair in Digital Life, Media, and Culture; and Professor, Faculty of Social Science and Humanities, the Digital Life Institute examines the human and social dimensions of current and projected digital technologies.
Parkhomchuk's app
Through her own experience of using technology devices as a means of distraction from the harsh realities of war in her homeland, Parkhomchuk realized that artificial intelligence (AI) and robotics might be a way to help others cope with stress and anxiety too. Her own research discovered that 76 per cent of the Ukrainian group she surveyed would be willing to communicate directly with a robot.
Her app, tailored for the Zenbo social robot, converts the artificial companion into a therapeutic tool through calming visuals of greenspace and seascapes; slow melodies that hold a steady beat; meditations; and step-by-step breathing exercises. The app includes sing-alongs and instructions for creating peaceful collages, to further make people feel safe and at ease. The program can be modified to run on any mobile platform, including smartphones and tablets.    
Media coverage links
Quotes
"I am grateful to Mitacs for its support of my research internship and for the opportunity to do something to apply technology in such a way to help my fellow Ukrainians find distraction from the horrors of war, or even gain a morale boost. Ultimately, I hope the academic connections I've made at Ontario Tech will help bring me back to this university to earn my master's degree and further develop the app."
-Iryna Parkhomchuk, Mitacs Globalink Summer Intern, Digital Life Institute, Ontario Tech University
"The original goal was to build an artificial companion for anyone who is suffering from mental health issues, but by narrowing her focus to the current situation in Ukraine and using her personal experience as a guide, Iryna is making a very specific and unique contribution that I don't think could be duplicated by anyone else."
-Dr. Patrick Hung, Professor, Faculty of Business and Information Technology, Ontario Tech University
"Mitacs is very proud to be supporting more than 60 Ukrainian students through its Globalink Research Internship this year — part of our broader efforts to help those affected by the war. Research like Iryna's will ultimately help people in Canada, in Ukraine, and beyond. The Mitacs Globalink Research Internship helps participants gain research experience here in Canada, advancing innovation and creating attractive opportunities for international students who often decide to further their education here."
-John Hepburn, CEO, Mitacs 
Mitacs: A key part of work-integrated learning opportunities at Ontario Tech
From internships to co-ops to capstones and global exchanges, more than 90 per cent of Ontario Tech students complete some form of practicum as part of their degrees. Mitacs matches federal funding granted to graduate students and postdoctoral fellows. The estimated value of Mitacs' connection to Ontario Tech over the past decade is more than $2.3 million.
As an Associated Academic Partner of Mitacs, Ontario Tech has provided hundreds of students with opportunities to take part in various Mitacs programs over the past decade, including:
Mitacs Accelerate opportunities connect graduate students and postdoctoral fellows with organizations seeking their expertise. Faculty members supervise the students. Interns gain valuable research and career experience, while faculty members strengthen relationships with the university's new non-academic partners.
Mitacs Elevate postdoctoral fellowships. These include a 12-to-24-month research project with a partner organization and a customized research management-training component. Elevate fellows progress through the program in a cohort, giving them cross-disciplinary networking and peer-learning opportunities that they might not have otherwise in their careers.
Mitacs Globalink opportunities bring international undergraduates to Ontario Tech for summer research internships with faculty, connecting the university as a destination for the world's brightest researchers. As well, Globalink Research Awards send Ontario Tech students (upper-year undergraduates, graduate students and postdoctoral students) to conduct 12-to-24-month research projects at universities overseas.
Mitacs Training workshops (typically two days) provide free professional development and skills training to graduate students and postdoctoral fellows. Students learn from leading business experts and increase their employability. Employers gain access to top talent about to emerge from the university environment.
About Mitacs
Mitacs is a not-for-profit organization that fosters growth and innovation in Canada by solving business challenges with research solutions from academic institutions. It is funded by the Government of Canada and the Government of Ontario, along with the Government of Alberta, the Government of British Columbia, Research Manitoba, the Government of New Brunswick, the Government of Newfoundland and Labrador, the Government of Nova Scotia, the Government of Quebec, Innovation PEI, the Government of Saskatchewan and the Government of Yukon. For information about Mitacs and its programs, visit mitacs.ca/newsroom.
-with files from Mitacs' July 22, 2022 news release
Gallery