Ontario Tech researcher Dr. Marc Rosen awarded highest recognition a Canadian academic can receive
Dr. Rosen elected a Fellow of the Royal Society of Canada
September 14, 2022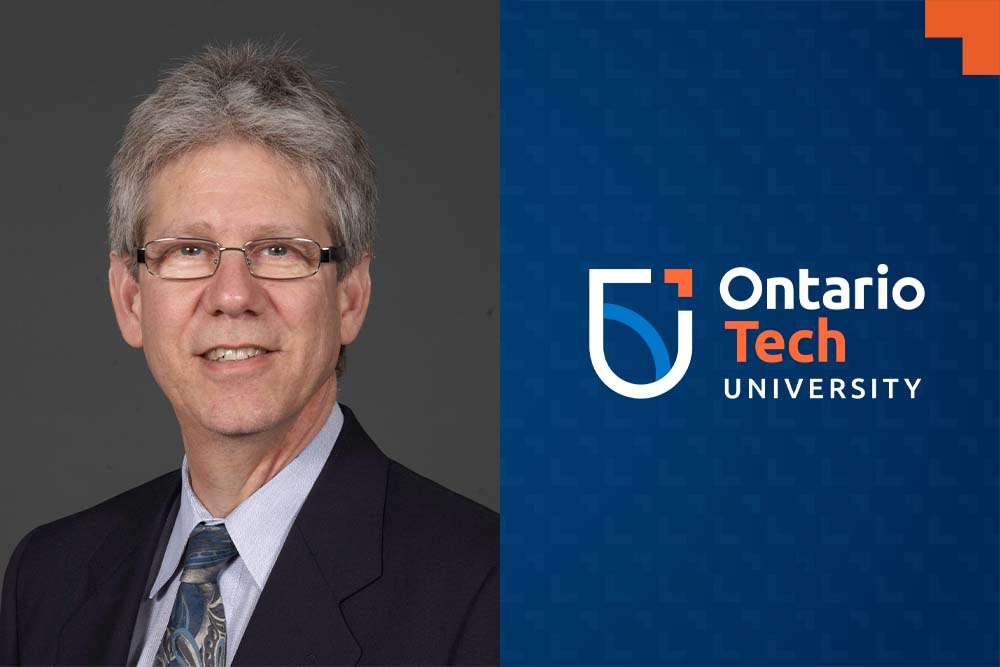 In recognition of his extraordinary career contributions to energy research, and outstanding scholarly scientific achievement, Ontario Tech University Professor Dr.  Marc Rosen has been elected as a Fellow to the Royal Society of Canada (RSC).
Dr. Rosen, a Professor with Ontario Tech's Faculty of Engineering and Applied Science (FEAS) in the Department of Mechanical and Manufacturing Engineering, was one of 102 new Fellows named by the RSC on September 6. The RSC's ceremony to honour new Fellows is scheduled for Friday, November 25 at the University of Calgary.
Recognition by the RSC for career achievement is the highest honour an individual can attain in the Arts, Social Sciences and Sciences in Canada.
This is the first time in the university's history that a nominee from Ontario Tech has been selected for a RSC Fellowship.
Dr. Rosen, whose career achievements include a distinguished list of fellowships and awards for contributions to mechanical engineering and the engineering profession, is a leader in the areas of energy, exergy, heat transfer, and thermofluids engineering. His research, publications and industry partnerships have led to increased efficiency in traditional energy systems and improved alternative energy technologies, as well as a new understanding of how to meaningfully quantify sustainability and greater environmental stewardship in the areas of energy and engineering. He has also had a tremendous impact on Canadian engineering through his leadership in academia and professional societies.
Dr. Rosen received his Bachelor of Applied Science (Engineering Science), Master of Applied Science (Mechanical Engineering) and PhD (Mechanical Engineering) from the University of Toronto. He served as the Founding Dean of FEAS when Ontario Tech opened in 2003. 
Quick facts
The Royal Society of Canada was established by the Government of Canada in 1882, as a mirror to the Institut de France (1795), Royal Society (UK, 1660), and the American Academy of the Arts and Science (1780).
RSC Fellow nominations must be made by existing Fellows of the RSC. New Fellows are elected for life in a vote by the body of existing Fellows.
Only about five per cent of nominees are elected annually.
The RSC currently has roughly 2,000 Fellows.
Ontario Tech's only other RSC Fellow is Dr. Les Jacobs, Vice-President, Research and Innovation (elected in 2017, prior to joining Ontario Tech).
Ontario Tech University recently joined the RSC as an institutional member, which will present new opportunities for making nominations.
Quotes
"I am truly honoured and humbled by being elected as a Fellow of the Royal Society of Canada. Being recognized by one's colleagues is always special. I am most grateful to all of those with whom I have worked and interacted, especially students and colleagues, as their influence has undoubtedly played a large part in this recognition."
-Dr. Marc Rosen, Professor, Faculty of Engineering and Applied Science, Ontario Tech University; and 2022 Fellow of the Royal Society of Canada
"The election of Dr. Marc Rosen as a Fellow of the Royal Society of Canada brings great distinction to Ontario Tech University. It is a reflection of the immense impact of his research around the world. This honour is the equivalent for a professor to being inducted to the Hockey Hall of Fame. Marc's success reflects our success as a research-intensive university and speaks to the overall depth of research across all discipline areas of our faculty members."
-Dr. Les Jacobs, Vice-President, Research and Innovation, Ontario Tech University
"The Royal Society of Canada is delighted to welcome this outstanding cohort of artists, scholars and scientists. These individuals are recognized for their exceptional contributions their respective disciplines and are a real credit to Canada."
-Jeremy McNeil, President, Royal Society of Canada
About the Royal Society of Canada
Founded in 1882, the Royal Society of Canada (RSC) comprises the Academies of Arts, Humanities and Sciences, and The College of New Scholars, Artists and Scientists. The RSC recognizes excellence, advises the government and the larger society, and promotes a culture of knowledge and innovation in Canada and with other national academies around the world.
---
About Ontario Tech University
A modern, forwarding-thinking university, Ontario Tech advances the discovery and application of knowledge to accelerate economic growth, regional development and social innovation. We inspire and equip our students and our graduates to make a positive impact in a tech-focused world. For us, it's not only about developing the next tech breakthrough. Understanding and integrating the social and ethical implications of technology differentiates us as university. Learn more at ontariotechu.ca.