Companies discovering future talent at Ontario Tech University's annual Reverse Career Fair
More than 70 companies and 320 students participate in 2022 Reverse Career Fair
October 19, 2022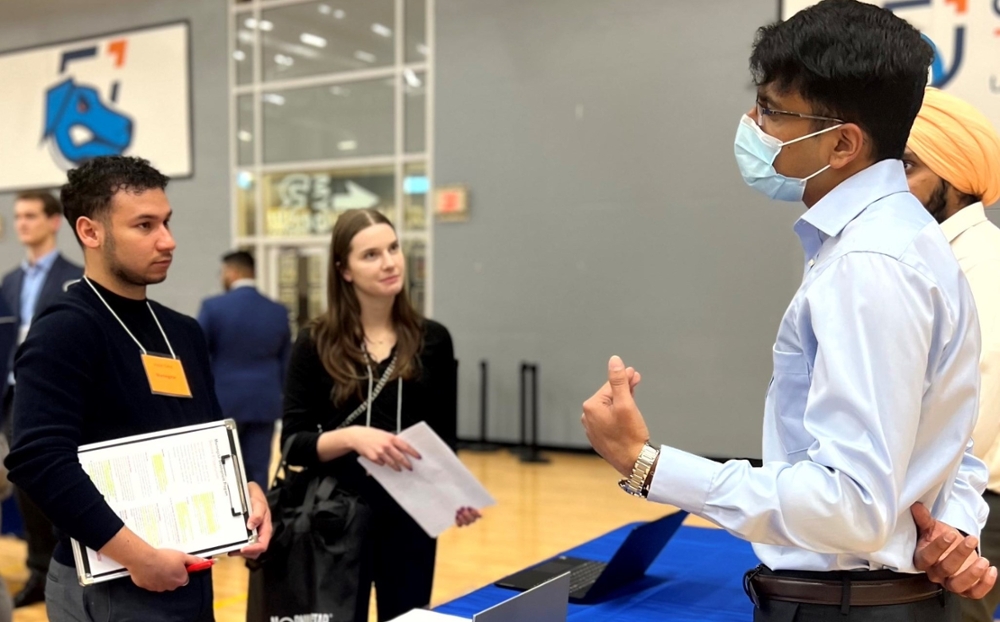 Employers looking for engaged and enthusiastic future employees need to look no further than Ontario Tech University's annual Reverse Career Fair.
At Reverse Career Fairs, employers meet hundreds of motivated Ontario Tech students in a single-day event, making it a convenient way to recruit top talent in a competitive job market. Unlike a conventional career fair where employers set up booths, at this event it's the students who are in booths, equipped with resumés and examples of their projects and research for the visiting employers to see. 

Ontario Tech's in-person 2022 Reverse Career Fair on October 5 involved more than 70 companies and 320 registered students. A virtual career fair was also held on October 12, connecting employers from across North America to job-ready Ontario Tech students and graduates.
For Hemant Sharma, an Ontario Tech international student pursuing a master's degree in Mechanical Engineering, the fair was an amazing chance to meet potential employers and even learn about new opportunities and companies that he didn't know existed.

"I really liked how it was organized," says Sharma, who attended the in-person event. "The Reverse Career Fair is far better than a regular career fair format."

Sharma said he was able to engage meaningfully with employers he was interested in, and discuss a career pathway. He sees the Reverse Career Fair as a great way for employers and students to connect.
"This is a valuable chance for students to get in front of employers, network and build relationships that can help us secure jobs in the future," he says. "I learned about industries and opportunities that I had not identified before."
The fair is open to students in second year and above, as well as 2022 graduates from the faculties of Business and Information Technology; Engineering and Applied Science; and Science (Computer Science and Applied and Industrial Mathematics). Participants can make connections to advance their career journey with a co-op, internship or full-time employment.

The Reverse Career Fair is just one of many campus activities where employers and Ontario Tech students and graduates can connect. Ontario Tech's Career Centre provides year-long support through fairs, expos, information sessions and career panels, and works closely with students to prepare them for future careers. Through the Student Life Portal, employers can access a recruitment platform that reaches more than 10,000 career-ready students and alumni.

For more information about career-related events, job preparation resources, workshops and more offered by the Ontario Tech Career Centre, visit the Career Readiness website.
Gallery
---
About Ontario Tech University
A modern, forwarding-thinking university, Ontario Tech advances the discovery and application of knowledge to accelerate economic growth, regional development and social innovation. We inspire and equip our students and our graduates to make a positive impact in a tech-focused world. For us, it's not only about developing the next tech breakthrough. Understanding and integrating the social and ethical implications of technology differentiates us as university. Learn more at ontariotechu.ca.
---
Media contact
Shane MacDonald
Communications and Marketing
Ontario Tech University
905.261.1705 (mobile)
shane.macdonald@ontariotechu.ca